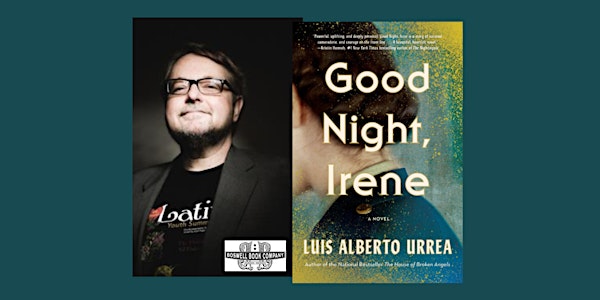 Luis Alberto Urrea, author of GOOD NIGHT, IRENE - a Boswell event
Luis Alberto Urrea, author of GOOD NIGHT, IRENE - an in-person Boswell event
Date and time
Starts on Thursday, June 1 · 6:30pm CDT
Location
Boswell Book Company 2559 North Downer Avenue Milwaukee, WI 53211
About this event
Boswell Book Company presents an evening with author Luis Alberto Urrea, author of Good Night, Irene.
In 1943, Irene Woodward abandons an abusive fiancé in New York to enlist with the Red Cross and head to Europe. She makes fast friends in training with Dorothy Dunford, a towering Midwesterner with a ferocious wit. Together they are part of an elite group of women, nicknamed Donut Dollies, who command military vehicles called Clubmobiles at the front line, providing camaraderie and a taste of home that may be the only solace before troops head into battle. After D-Day, these two intrepid friends join the Allied soldiers streaming into France. Their time in Europe will see them embroiled in danger, from the Battle of the Bulge to the liberation of Buchenwald. Through her friendship with Dorothy, and a love affair with a courageous American fighter pilot named Hans, Irene learns to trust again. Her most fervent hope, which becomes more precarious by the day, is for all three of them to survive the war intact.
From Kristin Hannah: "Good Night, Irene is a beautiful, heartfelt novel that celebrates the intense power and durability of female friendship while shining a light on one of the fascinating lost women's stories of World War II. Inspired by his own family history—and his mother's heroism as a Red Cross volunteer during the war—Luis Urrea has created an indelible portrait of women's courage under extreme adversity."
A finalist for the Pulitzer Prize for his landmark work of nonfiction The Devil's Highway, now in its 30th paperback printing, Luis Alberto Urrea is the author of numerous other works of nonfiction, poetry, and fiction, including the national bestsellers The Hummingbird's Daughter and The House of Broken Angels, a National Book Critics Circle Award finalist.
Click here to order your copy of Good Night, Irene from Boswell. Signed copies and personalization available on pre-orders. Please note that signed copies will not be shipped until after the event.