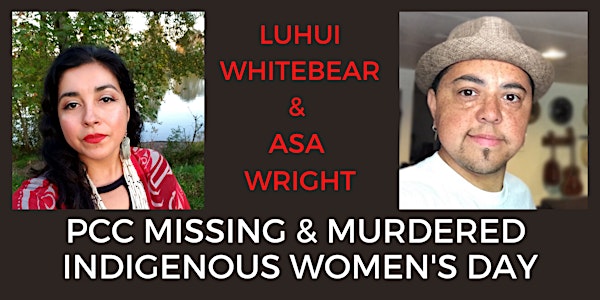 Luhui Whitebear & Asa Wright in Conversation: Missing & Murdered Indigenous Women's Day
When and where
Location
Online Event Zoom Link Emailed To You After Registering
Description
As part of our Sexual Assault Awareness Month offerings, we will be honoring May 5th, Missing & Murdered Indigenous Women's Day (MMIW), by hosting a livestreamed conversation with Luhui Whitebear and Asa Wright on art, activism, and the MMIW movement.
Luhui Whitebear (she/her) is an enrolled member of the Coastal Band of the Chumash Nation. Luhui is a Ph.D. student in the Women, Gender, & Sexuality program at Oregon State University as well as the Assistant Director of the OSU Native American Longhouse Eena Haws.
Luhui is a mother, poet, and Indigenous activist. Her research focuses on Indigenous rhetorics, Indigeneity & reclaiming of Indigenous identity/gender roles, missing & murdered Indigenous women, Indigenous resistance movements, and natural resource protection. Her most recent projects include the incorporation of heteropatriarchy in Native traditions as well as intergenerational Indigenous activism with the Dakota Access Pipeline Resistance Movement.
Asa Wright (he/him) is an enrolled member of the Klamath Tribes from Chiloquin, Oregon though he has called Portland home for the last 20 years. He is an artist of many mediums and blends his backgrounds in public health and art/design to work on cultural revitalization, decolonization and positive social change. Asa also creates art for action, art that brings about awareness of social justice issues that motivate communities, people and organizations to mobilize for direct change.
Asa has a Bachelors degree in Public Health from Portland State University and a Masters degree in Collaborative Design from Pacific NW College of Art.
This event will be live streamed: a link will be sent to you once you register for a free ticket.