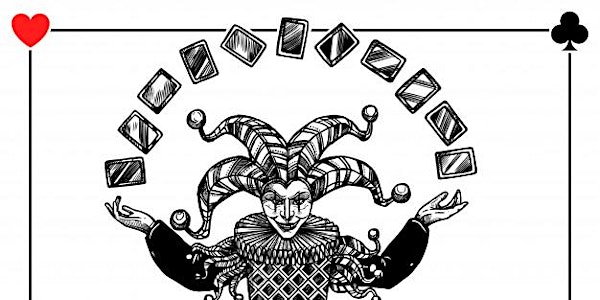 Ludic Liberation Lab: Playing with Our Best-Laid Plans
can we be more playful with how we plan?
Refund Policy
Contact the organizer to request a refund.
Eventbrite's fee is nonrefundable.
About this event
"Want to make God laugh? Make a Plan," the saying goes. Oh, how the Universe LOVES to throw curve balls at our Ego's ambitions! Exhibit A: 2020, the year of the great delays, ruined plans, cancelled weddings, and untimely deaths.
After a year like that, we are tempted to let 2021 be a year of "meh, we'll just see what happens."
But "Failing to Plan is Planning to Fail," the other saying goes! Shouldn't we still try to do something with our lives?
Can we plan to fail better? Design for contingencies? Play with setbacks? Trick our expectations?
Join this month's Ludic Liberation Lab to play with how we plan! We will begin with collective play of THE QUIET YEAR, a collaborative game for rebuilding community after civilization's collapse (sound relevant?). The game brilliantly uses the 52 cards of a standard playing card deck to pose consequential choices for every week of the year. We will then workshop ways to make our own personal 2021 games using a similar dynamic while supporting each other to anticipate and design appropriate challenges, rewards, motivations, and potential pitfalls for our unique year-long adventures.
This Lab will be led by Natalia Smirnov, PhD, Ludic Liberation Lab founder & Principal In(ve)stigator. THE QUIET YEAR is designed by Avery Alder.
JOIN US to play with liberating our plans! Bring a PLAYING CARD DECK you don't mind modifying (available in most drug stores or the internet).
THURSDAY, JANUARY 14, 6-8:30pm Eastern Standard Time – that's 6pm Philadelphia Time, 5pm Chicago Time, 3pm Los Angeles Time, 11pm London time, 7am Macau time, 10am Melbourne time.
Ludic Liberation Lab lasts for 2.5 hours, which includes fun warm-ups, collaborative gameplay and design activities, and a debrief that helps us build collective wisdom about play & liberation. Join if you're curious, stay as long as you like!
Ludic Liberation Lab is a contribute-what-you-can adventure! Please see our variable participation options and select the one that delights you most. All contributions go directly to support the gamemakers and advance research into Ludic Liberation.