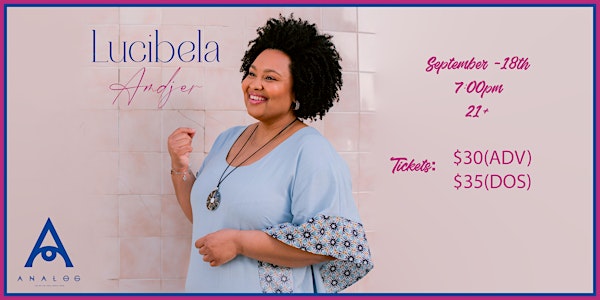 LUCIBELA | CAPE VERDE'S VOICE OF GOLD
"Lucibela sings by the grace of the gods and is the heralded heiress of the musical legacy of Cesária Évora." – Roots Time
When and where
Location
Analog at Hutton Hotel 1808 West End Avenue #2nd Floor Nashville, TN 37203
About this event
ALL ANALOG SHOWS 21+
Lucibela is a young Cabo-Verdean born in 1986 on São Nicolau, one of the Barlavento islands off the coast of West Africa. Her voice has been compared to a friendly smile or a fresh breeze ruffling through bougainvillea blooms. The title of her first album, Laço Umbilical, suggests a cord linking the singer to her homeland. Over its 13 tracks, Lucibela reflects on being Cabo-Verdean woman far away from home who loves with sensuality and grace. The secret of Lucibela's extraordinary vocal technique lies in her ability to explore the deep register of Brazil's great samba musicians while adding a thrilling vibrato.
Composed by old masters such as Manuel de Novas, the traditional song repertoire that Lucibela champions spans decades. At the same time, Lucibela belongs to a new, uninhibited generation. Her music combines the instrumental cornucopia of the Cape Verde islands—including, for example, the 6-string guitar, the Portuguese cavaquinho guitar, the saxophone, accordion, and violin)—with contemporary electronic embellishments.
Lucibela grew up in Mindelo on the Cape Verde island of São Vicente. This port town became her "musical paradise," thanks to the Brazilian, Cuban, British, and Portuguese sailors who sowed the seeds of the Creole musical genres morna and coladera in the islands.