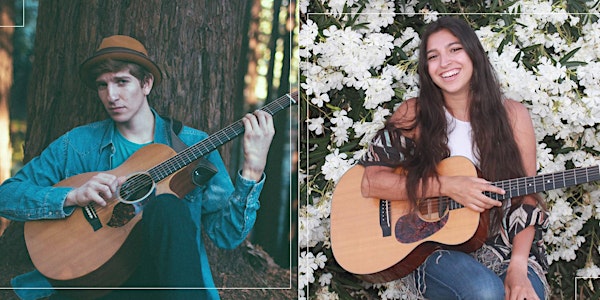 Lucas Sanchez & Jenny Madrigal with opening act Brian Skinner
Two of Livermore Wine Country's most exciting young songwriting talents, one night! A mix of rock, soul, pop, jazz, funk and more.
By Almost Famous Wine Company
Date and time
Friday, March 24 · 5:30 - 9:30pm PDT
Location
Almost Famous Wine Lounge 2271 S. Vasco Suite D Livermore, CA 94550
Refund Policy
Contact the organizer to request a refund.
Eventbrite's fee is nonrefundable.
About this event
21+
Two of Livermore Wine Country's most exciting young songwriting talents, one night! Guitarist and singer-songwriter Lucas Sanchez offers energetic & distinctive guitar work, and a carefully crafted cocktail of rock, blues, funk, pop, and jazz. In addition to playing the Livermore Wine Country scene, he has played Freight & Salvage, TedXLivermore, Hotel Utah and Alameda County Fair, and now resides in Los Angeles, where he is pursuing his music career. Co-headlining tonight is Jenny Madrigal, an original songwriter, musician, and music therapist who makes her home in Livermore and has played the Wine Country circuit and Two Day Town.
See them live at Almost Famous Wine Lounge, an award-winning, new tasting room and venue located on Vasco Road in the heart of Livermore's wine, spirits and brewery district. Almost Famous Wine makes fifteen wines in diverse styles, and earned 54 top industry awards since our debut in 2021.
There is a two drink minimum for each guest.
Ticket prices are subject to change, and sales are final. While we do not offer refunds, we are happy to apply the full credit of your purchase to another show if you let us know before your ticketed show begins.
As a courtesy, please let us know about your ticket exchange or credit-refund request 24 hours before your ticketed show begins.
Table seats cannot be claimed first come, first served until 8:15pm. Upgraded seating must otherwise be purchased. Outside food is welcome, but please bus your table of any food items when you are finished. No outside beverages, including non-alcoholic beverages. With a menu of 15 wines in diverse styles, a water station, and sophisticated non-alcoholic options, there's something for everyone.
About Lucas Sanchez:
Born and raised in the musically-rich San Francisco Bay Area, Lucas Sanchez is an up and coming guitarist, singer/songwriter, and composer, whose music is assured to grab your attention. His music is a carefully crafted cocktail of sounds that draw inspiration from rock, blues, funk, pop, jazz, and more. Lucas's guitar work is energetic and distinct with underlying tones of Hendrix, Clapton, Satriani, and Stevie Ray Vaughan; while his songwriting is influenced by masters like Stevie Wonder, John Mayer, Sting, and Dave Matthews.
Lucas plays routinely around the Bay Area as a solo artist and a member of the band Sugar Bear. Some of the venues Lucas has played at in the past include Blacksmith Square, Wente Vineyards, Freight and Salvage, Yoshi's, Las Positas College (for TEDxLivermore), DNA Lounge, Hotel Utah, Darcie Kent Vineyards, and the Alameda County Fair; just to name a few.
Lucas' educational background started when he began attending Las Positas College (which he later earned his music degree from) where he studied classical music, jazz, voice, guitar, and composition. After his time as Las Positas, he earned a scholarship to attend the California Jazz Conservatory in Berkeley where he spent his time studying various forms of jazz improvisation and composition.
In 2020 Lucas released his very first original work. He released a six-track EP of all original music to showcase his musical abilities. This self-titled EP is available on all streaming platforms (Spotify, Apple Music, Amazon, Tidal, etc.). Lucas also collaborates with artists through studio work and song writing. So far his main collaborations include Moonlight Jack and DELE. Lucas' music is impossible to classify under one genre. He draws influence from many styles of music, new and old, all while making it, unmistakably, his own.
"I play music because I love music, and I feel strongly that creating and playing music is what I was born to do. Music is a gift to everyone and a force of nature that can change the world. I wish to use music to spread peace, understanding, love, acceptance, and diversity throughout the world, and to help abolish as much hatred in the world as I can. I hope to inspire people to pick up an instrument themselves or to, at least, venture out and experience more live music, so that they too can find their love of music and discover the extraordinary healing properties that music possesses." - Lucas Sanchez
LEARN MORE AT
https://lucassanchezmusic.com/
About Jenny Madrigal:
Jenny grew up in Ahwatukee, Arizona. When she was four years old, her parents noticed she had a speech impediment. At the time, her mom could not find a speech therapist who had openings. Instead, she found a private vocal instructor who recognized Jenny's ear for music. Jenny's speech improved and she has been singing ever since. She grew up singing in choirs, local musicals, and singing The National Anthem at various sporting events.
In Boston, MA Jenny attended Berklee College of Music where she received a dual bachelor's of music in Music Therapy and Music Business Management and continued her studies in Music Therapy at various local hospitals such as Harvard Vanguard. At Berklee, she was involved in the Latin Jazz and Steven Sondheim Vocal Ensembles. At Berklee, she met Phil Didlake, a Livermore local who was also pursuing a Music Therapy degree at the time.
Jenny and her husband Phil Didlake started Rhythmic Innovation LLC, a company which provides rhythm events for education, wellness and community. As a board-certified music therapist, Jenny provides professional music therapy services for groups and individuals of all abilities.
Jenny and Phil can be found playing live music locally in Livermore and supporting the Meredith McHenry band and Lucas Sanchez Trio.
LEARN MORE AT
https://www.jennymadrigal.com/
About the organizer
PLEASE NOTE - The show time listed for the event is typically DOORS, at 6pm. Shows typically begin at 6:30 pm with an opening act, unless different times are reflected above.
Ticket sales are final; no refunds.
Non-reserved seating is first come, first served, so please arrive early unless you don't mind standing. Outside food welcome, but only AFW wine can be consumed on premise. All shows are 21+ and there is a two drink minimum.