Description
In our fourth LUCA talk, our Director of Advertising, Dan Rosen, will talk us through the much needed move from 'desktop' thinking around advertising, to a more 'mobile first, mobile only' approach. He will also explain how Telefónica and other Telcos can help "fix" some of the broken parts of the current Advertising ecosystem. He will cover some uses cases from the OBs, which are all powered by data, to illustrate LUCA's advertising successes.
Our webinar will feature a 25 minute presentation and then we will take questions for 20 minutes - allowing you to interact with us and share your thoughts live online.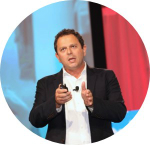 The webinar will be delivered by Dan Rosen, Director of Advertising at LUCA. You can find out more about Dan on LinkedIn and Twitter.
The webinar will be held in English.