Lt Brain Trust 2018

Friday, September 28, 2018 at 6:00 PM

-

Sunday, September 30, 2018 at 12:00 PM (CDT)
Event Details
Lt Brain Trust 2018
Are you looking to get more out of Lt? Then we have great news for you! We have been working with Lt users worldwide to create an inspiring community of educators, which has developed into what we now call the Lt Brain Trust. ADInstruments will be holding our North American based event in Chicago at the Chicago Marrott Downtown and are excited to invite Lt users from all across the continent!
Our vision is to help you help each other, learn more about Lt and inspire each other with tips and discussion about education in general. Our Lt Brain Trust event last year brought together almost 20 innovative educators to present, get hands-on training and network.
Overview
The Lt Brain Trust is designed to give attendees the opportunity to share their experience of using Lt and hear about the latest developments in the Lt platform. There will be the opportunity to network with fellow attendees and our staff to answer further questions. Registered attendees will recieve a full agenda closer to the event, but our confirmed presenters are below.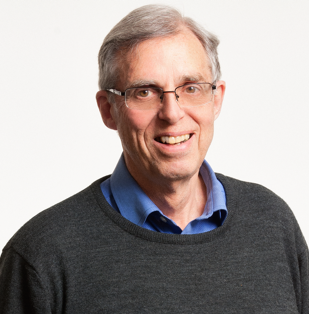 Tony Macknight
Professor A. D. C. (Tony) Macknight, MD, PhD, FRSNZ was Wolf Harris Professor of Physiology at the University of Otago till he retired in 2002. Since then he has worked as Director of Education at ADInstruments, a company he co-founded with his son in 1987. His research interests were in cell volume regulation and epithelial transport and he has published over 100 original papers, review articles and book chapters. He has a long involvement in teaching and learning, playing a major role in Curriculum Development over many years at the Otago University Medical school. In 2015, he gave the Claude Bernard Lecture at EB. He is presently working on developing active learning material for a cloud-based interactive learning platform.
His talk, "What do we need for online learning?", will cover the following points relating to an active learning Physiology Study Guide that is being produced to cover all of Physiology content in Lt. 
Motivate the students

Never use a diagram that students do not actively interact with.

Keep text to a minimum on the page and have a mix of text and diagrams on each page.

Wherever possible, turn every important point into a question.

Use a wide variety of question types.

Provide the essential information in the Instant Feedback to the question.

Only provide information that leads to better understanding of an important concept - teach concepts, not facts.

Break down every lesson into a logical progression - don't leave out steps.

Say the same thing different ways (if possible) several times.

Check student understanding with additional questions
Kevin Petti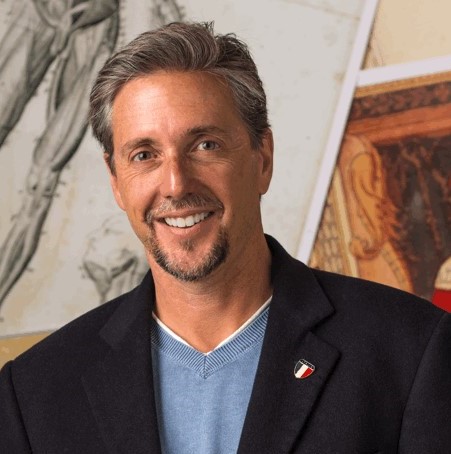 Kevin Petti, Ph.D. is a dual U.S./Italian citizen, college professor, textbook coauthor, and president-emeritus of the Human Anatomy and Physiology Society. Dr. Petti teaches anatomy and physiology, human dissection, and health science at San Diego Miramar College. In the Anatomia Italiana program he founded in 2012, Dr. Petti leads academic programs to Italy from Sicily to Venice, and across Europe from Paris to Amsterdam and London, focusing on the genesis of anatomy as a science, and its influence on the Renaissance masters. His students range from anatomy professors pursuing continuing education, to undergraduate study abroad programs for San Diego State University. Dr. Petti is invited to speak about the connection between art and anatomy in Greco-Roman, Medieval, and Renaissance Italy at international conferences, museums, and Italian-American groups, as well as universities throughout North America and Europe. The Italian government has invited him to speak at their Cultural Institutes in Los Angeles and New York City, and The University of Palermo, Sicily, hosted Dr. Petti for a week as a guest lecturer in their seminar series celebrating its 210th anniversary. Dr. Petti also served as Senior Scientific Consultant and General Coordinator for North America, for the 2017 International Congresson Anatomical Wax  Modeling, London.
 Dr. Petti will be discussing how he uses Lt in his study abroad course in his talk, " Using Lt to Create a Curriculum for a Study Abroad Program that Connects Art and Anatomy in Italy." Italy's medieval universities established the study of human anatomy for physicians. To heighten their art, Renaissance masters clandestinely examined anatomy through human dissection. The Italian peninsula beautifully connects art and science, and as universities increasingly pursue interdisciplinary and international education, it offers an opportunity for unique study abroad programming. In this presentation I demonstrate the curriculum I authored on the ADInstruments Lt platform for my study abroad course entitled Anatomia Italiana: Connecting Art and Anatomy in Italy. The user-friendly authoring environment of Lt dramatically reduced my course development workload ,and provides my students a clean and stable environment to complete their pre-travel assignments. This talk provides a fresh look at the capabilities of Lt beyond its use withPowerLab.
You can read more about Dr. Petti in our blog post regarding his work, Anatomia Italiana: where anatomy and art intersect.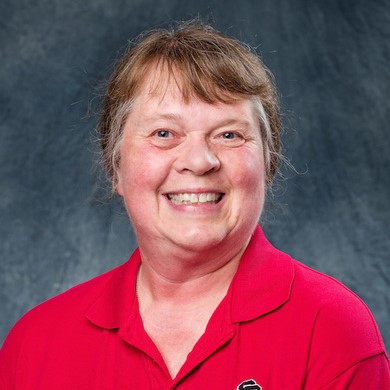 Barb Goodman
Barb Goodman received her PhD in Physiology from the University of Minnesota and is currently a Professor in the Division of Basic Biomedical Sciences of the Sanford School of Medicine of the University of South Dakota.  Her scholarship focuses on improving student learning through student-centered and team-based pedagogies.  She is actively involved in the Teaching Section of the American Physiological Society, one of the co-organizers of the APS Institutes on Teaching and Learning, and the Deputy Editor of Advances in Physiology Education.  Her current course responsibilities are Advanced Human Physiology for pre-professional undergraduates, Medical Physiology for Occupational Therapy doctoral students, and Fundamentals of Teaching for graduate students.     
In her talk, "My Evolution into Student-Centered Teaching," Dr. Goodman will discuss her experiences over 33 years of teaching at Sanford School of Medicine of the University of South Dakota as she changed from lecture-based teaching to student-centered learning.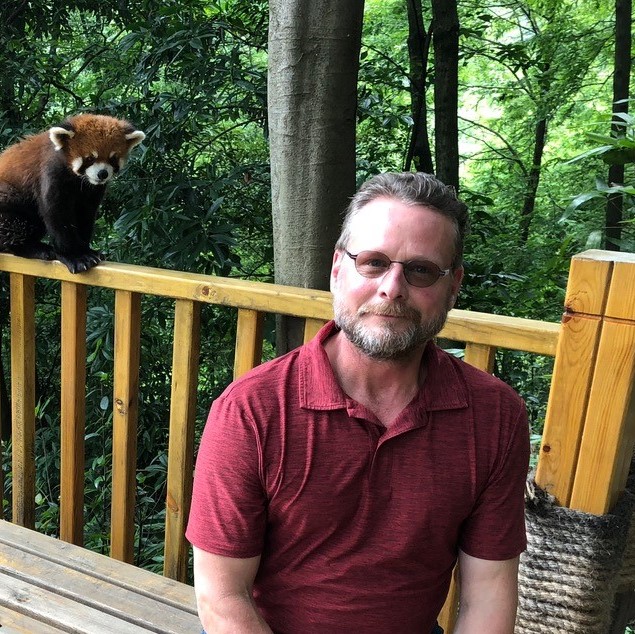 Gregory Fraley
Dr. Gregory S. Fraley was born in Baltimore, MD in 1966. His academic career began at the University of Maryland, College Park, where he earned a Bachelor's of Science degree in Animal Science (1989), with an emphasis on animal physiology. During his senior year at UMCP, he also began working in the Poultry Science Department in the lab of Dr. Wayne Kuenzel, with whom he ultimately accepted a graduate position.   His Master's thesis in Dr. Kuenzel's lab focused on the neuroendocrine mechanisms underlying the onset of puberty in male broilers. During his time in Dr. Kuenzel's lab, Dr. Fraley also began to explore his interests in understanding neural mechanisms underlying behavior, due in part to one of his committee members, Dr. Joy Mench. After completing his MS degree in Physiology at the UMCP in 1992, Dr. Fraley continued his research at Washington State University (Pullman, WA) in the lab of Dr. Catherine Ulibarri where he further investigated the neuroendocrine mechanisms underlying the onset of puberty and reproductive behaviors in the Mongolian gerbil. Dr. Fraley obtained a PhD in Neuroscience from WAZZU in 1998.   Dr. Fraley continued his exploration of behavioral neuroendocrinology as it relates to reproduction and feeding systems as a postdoc in the labs of Dr. Art Arnold (UCLA) and Dr. Sue Ritter (WAZZU). During his time at WAZZU, Dr. Fraley discovered his passion for teaching not only undergraduates, but veterinary students as well, whom he taught comparative physiology and gross anatomy, respectively. In 2002, Dr. Greg Fraley joined the lab of Dr. Robert Steiner at the University of WA as a Senior Fellow. Although his PhD and postdoctoral years focused on mammalian systems, Dr. Fraley never forgot his avian "roots" nor his love for birds.   In 2004, he joined the faculty of the Biology Department at Hope College where he earned tenure in 2008 and full professor in 2014. Since 2004, Dr. Fraley has had the privilege of nearly continual funding for both mammalian and avian studies from the NIH, NSF, HHMI and the Campbell Foundation; he has brought in over $1.5 million in eternal funding for his lab. He has worked with Maple Leaf Farms closely since 2006 to more fully explore the neuroendocrine mechanisms underlying growth, feeding and reproduction in the Pekin duck as they pertain to environmental changes. He has recently begun to apply his expertise in this area towards the understanding of the neurobiological mechanisms that underlie duck wellbeing and welfare issues. In 2011, Dr. Fraley was asked to join the physiology faculty of the Midwest Poultry Consortium-Center of Excellence. 
Professor Fraley will be talking about the diverse applications of Lt in his presentation, "The use of the Lt system to teach non science majors."  
Kaushik Dutta
Kaushik (Kash) Dutta is an award-winning Senior Lecturer and a lead coordinator of digital pedagogy for the undergraduate pre-professional curriculum in Anatomy and Physiology at the University of New England (UNE), Biddeford, Maine. He joined the University in 1997 as Senior Research Associate. Since 2003 he has been teaching laboratory courses in Human Biology, Pathophysiology and Anatomy & Physiology. In 2017 Kash was awarded the Digital Learning Innovation award (a national award funded by the Gates Foundation) by Online Learning Consortium to recognize his exemplary work in blended curriculum and the use of digital courseware to improve student learning outcome. Kash maintains a strong interest in technological innovation, digital pedagogy and teaching excellence in pre-professional undergraduate education. As such, he was invited to the founding advisory board for establishing a Teaching, Learning and Technology Center at UNE. He has also been invited to several focus groups/symposiums and served as a digital author, reviewer, and consultant to major textbook publishers in the United States. He has presented his pedagogical work at national and international conferences such as those held by the Human Anatomy & Physiology Society, the Society of College Science Teachers, the Federation of American Societies of Experimental Biology and the International Academic Forum. He has also collaborated on a pilot study in digital courseware awareness and implementation at a University in India.
Kash will cover topic relating to increasing student engagment in his talk, " Strategic Use of Lt in Designing a Blended Curriculum to Enhance Student Engagement." The use of digital learning resources and technologies are becoming essential in today's learning environments. Reports suggest that students expect and would like faculty members to provide online resources that support their face-to-face instruction. Textbooks are often bundled with unique digital course support material that an instructor could easily adopt and deploy, however, learning through doing and hands-on laboratory exercises are still vital to student comprehensions and mastery. Laboratory data acquisition and analysis engages students in hands-on active learning and allows them to integrate and apply basic science knowledge. However, it is challenging for many students to connect the 'dots' and make meaningful connections between lecture and laboratory contents. This talk will outline some strategic use of Lt platform in blended curriculum design and implementation in both lecture and laboratory to maintain continuity of learning.
Kash also attended our 2017 Lt Brain Trust event and we are thrilled that he has decided to join us again!
Who Should Attend
This event is ideal for educators with an interest in innovative technology designed to enhance the student experience. The event is suitable for those that are familiar with Lt and are in the process of assessing our platform or are already using Lt.
Have something you want to share with your fellow educators? Attendees will also be given the opportunity to present at the event if they choose, just let us know ahead of time!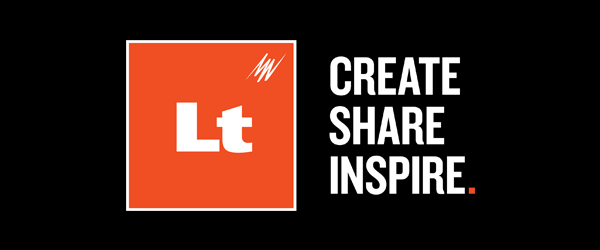 When & Where

Chicago Marriott Downtown Magnificent Mile
540 N Michigan Ave
Chicago, IL 60611


Friday, September 28, 2018 at 6:00 PM

-

Sunday, September 30, 2018 at 12:00 PM (CDT)
Add to my calendar
Organizer
ADInstruments has been designing and manufacturing PowerLab data acquisition systems for life science since 1988. Our goal is simple: deliver a data acquisition solution that is high quality, easy to use and perfectly suited for its many intended applications in corporate and academic research, and higher education.
ADInstruments, Inc. organizes training courses and events for researchers and educators in North America.