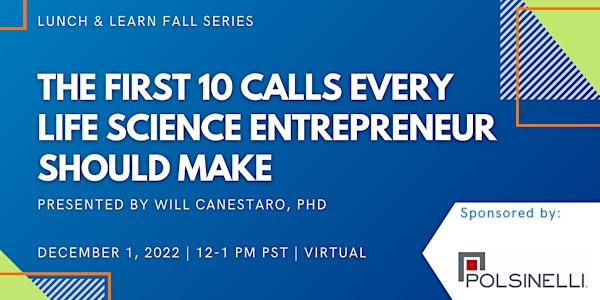 LSWI Lunch and Learn Series
You are a researcher or entrepreneur with an idea for a company. Who do you need to call? Hint: It's not Ghostbusters. Join Life Science
About this event
You are a researcher or entrepreneur with an idea for a company. Who do you need to call? Hint: It's not Ghostbusters. 
Join Life Science Washington Institute for the last event in our monthly Lunch & Learn Series focused on topics specific to early-stage entrepreneurs. Will Canestaro, PhD, Managing Director at WRF Capital will cover the first basic steps an entrepreneur should take when starting a company including: how to register your company, when do you call the bank, what is "IP" and how do you protect it, etc. 
 When: December 1, 2022 from 12:00-1:00 
Where: Virtual
Who should attend?: This series is for anyone interested in startups and entrepreneurship, including students, researchers, and entrepreneurs. 
Cost: There is no cost thanks to our sponsors
About the 2022 Lunch & Learn Startup Series: 
Life Science Washington Institute is hosting a series of Lunch & Learns focused on answering the burning questions researchers and entrepreneurs have as they grow their idea from concept to commercialization. Each month, we will cover a different topic with a discussion led by a subject matter expert or experienced entrepreneur. These events are free and open to any one interested in learning more about startups and entrepreneurship!