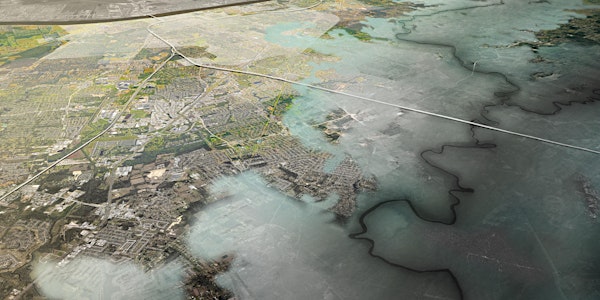 LSU Science Café: Living with Floods and Hurricanes
Join us for a hybrid live and online LSU Science Café with faculty researchers.
When and where
Location
Varsity Theatre & Facebook Livestream 3353 Highland Road Baton Rouge, LA 70802
About this event
As heavier and longer rainstorms cause nuisance flooding and warmer temperatures cultivate more tropical storms and hurricanes, we must adapt to these new norms. Join presentations by meteorologist Paul Miller to learn more about why hurricanes and extreme weather events are occurring and LSU Coastal Sustainability Studio Managing Director Traci Birch about how communities are responding.
About the Speakers
Dr. Traci Birch is an assistant professor in the LSU School of Architecture. She currently serves as the managing director of the LSU Coastal Sustainability Studio, a multi-disciplinary research center focused on long-term stability within coastal communities. Her current research focuses broadly on developing frameworks for climate adaptation, cultural preservation, and well-being in the face of accelerated climate change. Focused on informing community development and ecological restoration policy, Dr. Birch's work seeks to examine what counts to people not just what can be counted and to explore the nuanced ways of valuing and dealing with change by individuals and groups. Her work takes an applied approach, working directly with diverse communities to understand how to build capacity for, to withstand, and to recover from acute and chronic adversity. She earned a Ph.D. in urban studies from the University of New Orleans, where her work focused on the intersection of ecosystem management and land use planning. She also holds a master's degree of Urban and Regional Planning from UNO and a BA from Baldwin Wallace University.
Dr. Paul Miller is an assistant professor of coastal meteorology in the LSU Department of Oceanography & Coastal Sciences. In addition to supervising the LSU Coastal Meteorology Lab, his current work examines hurricane-related impacts such as flooding and landscape change, as well as thunderstorm drivers in the Southeast U.S. and Caribbean. Dr. Miller's research has documented lingering changes to heat indices, precipitation, and streamflow for several months following strong hurricane landfalls. Beyond research, he also provides real-time operational forecasting support for the Coastal Emergency Risks Assessment (CERA) storm surge prediction suite.
LSU Science Café is presented in partnership with WRKF.
Registration & Attendance Information
The event is open to the public and advance registration through Eventbrite is recommended.
If you are attending in-person, please print your registration ticket or have it available on your electronic device upon arrival. Doors open at 5:00 PM. Event begins at 6:00 PM.
If you are attending virtually, access to the live event will be available through Facebook Live. Your Eventbrite registration confirmation email will provide the information that you need, followed by reminder emails prior to the event. A Facebook account is not required to view the event live. Please check your "clutter" or "junk" box if you do not receive your email reminders.
The event broadcast will be closed captioned, and a recording of the event will be made available on the LSU Research YouTube channel shortly after the event.