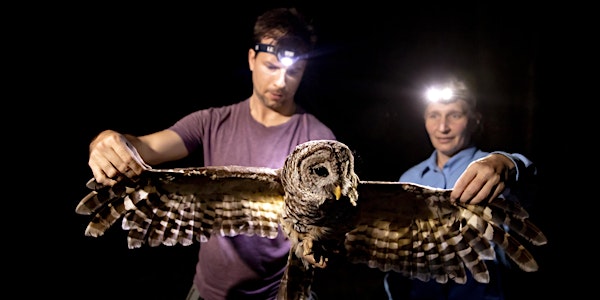 LSU Science Café: Baton Rouge Barred Owls
Join us for a hybrid live and online LSU Science Café with a faculty researcher.
When and where
Location
Varsity Theatre & Facebook Livestream 3353 Highland Road Baton Rouge, LA 70802
About this event
Barred Owls are the most abundant owls in Baton Rouge and among the most common raptors in Louisiana. They inhabit large, mature trees, often within Baton Rouge neighborhoods and BREC parks. But little is known about how they use the urban environment. Join LSU School of Renewable Natural Resources' Weaver Brothers Distinguished Professor Sabrina Taylor for a fascinating presentation on these charismatic creatures.
About the Speaker
Dr. Sabrina Taylor is the Weaver Brothers Distinguished Professor in the School of Renewable Natural Resources at LSU. She graduated with a BS in Biology from the University of Victoria (British Columbia, Canada), an MS in Biology from Dalhousie University (Nova Scotia, Canada), and a PhD in Zoology from the University of Otago in New Zealand as an NSERC Julie Payette Scholar. She was an NSERC Postdoctoral Fellow at the University of British Columbia with the Center for Applied Conservation Research prior to her hire at LSU. Together with her LSU graduate students, she focuses on conservation genomics research, often on endangered species including red wolves, gopher tortoises, smalltooth sawfish, several species of birds, and most recently, captive tigers in the US. She has also extensively researched the effects of the Deepwater Horizon oil spill on marsh rice rats and Seaside Sparrows, including research on immune gene variation, gene expression, epigenetics, and DNA metabarcoding. She is a Fellow of the American Ornithological Society and has been awarded an LSU Alumni Association Rising Faculty Research Award, LSU College of Agriculture Sedberry Award for Outstanding Graduate Teacher, and two LSU awards for undergraduate teaching.
LSU Science Café is presented in partnership with WRKF.
Registration & Attendance Information
The event is open to the public and advance registration through Eventbrite is recommended.
If you are attending in-person, please print your registration ticket or have it available on your electronic device upon arrival. Doors open at 5:00 PM. Event begins at 6:00 PM.
If you are attending virtually, access to the live event will be available through Facebook Live. Your Eventbrite registration confirmation email will provide the information that you need, followed by reminder emails prior to the event. A Facebook account is not required to view the event live. Please check your "clutter" or "junk" box if you do not receive your email reminders.
The event broadcast will be closed captioned, and a recording of the event will be made available on the LSU Research YouTube channel shortly after the event.