LRIG New England Fall Seminars and Exhibition 2015

Wednesday, September 2, 2015 from 2:00 PM to 7:00 PM (EDT)
Event Details
General Info
We are happy to invite you to our annual LRIG New England Fall Seminars and Exhibition which is being held at the Boston Marriott Cambridge Hotel. This is a free event to our members where you can visit our seminars and exhibition floor and talk to our participating speakers and exhibitors. There are also free workshops provided by some of exhibitors where current issues and topics are discussed. Last year, we had more than 45 exhibitors participating and we hope to have even more this year. 

Food and non-alcoholic beverages are provided for free to all members and exhibitors during this event. For those interested in purchasing alcoholic beverages a bartender is available to provide you this service for a fee. 

There are multiple parking options available including two parking garages within a block and street parking is available where appropriate. We do not validate parking for this event. 

The Grand Ballroom is located on the 2nd floor of the hotel. It can be accessed using the escalator or the elevator. The Discovery and Endeavor meeting rooms are located on the 3rd floor. There is a stairwell just outside the Grand Ballroom which will lead directly to the meeting rooms. The elevator will also access the 3rd floor meeting rooms from the 2nd floor. 
Workshop Schedule
Discovery Room
4:00pm - Festo, Sam Stoney - A Positioning Solution for Low Temperature (-100C) Environments
4:30pm - Corning/BioTek, Brad Larson - Enabling 3D Tumor Invasion and Neural Stem Cell Assays through Incroporation of Spheroid Microplates and Cellular Imaging
5:00pm - Artel, Keith J. Albert - Volume Measurement System for In-process Microplate Samples
5:30pm - Thermo - Can robots teach themselves?  Come learn about Thermo Scientific Spinnaker, a Robot with vision.
Endeavor Room
4:00pm - Digilab, Dr. Richard Gilbert - Generation of Biological Tissue Architecture through Live Cell 3D Printing
4:30pm - Nexcelom, Dr. Leo Chan - A Rapid High-Throughput 3D Tumor Spheroid Imaging Cytometry Screening Method for Drug Discovery
5:00pm - Beckman, Andrew Eckert - DART 2.0: Fresh Eyes for your Data
5:30pm - Hamilton, Hal Schneider - Automating Exomes... By the Thousands
Exhibitor List
| | | |
| --- | --- | --- |
| 3Dispense | Corning Life Sciences | Nexcelom Bioscience |
| 4titude North America | Digilab, Inc. | PAA, Inc. |
| Acorn Product Development | Dynamic Devices | PerkinElmer |
| Analytik-Jena US | FluidX Ltd. | QIAGEN |
| ArcticWhite LLC | Genedata | RAPID |
| Artel | Gibson Engineering | Retisoft Inc. |
| Avidien Technologies | Grenova | Scinomix, Inc. |
| Beckman Coulter Life Sciences | Hamilton Storage Technologies | SIRIUS AUTOMATION |
| Bigneat Ltd | HighRes Biosolutions, Inc. | StackWave |
| Biodirect Solutions, Inc. | HNP-Mikrosysteme | Tecan |
| BioNex Solutions | Hudson Robotics, Inc. | ThermoCRS |
| Biosero | iAutomation | Titian Software |
| BioTek Instruments, Inc | IntelliCyt Corporation | TTP Labtech |
| BlueCatBio GmbH | Labcyte Inc | TWD Tradewinds, Inc |
| BMG Labtech | Festo | Zinsser NA |
| Brooks Automation | Liconic US |  Formulatrix  |
| Computype | Mecour Temperature Control |  Wagner Life Science  |
Sponsors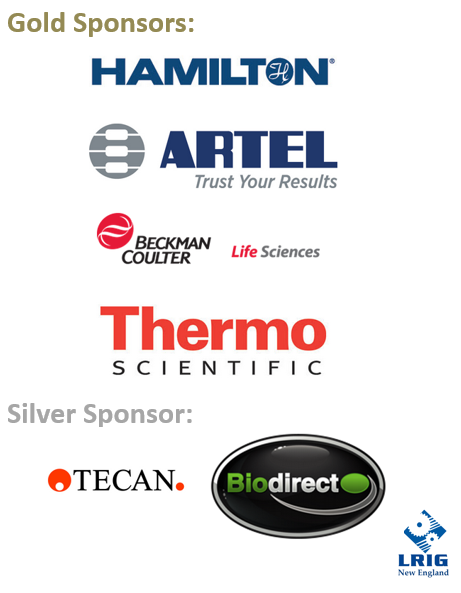 Have questions about LRIG New England Fall Seminars and Exhibition 2015?
Contact LRIG
Organizer
Laboratory Research and Innovation Group (http://lrig.org) is a rapidly growing special interest group focused on laboratory research, innovation, and automation. Our membership consists of scientists and engineers, primarily from the pharmaceutical and biotechnology industry, with chapters across the US and in Europe. Our semi-annual regional meetings are informal and are intended to facilitate communication and to share current best practices and experiences in laboratory automation. Presentations and vendor exhibits cover such topics as high throughput screening, drug discovery, combinatorial chemistry, compound purification and distribution, data management, pharmaceutical dosage form, dissolution testing and product formulation along with others.