Description
Join us for a wonderful weekend full of relaxation, workshops and sermons to strengthen and encourage our faith in all areas of our lives; health and wellness, finances, mental strength, a study of scripture and much more! Plan now to attend the retreat at the beautiful Oakwood Resort, Syracuse, IN.
The Oakwood Resort has a total of seventy-seven spacious rooms and luxury suites in the Resort Hotel. Lake Region Conference has reserved all seventy-seven rooms, for a short time only. If you want to stay on the Resort, Reserve your room now for yourself and your roommate(s).
Oakwood Resort is Located on the edge of Lake Wawasee, Indiana's largest natural lake. Oakwood Resort is the perfect location for our 2017 Lake Region Conference Women's Retreat.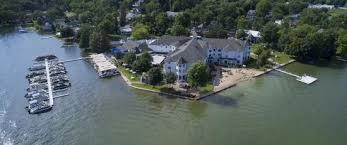 Retreat Activities: Prayer Room, Workshops, Exercise Room, Full Service Aveda Salon & Spa, Tours, Walking and Golf.
Featuring Jaime Jorge, World-class Violinist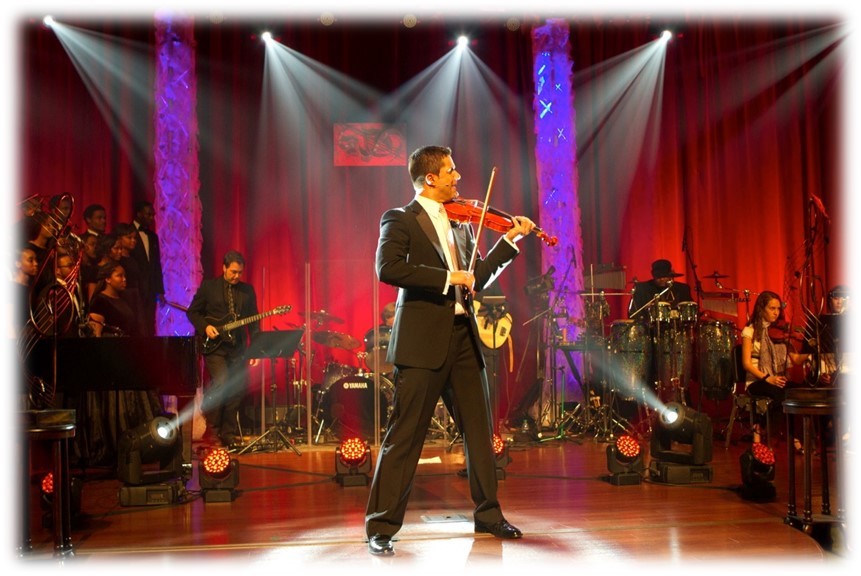 From High School auditoriums to magnificent cathedrals, from simple church programs to Carnegie Hall, Jaime's music can inspire, uplift, and bring peace. For over two decades, through 15 albums and more than 2,500 concerts in North and South America, Europe, Australia, and Asia, Jaime's music has touched the lives of millions. It can touch yours too.
Cuban-born, Jamie Jorge's forceful, expressive mastery of the violin has delighted audiences around the globe. Jaime has dedicated his talents to sharing the love of God through sacred and classical concerts and special appearances the world over.
Come! Register for the Lake Region's Women's Retreat and you will experience a sense of hope through music – September 22-24, 2017, at the beautiful Oakwood Resort, in Syracuse, Indiana. You will discover …the joy of the LORD is your strength!
Men of Strength presenter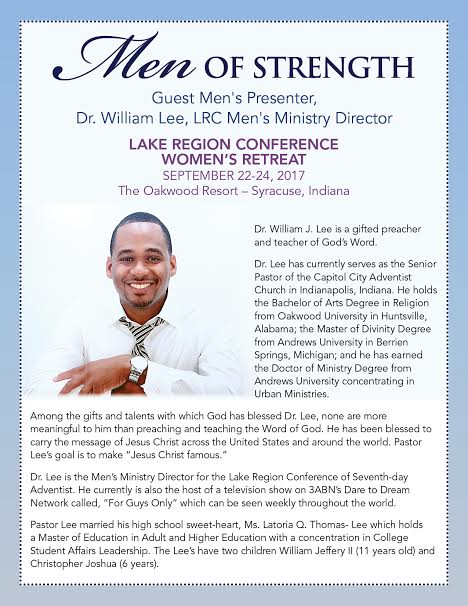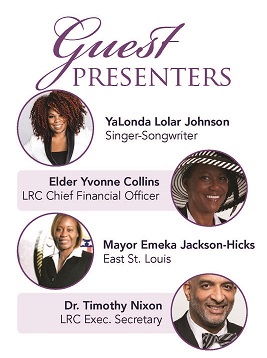 Vision Statement
The Lake Region Conference Women's Ministries Department exists to encourage, enable and empower women to be equipped and prepared disciples of Jesus Christ, bringing our unique perspectives to the issues facing the Church when Christ returns.
Our Values and Objectives are to:
Be women leaders who are active and engaged

Be Vision-Focused in our Ministry

Be Mission-Focused in our Programs

Nurture and encourage women to be disciples for Christ

Mentor young women, teens and girls

Provide training opportunities for women to build relationships – One woman at a time

Provide opportunities for women to deepen their faith and experience spiritual growth

Promote opportunities for wider service for women

Challenge women to use their talents and spiritual gifts in partnership with others, in the home church and community: "When a great and decisive work is to be done, God chooses men and women to do this work, and it will see the loss if the talents of both are not combined."– Evangelism 469

Help meet critical needs and experience the "joy" of women of strength, ministering to other women
REGISTRATION FEES
Earlybird thru May 31, 2017 $99.00
June 1, 2017 thru July 31, 2017 $129.00
August 1, 2017 thru August 31, 2017 $149.00
After August 31, 2017 $170.00
Teens (14-18) $75.00
LODGING INCLUDES
4 Meals, 3 on Saturday, 1 on Sunday
The rooms are spacious, including luxury suites. There are seventy-seven spacious rooms and luxury suites in the Oakwood Resort Hotel.
LODGING PRICING: (per person, which includes 2 Hotel Nights and 4 Meals)
$380.00 Single
$250.00 Double
$200.00 Triple
$180.00 Quad
Select: Single, Double, Triple, or Quad Lodging Arrangements

Note: Rooms will not be reserved until all roommates have registered and their confirmations are received by Debbie Griffith. Once that is done you can register online for your rooming preference. DO NOT CALL THE OAKWOOD RESORT.
TRAVEL on Friday morning to arrive for registration and check-in. Seminars will begin at 2:15pm
METHODS OF PAYMENT
Pay Online REGISTER at:
https://www.eventbrite.com/LRC-Women-of-Strength-2017
Pay by Personal Check, Business Check or Money Order (Do not mail Cash)
MAKE CHECK PAYABLE TO: Lake Region Conference - Memo: "LRC Retreat 2017"
MAIL CHECK TO:
Lake Region Conference
Women's Ministry Department
ATTN: LRC Retreat 2017
8517 South State Street
Chicago, IL 60619
For all registration and lodging inquiries, partial payment plan arrangements, contact
Debbie Griffith, Retreat Registrar, LRC Women's Retreat 2017
313.492.7037 / Dmgriffith016@gmail.com
CANCELLATION POLICY: REGISTRATION FEES ARE NOT REFUNDABLE
Yet are transferable
Note:
• Spouses are able to register, enjoy the resort, and attend workshops for spouses.
• Teens (14-18) are able to register, enjoy the resort, and attend workshops for teens.
• Regrettably, children under 14 are unable to attend.
May God continually guide and bless you.
Doris Gothard, Director
Lake Region Conference Women's Ministries
313.587.8104 / Dorisgothard@aol.com