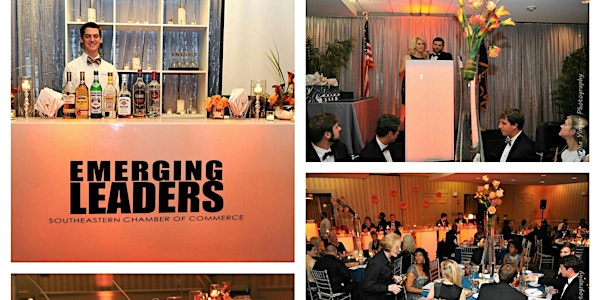 Lowcountry Emerging Leaders Gala 2022
8th Annual night of celebration honoring regional leaders and businesses.
When and where
Location
Porsche Show Room 1515 Savannah Hwy Charleston, SC 29401
About this event
As a signature event to kick-off the Summer, the Emerging Leaders Night will bring together dozens of leaders and their supporters to network, promote and celebrate another year of service, progress, and leadership in the Southeastern Region. Each year the Chamber recognizes various industries within the Region that are fostering positive regional impact to the economy.
For the year 2022, the SCC has designed a special edition of the Gala highlighting Lowcountry businesses and leadership, as they navigate through a new economy post the COVID-19 outbreak.
With a nominating committee of over a dozen leadership professionals representing a diverse group of organizations and backgrounds; this Emerging Leaders Celebration has been planned with great detail and eminence. It is a formal night geared towards celebrating these vital, through often behind-the-scenes industries and its leaders.
Winners and finalist will be honored in a feature publication produced by the Chamber and will be celebrated at the official Awards Gala August 25, 2022 at the beautiful Dock Street Theatre, located off the beautiful downtown Charleston Peninsula.
Award Recipient Industries to be recognized are:
Automotive Sales & Service
Industry Manufacturing Companies
Hospitality & Tourism
Banking & Finance
Entertainment & Nightlife
Economic Development & Real Estate
Healthcare Services
*********************************************************
EVENING PROGRAM:
**Registration & Networking begins at 6:30pm
6:30-7:00pm | Hosted Courtyard Cocktail Reception
7:00-8:00pm | Emmy's Program
8:00pm-9:00pm |Late Dinner, Coffee and Music Lounge
ATTIRE: Black Tie
HASHTAG: #ELGala2022
We are excited to recognize these businesses and highlight the cutting-edge leaders and the impact their companies have made in the Tri-County Area and the Southeast Region in its entirety.