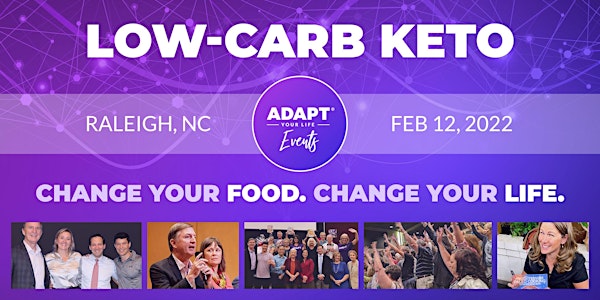 Low Carb Keto Raleigh 2022
CHANGE YOUR FOOD. CHANGE YOUR LIFE. Lose Weight and Reverse Chronic Disease through Nutrition.
When and where
Location
The McKimmon Conference and Training Center at NC State 1101 Gorman Street Raleigh, NC 27606
Refund Policy
Refunds up to 7 days before event
Eventbrite's fee is nonrefundable.
About this event
Organizer: Adapt Your Life Academy, Dr. Eric Westman
~
Are you overwhelmed by the avalanche of information out there about diets and health?
Tired of spending time and money following complicated and expensive plans and protocols that don't deliver the results you want?
Or taking medications that treat the symptoms of obesity and metabolic disease instead of the root cause
`
We hear you!
~
Join leading obesity expert, international speaker, and best-selling author, Eric Westman MD MHS, together with Wickham Simonds MD, Eric Thorn, MD FACC, Amy Berger, CNS, Kristie Sullivan & for a full-day community conference with presentations rooted in the science.
Whether you're a beginner or you're more advance; looking to lose body fat, improve your health, get off your medications, or find a way of eating that you can enjoy for the long term, we can show you the way — the simple way! No tracking of food, no measuring macros, just by eating the right foods.
Meet the speakers and mingle with your fellow 'low carb' community for a full day of fun, education, Q & A, book signing, vendors, local low-carb meet-up groups, delicious healthy lunch, raffle prizes, success stories, and more.
-------
TOPICS OF DISCUSSION
How to lose weight and heal your body through food to reverse obesity, type 2 diabetes, and chronic disease. (based on scientific research)
Treat the symptoms that are causing disease instead of using medication as a band-aid to cover up disease.
Learn how Dr. Westman has successfully gotten thousands of patients off of medications through eating the right food.
Which foods to eat and which to avoid
Why we develop insulin resistance and how to reverse it. (before it's too late)
Two pathways: Food as medicine, "the road less traveled" versus medications and side effects (the more common path)
Medication reduction, continuous glucose monitoring, and remission of diabetes mellitus type 2.
Success Stories share their inspirational journey with you.
Q & A, mingle with the speakers, and much more!
-------
PRESENTERS:
Eric Westman, MD MHS
Obesity Medicine Physician, #1 NYT best-selling author, and internationally recognized leader, speaker, educator, and advocate of the low-carb lifestyle for the past 20 years.
Associate Professor of Medicine at Duke University Health System and the Director of the Keto Lifestyle Medical Clinic.
Dr. Westman has dedicated his life to helping patients with various medical conditions such as Type 1 & Type 2 Diabetes, Metabolic Syndrome, Obesity, Hypertension, and many others through diet and lifestyle choices.
______________
Wickham Simonds, MD
Owner of Dr. Simonds Metabolics & Weight Loss in Raleigh and Durham
Board-certified page by the American Board of Obesity Medicine.
Fellow of the Obesity Medicine Association, and serves as a board trustee for this national organization of obesity medicine clinicians.
Focuses on prevention, treatment, and reversal of the disease of obesity using nutritional therapies, behavioral change, physical activity.
_______________
Eric Thorn, (MD, FACC)
Non-invasive cardiologist and obesity medicine specialist at Virginia Hospital Center in Arlington VA.
Graduated from medical school at the University of Maryland School of Medicine in 2001.
Board-certified in cardiology, internal medicine, nuclear cardiology, and obesity medicine.
Dr. Thorn believes that the implementation of an individualized, real food-based, low carbohydrate lifestyle is the cornerstone of cardiovascular prevention.
Through healthy living combined with strategic and appropriate use of diagnostic technology and medications, he helps his patients achieve optimal cardiovascular health.
_________________
Amy Berger, CNS
Certified Nutrition Specialist and Nutritional Therapy Practitioner specializing in using low-carbohydrate nutrition to help people reclaim their vitality through eating delicious foods, and showing them that getting and staying well doesn't require starvation, deprivation, or living at the gym.
Blogger at www.tuitnutrition.com. Writes about a wide range of health and nutrition-related topics, such as insulin, metabolism, weight loss, thyroid function, and more.
Author of "The Alzheimer's Antidote" which addresses Alzheimer's disease as "type 3 diabetes" or "diabetes of the brain," and describes the therapeutic potential of a LCHF/ketogenic diet.
U.S. Air Force veteran
________________
Kristie Sullivan
Author of the bestselling book "Keto Living Day By Day" (sustaining a low carb lifestyle, recipes, meal plans, and more).
Other books include Easy, everyday low carb recipes called, Journey to Health: A Journey Worth Taking & her latest, Growing Up Keto: An inspiring new book stems from Kristie's personal struggles with growing up obese and then finally finding the right nutritional path for herself and, eventually, her family and others. Facebook as
Kristie's focus is on a clean eating approach to a very low carbohydrate diet.
-------
Matt Calkins, MD
Family Medicine Resident at Wake Forest
Graduated from the University of Florida College of Medicine in 2019
Researcher in a project that uses continuous glucose monitors to affect behavior change
Mission driven to help people age successfully by optimizing metabolic health and lifestyle
-------
LUNCH: (**Pre-Orders Only)
Lunch should be purchased with your event ticket ahead of the event. We will break for a 1-hour 'networking style' lunch
Delicious boxed lunch, (Meditteranean Salad with grilled Chicken).
Available to purchase AHEAD OF TIME ONLY.
Special event price of $5.00/per person - MUST be purchased ahead of time!
NOTE:
Lunch will NOT be available to purchase at the event.
The venue does not allow you to bring your own lunch into the building, so if you bring your own lunch, you will have to eat it outside.
Coffee/Tea/Water will be available at the event.
-------
KETO WORKSHOP with Dr. Westman
A ONE-hour workshop with Dr. Westman. (Includes worksheets). In this workshop, Dr. Westman will help you find your personal carb threshold based on his new book "End Your Carb Confusion". When you're done with the workshop, you will know exactly what your next steps are and how to move forward.
-------
ACCOMMODATION
We have secured a special Room Rate at 2 nearby hotels:
Towne Place Suites for $109/per night - (includes breakfast)(New hotel)
Holiday Inn Express for $99/night - (includes breakfast).
Room rates valid fromFriday, February 11, 2022 - Sunday, February 13, 2022
Last Day to secure your hotel reservation at these rates: Friday, January 26, 2022
------
1. TOWNE PLACE Suites Raleigh-University Area - $109/night
BOOKING LINK: TOWNE PLACE SUITES
___________
2. HOLIDAY INN Express - $99/night
HOLIDAY INN EXPRESS - BOOKING LINK
-------
BOOK SIGNING:
Dr. Westman & Amy Berger's latest book, "End Your Carb Confusion".
**A limited number of books will be available to purchase at the event while stocks last. ($20 per book, cash only). Dr. Westman will be signing books through the day as time permits.
-------
REGISTRATION:
Registration: 8:30 am - 9:30 am.
Signage to the event will be visible from the main entrance. At registration, you will receive an Agenda for the day and a raffle ticket (for awesome giveaways). We will start promptly at 9:30 am.
-------
EVENT FAQ
Are there any Covid guidelines in place?
Masks must be worn while walking around andd may be taken off when sitting in your seat and while eating.
What should I bring to the event?
A pen, notepad, and your cellphone to take awesome pics with your new friends, a warm jacket, or blanket in case you get cold.
Will lunch be available at the event?
Pre-purchased lunches will be available to those that purchased their lunch with their event ticket. **There will be NO extra lunches to purchase ON the day of the event).
**You are welcome to bring your own lunch, however, you will not be able to bring it into the building.
How do I contact the organizer with any questions?
Feel free to email Liza Becker - liza@adaptyourlife.com
What time does the event start and end?
The event starts at 9:30 and ends at 5:00 pm. Registration is from 8:30am - 9:30am.
What is your refund policy?
Tickets are refundable up to 7 days prior to the event only. Note: Eventbrite fees are NON-refundable.
Do I need to bring my printed ticket to the event?
No. We will have a pre-printed registration list that will include your name, so no need to bring it with you on event day.
**(If you purchase your ticket LATE, we may have already printed the attendee list out, then please bring your ticket with you to registration).
Is my registration fee or ticket transferable?
Yes. Just let us know when you get to registration.
Can I purchase a ticket at the door on event day?
Sure but only IF seats are available. We have a limited amount of seating so we encourage you to purchase your ticket/s ahead of time.
Visit our website for more details about this course: adaptyourlifeacademy.com
(NON-attendees will have to wait for the next open enrollment period of each course)
(The ability to purchase a course will be offered ONLY to EVENT attendees).
Yes, over and above the event presentations, Dr. Westman will be offering attendees the ability to purchase the Adapt Your Life Academy "Keto Made Simple" course at a special event price.
Will I be able to purchase Dr. Westman's online 'Keto Course' at the event?
Yes, Dr. Westman will be offering attendees the ability to purchase his online course "Keto Made Simple" at a special event price.
(NON-attendees will have to wait for the next open enrollment period to purchase a course)
(The ability to purchase Dr. Westman's online course will be offered at the EVENT to event attendees only).
Visit the Academy website for more details about the "Keto Made Simple" course: adaptyourlifeacademy.com
Where Do I Park?
Plenty of free parking is available in the parking lot of the venue.
______________
CONTACT US:
academy@adaptyourlife.com