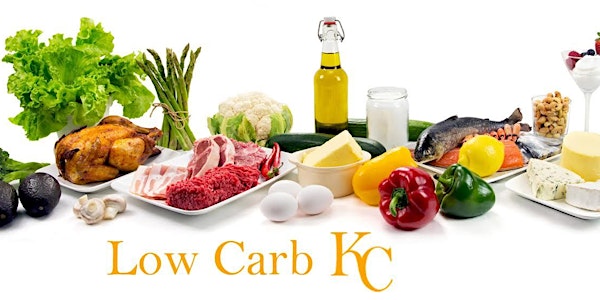 Low Carb KC
When and where
Location
Ritz Charles 9000 West 137th Street Overland Park, Ks 66221
Refund Policy
Contact the organizer to request a refund.
Description
You're invited to our second annual Low Carb KC event!!!

9:10am-9:25 Welcome Dr.Heather Cardin- Co-Chair
9:30am-10:10 Dr. Adam Nally Ketogenic Lifestyle &Quality of Life in Ketosis
10:20am-11:00 Dr. Michelle Robin, Quadrants of Wellbeing
11:10am-11:40 Dr. Deb Hodges, Migraines & Alzheimer's
11:50am-12-20 Cindy Miller, BSN & Rachael Dee Thomas One Families Journey, Over 500LBS Gone in 1 Year on Keto
12:20pm-12:50 Q&A Dr. Nally, Dr. Robin, Dr. Hodges & Nurse Cindy
12:50pm-1:30 LUNCH on site LCHF/Keto food truck: American Fusion
1:30pm-2:05 Drew Manning Fit2Fat2Fit & Keto Basics
2:10pm-2:50 Dr. Eric Westman, Guide to LCHF
2:50pm-3:20 HEALCare, Beth Merrill, HEALCare Concept
3:30pm-4:00 Willie Villarreal, Hormones Sports Performance &Recovery
4:00pm-4:30 Q&A Dr. Westman, Paul Carter, Willie Villarreal & Dr. Nally
4:40pm-5:00 KetoandCo., Ted Tieken Trends in Keto Community
5:05pm-5:35-Dr. Tracey King
5:40-6:00 Closing Dr. Heather Cardin
*subject to change
With low carb conventions and expos sweeping the nation, it is time for Kansas City to take our turn to shine. This one-day inaugural event will feature keynote speakers; Dr Eric Westman, Dr Michelle Robin and Dr. Adam Nally, plus local experts from the Kansas City area in the medical and fitness world; Paul Carter, Drew Manning just to name a few. Our speakers will educate attendees on the benefits of a low-carb lifestyle, and all-around natural living. Free cooking demos, fitness education, and more will also be presented from the main stage throughout the event.
We believe that the "low carb conversation" is getting ready to explode in Kansas City. In addition to the education and research based facts you will learn from the speakers, we are also excited to offer you the opportunity to learn about products, services and businesses that you may not know exist. The vendors featured throughout the venue will offer free goodies for sampling, as well as health assessments and a chance to talk one-on-one with the experts.
Other than that, please feel free to reach out to us directly if you have any additional questions.
We are incredibly excited to collaborate with each and every one of you as we join together to bring awareness about living a healthier, cleaner lifestyle.
Sincerely,
Dr Heather Cardin, drheather@cardinwellness.com, 913-980-5502
Kendra Pettyjohn , kbrawkc@gmail.com
Pam Martveli, p.martveli@yahoo.com

PS -- We do still have a few vendor spots available. Please contact us if interested.
FB Low Carb KC or @Lowcarbkc or #lowcarbks or #lckc