"Loving Me Rocks" Girls Empowerment Conference 2017

Saturday, April 29, 2017 from 8:30 AM to 3:00 PM (CDT)
Event Details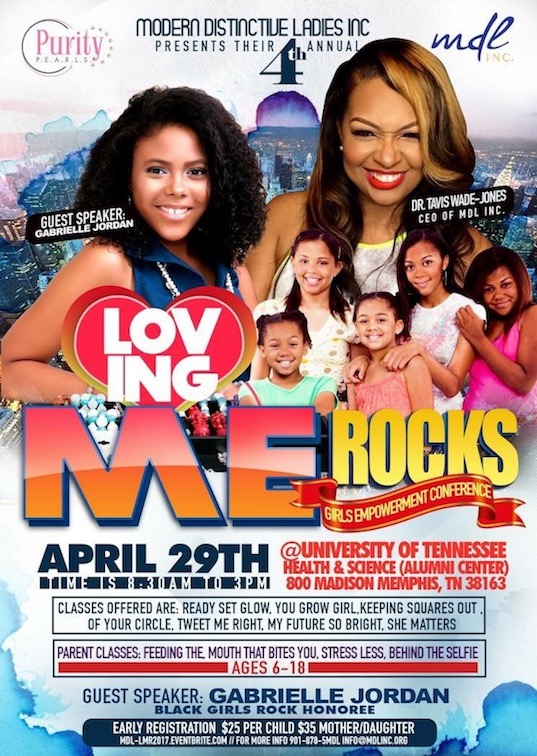 VERY IMPORTANT - Please make sure that you provide the age of the person(s) whom will be attending the conference. We are grouping young ladies by age so that they can attend classes with age appropriate content.
TICKET INFORMATION
Is seating assigned?
No, all tickets are General Admission (First come first served). Make sure to arrive early for the best seating within your section
Tell me more about the various ticket levels available?
GENERAL ADMISSION: First come, first served seating. 
 Where can we park for the conference? Lot R. Let the on-duty officer know you are an attendee.
Something came up, can I get a REFUND on my ticket?
Sorry, all sales are final. We are not able to issue refunds for tickets under any circumstances. You can transfer attendence to the conference but not on the day of. Please email us at info@mdlic.org with subject "LMR Attendence Transfer".
Is lunch included in my ticket price?
Yes.
Why am I charged a service fee?
Service fees cover credit card processing, taxes and other fees associated with the sale of tickets.
What if I my ticket is lost or stolen?
Don't worry, we will have a check-in list at the conference. Just show your ID.

Can I transfer an unused registration to another event?
No. All sales are final and there are no refunds or transfers to other events.
What if I want to bring a group?
We love having groups at "Loving Me Rocks" and offer a special group ticket price for 10 or more people. 
GENERAL INFORMATION
What happens when?
Doors open at 8:00 AM
Event begins at 8:30 AM
There will be several breaks throughout the day
Event ends at 3:30 PM

Where can I keep up with and interact with MDL Inc.?
You can find us here: www.MDLInc.org, Facebook: MDL Inc. We would love to hear from you and social media is a great way to tell your friends about Loving Me Rocks!

Can I bring food?
No. Lunch and refreshments will be provided.

Can I leave during the event?
Yes, we only ask that if girls must leave that they do so with an adult.

What will you talk about?
We will address issues that face girls today like, relationships, social media, self-image, friendships, and a relationship with God.

Who should come?
"Loving Me Rocks" Conference addresses the issues facing youg ladies ranging from age 6 to 18. We stress that this event is great for Mothers, daughters and leaders and we encourage them to attend together.

Can moms/aunts/etc. come to the event too?
Adults are welcome to come along—in fact, we encourage at least one adult to come with every two girls. We encourage parents/guardians who want to attend with their daughter bring some of her friends along—not only because they will enjoy sharing the experience, but so her peer group will have heard the same messages.

Can guys come?
"Loving Me Rocks" is an event for girls only.

After I register, can I purchase more seats later?
Yes. You can always purchase more seats until we are sold out.

How old do you have to be to volunteer?
Volunteers should be at least 18 years old.
When & Where

University of Tennessee at Memphis, Health Science Center
800 Madison Ave
Memphis, TN 38103


Saturday, April 29, 2017 from 8:30 AM to 3:00 PM (CDT)
Add to my calendar