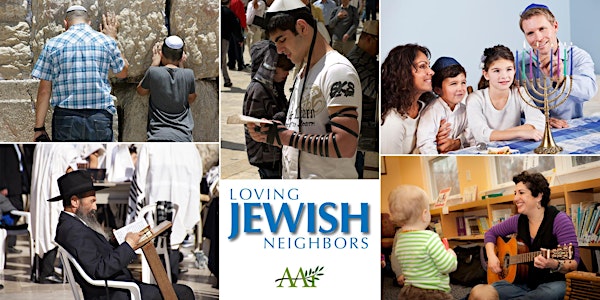 Loving Jewish Neighbors Seminar for Christians
A transformational seminar for Christians building bridges of understanding and respect between Christians and Jews for the glory of God
By Abrahamic Alliance International University
Refund Policy
Refunds up to 30 days before event
About this event
LOVING JEWISH NEIGHBORS is a seminar for Christians who want to understand and honor Jewish neighbors. It navigates through a maze of conficting information and stereotypes, then equips Christians with biblical solutions to challenges that have vexed Jewish-Christian relations for over two-thousand years.
This graduate-level seminar is taught by one of Christianty's preeminent scholars of Judaism, and designed for grassroots Christians without formal theological training. All will be informed, challenged and inspired.
INSTRUCTOR: Dr. Marvin R. Wilson NIV Bible translator and acclaimed author of Our Father Abraham: Jewish Roots of the Christian Faith (made into an award-winning PBS documentary), Dr. Wilson is currently Professor of Biblical and Theological Studies at Gordon College. About his most recent book Exploring Our Hebraic Heritage, the Jewish intellectual Prof. Susannah Heschel, daughter of the legendary Jewish theologian, Abraham Joshua Heschel, writes,
"For two thousand years, we have longed for a Christian scholar of Judaism as sensitive and knowledgeable as Marvin Wilson, and his work fulfills our hopes. Insightful and deeply learned, this book is a remarkable example of a Christian theology that affirms Judaism with respect and appreciation." —Prof. Susannah Heschel
Attend Loving Jewish Neighbors and discover
Part I: Understanding Jews
What Jews really believe about God, Jesus and Christians
Jewish sensitivities every Christian should know 
Expressions of Christian faith that Jews appreciate most
Changes and developments in Judaism since Bible times
The parting of ways: Why church and synagogue split
The de-Judaization of Christianity
When Christians visit the synagogue
Jewish holy days and festivals
Keys to Jewish ethics, philosophy and biblical wholism
Part II: Responding to Jews
Learning through Jewish dialogue
Supercessionism and Noachide Law
Lessons from the Holocaust
Anti-semitism and the church
Seeking justice and peace in the Holy Land
Christian views on modern Israel that scare Jews
Impasse and opportunity in responding to theological difference
Creeds and deeds
Tikkun olam 
Part III: Studying Scripture with Jews
Authoritative sources in Jewish study
Relevancy of the Torah for Christians 
Jewish vs. Christian interpretive methods
Guidelines for understanding prophetic literature
Reading Isaiah together
Paradox and polarity in Biblical revelation
Navigating through difference
The nature of Hebrew prophecy
Abraham as a model for peacemaking
Accessible, Flexible, Online
 Attend anytime anywhere.
 Watch on any computer, tablet, smart phone, or TV with your home Bible study group.*
 Recorded before a live audience at Saratoga Federated Church, California.
 21 sessions uniquely suited for individual or small group study.
 Average session length: 47 minutes. 
What experts are saying about Dr. Marvin Wilson...
"Wilson has thrown down the gauntlet, challenging Christians of all kinds to reform a two-thousand year-old history of misunderstanding Jews and misinterpreting our own sources."
—CARL E. ARMERDING, Regent College
"As a historical religion, Christianity must own its Jewish origins and live up to the best of that heritage. Marvin Wilson, a pioneer in Christian-Jewish relations, makes a compelling argument for renewing Christian faith by recovering our Hebraic heritage. If only there were more like him, we would have a healthier church."
—DAVID NEFF, former editor-in-chief of Christianity Today
"For too long discussion of the Jewishness of Jesus has remained academic. Few scholars have had the interest or the ability to unfold the practical meaning of the Gospel's Jewish roots for today's church. Wilson has finally filled that void. And the result is simply revolutionary. For the first time someone has given the person in the pew an understanding of just what the Jewishness of Jesus means for everyday life."
—Jerusalem Perspective
"Wilson's goal is to show the Jewish roots of Christianity and of Jesus... and improve interfaith understanding. He succeeds brilliantly."
—Jewish Advocate
"Wilson breaks new ground in furthering positive Christian-Jewish relations. His superb scholarship is combined with many concrete suggestions for building a new relationship between the church in the synagogue, between Christians and Jews."
—RABBI A. JAMES RUDIN, The American Jewish Committee
 "[Wilson has given us] a distinctive exposition of what it means for today's church to be part of Abraham's spiritual family..."
—DANIEL J. HARRINGTON, SJ,  Journal of Religion
* Seminar video can be streamed to any flatscreen TV configured to display web content via Chromecast or AppleTV via AirPlay. AAi member churches can also project introductory seminar videos to a large screen for congregational viewing.