LOVING FROM THE INSIDE OUT™ a powerful "women's empowerment symposium" 2015

Saturday, March 28, 2015 from 8:30 AM to 4:30 PM (CDT)
Event Details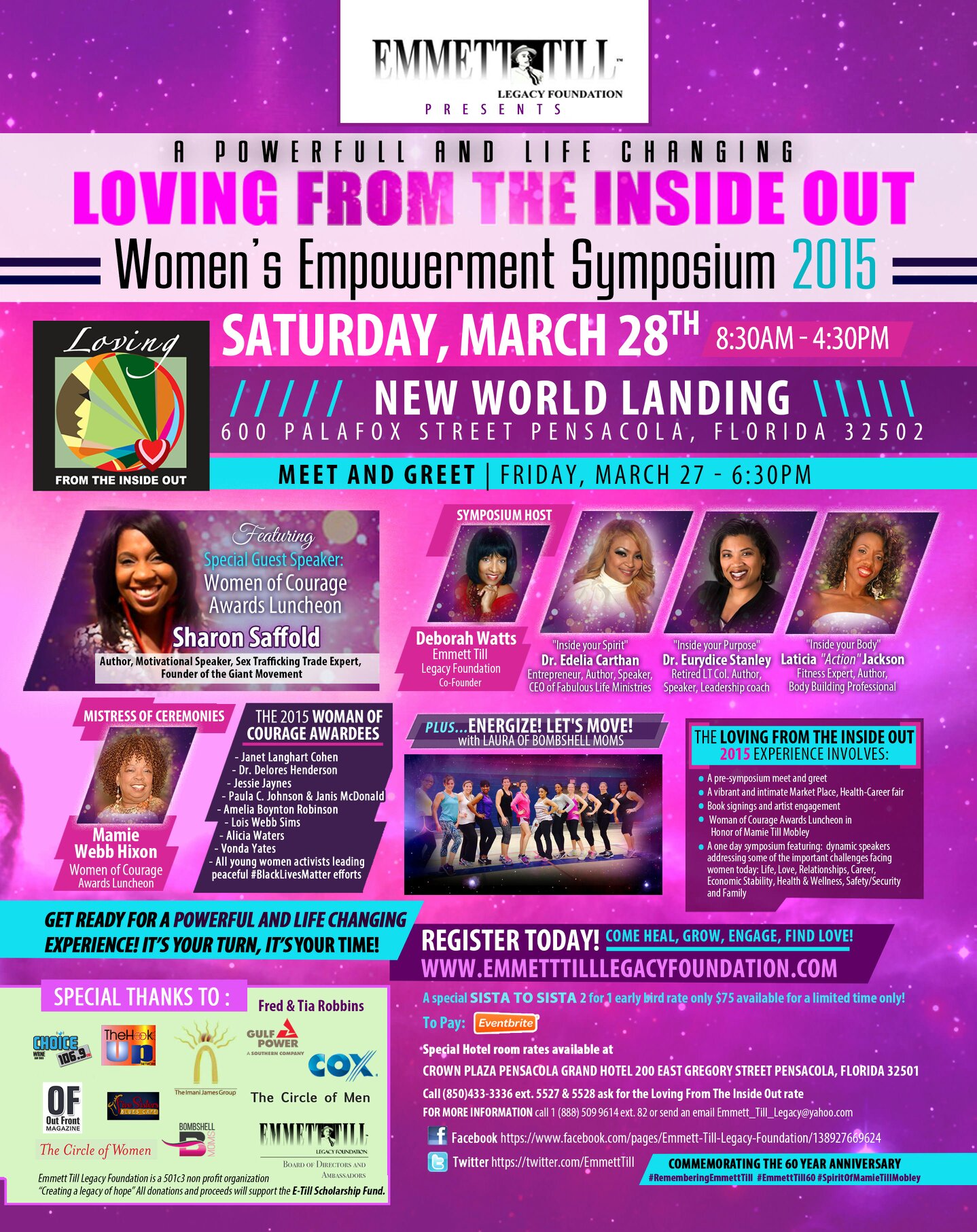 LOVING FROM THE INSIDE OUT

™
"a women's empowerment symposium"

Saturday, March 28, 2015
Florida pan handle and surrounding areas (Georgia, Alabama, Lousiana, Mississippi and beyond) ....Get ready for this life changing, powerful experience. It's your turn and your time!

  You don't want to miss this!

Sista's outside of the area are invited too! Make it a girlfriends, sista to sista weekend!
LOVING FROM THE INSIDE OUT™ Pensacola will take place on March 28, 2015 at New World Landing, 600 South Palafox Street in Pensacola, Florida.Please invite your friends 
LOVING FROM THE INSIDE OUT™…(LFTIO) is a powerful and life changing women's empowerment symposium.
LFTIO is an opportunity for women of color and others to come together to celebrate, engage, heal, grow and find love!
The attendees will learn from leading experts and each other, address issues that concern them and gain some important steps to having the love, career, health and life that they want and deserve!
YES!....it's your turn and your time!!!
The Loving From The Inside Out experience, involves:
* A pampering party and/or pre: symposium meet and greet (
Friday, March 27
, specific event to be announced to all who register)
* A full day symposium filled with Dynamic speakers focused on "Inside your Mind, Body, and Spirit" and addressing some of the important challenges facing women today (Life, Love, Relationships, Career, Economic Stability, Health & Wellness, Safety/Security and Family).
Hear from our powerful and dynamic speakers in 2015 who have a story to tell and a message just for your, mind, body and spirit:
*Dr. Edelia Carthan: Inside your Spirit
*Laticia "Action" Jackson: Inside your Body
*Dr. Eurydice Stanley: Inside your Power and
*Mamie Webb Hixon, Mistress of Ceremonies of Awards luncheon and
*Deborah Watts, Symposium Host

* Explore and shop in our vibrant "Loving from the Inside Out" Mind, body, and Spirit intimate Market place and career/health fair.
*Engage with Authors in Booksignings and with Artist  featuring our special guests and honorees and more!


* " Women of Courage" awards luncheon in honor of Mamie Till Mobley ( mother of Emmett Till), truly a woman of courag is featuring our guest speaker *Sharon Saffold, who will 'Knock your socks off in a Giant kind of way", and entertainment. 
Come, show your support and JOIN US IN CONGRATULATING the 2015 Women Of Courage Awardees! All were nominated by you and selected by ETLF in Honor of Mamie Till Mobley (mother of Emmett Till).  They are truly an inspiration and a role model to many. The courage they have shown along their life's journey is cause for celebrating!
We are so excited and pleased to award the 2015 Woman of Courage Awards to:
•Janet Langhart Cohen
•Dr. Delores Henderson
•Jessie Jaynes-Diming
•Paula C. Johnson & Janis McDonald
•Diane Nash
•Amelia Boynton Robinson
•Lois Webb Sims
•First lady Vonda Yates
•Alicia Waters
•All young women activists involved with peaceful #BlackLivesMatter protests.
Excitement is building!! For "Loving From The Inside Out" Here is the link for the PSA:  https://www.youtube.com/watch?v=xzA1NtyJcmA 
HERE is the You Tube link to the COX COMMUNICATIONS Across the Gulf Coast segment. Promoting Loving From the Inside Out!
http://youtu.be/m9k2J40YJjA
Feel free to share!

 Yes, the "Circle of Women" and "Circle of Men" , LFTIO Sponsors and Market Place/Career Fair exhibitors will come together again to help make this an amazing, life changing experience for you!

Yes, this is the 7th and as in the previous LFTIO symposiums, it is all about you and other women coming together to celebrate, engage, heal, grow and find love!
Registration forms are now available! .You can pay here via event brite, or paypal or via check or money order.

A regisration form is required for all attendees, speakers, awardees and guests.

Take advantage of the Special Sista to Sista 2 for 1 early registration rate.
Click here for flyer and registrations forms.

Click here to download a 2015 registration form now!!
http://www.emmetttilllegacyfoundation.com/registration-form-2015.pdf

Do you have a great product, service or career opportunity to offer? Market place/Exhibitor spaces are available too. Vendors are welcome! Click here for to download the 2015 Exhibitor form:  Exhibitors, Employers/Vendors You Must Fill out this form, Click Here:
http://www.emmetttilllegacyfoundation.com/exhibitor-form-2015.pdf
For more information about the foundation and to provide in-kind services or to be one of our dynamic Sponsors of LFTIO, email us info@emmetttilllegacyfound
ation.com.
Follow us on
twitter.com/EmmettTill
LODGING:Out of town travelers and those who want to make it a relaxing get-a-way with sista/sister friends, Check with New World Landing Inn. 600 South Palafox Street, Pensacola, Florida 32502. Hotel/Inn room rates are subject to applicable state and local taxes in effect at the time of check in.
METHOD OF RESERVATIONS:Room Reservations can be made by individual attendees directly with New World Landing Inn Reservations 850 432 4111 This is a Boutique Hotel and rooms are limited in quantity. or if sold out try the nearest Hotel in the area. Suggestions listed soon.
NEED LODGING? SPECIAL HOTEL RATES OFFERED At Crown Plaza Pensacola Grand Hotel, 200 East Gregory Street Pensacola, Florida 32501 United States. For telephone reservations contact 850-433-3336 ext. 5527 & 5528. If you fly in to Pensacola, there is a complimentary shuttle to the hotel and back to the Airport.
The cutoff date for the link and rate of $149 for 2 queens or $159 king is March 16, 2015.
Special Rates Offered UNTIL MARCH 16, 2015. USE CODE; LUV. Book now! For "LOVING FROM THE INSIDE OUT" 2015 Click here: http://www.crowneplaza.com/redirect?path=hd&brandCode=cp&localeCode=en&regionCode=1&hotelCode=PNSGH&_PMID=99801505&GPC=LUV
Remember Use the code: LUV for the special rates!
Sistas.......You don't want to miss this opportunity! GET READY to Go to the next level! You deserve it!!!!! Just ask someone who has attended! This is the best investment you can make for YOURSELF!

Hope you and your sista friends will join us!

We can't wait for you to join us on March 27 (6:30pm) at Five Sisters Blues Cafe at 421 W. Belmont, and from 8:30 am - 4:30 pm on the 28th at New World Landing. See you there!
When & Where

New World Landing
600 South Palafox Street
Pensacola, FL 32502


Saturday, March 28, 2015 from 8:30 AM to 4:30 PM (CDT)
Add to my calendar