LoveSpringSF: Miss Representation

Wednesday, January 25, 2012 from 6:30 PM to 9:30 PM (PST)
Event Details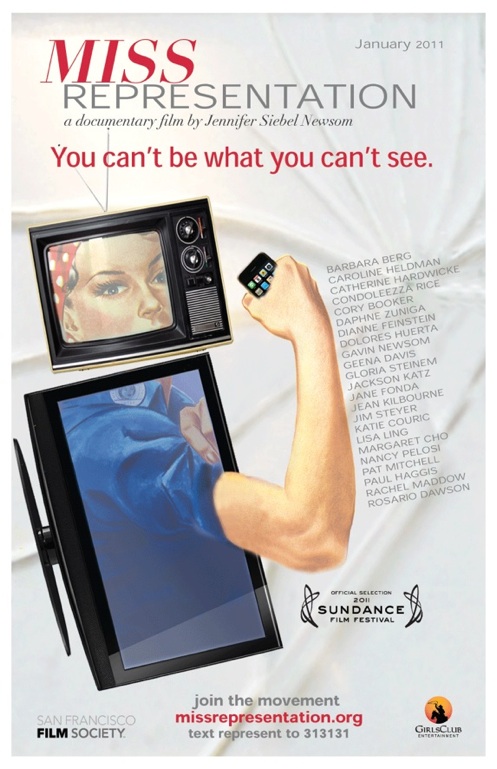 Self love, love of others, emotional, spiritual and character development are influenced by the culture we live in. 

Men & Women:  What does media representation of women mean in the actual hearts and minds and daily lives of the women you know?  How do images and stereotypes work their way into our brains, drive our choices, and influence our perspectives on ourselves and others?   What's it like to be a woman in a culture like this?

We will screen the award winning film Miss Representation,directed and produced by Jennifer Siebel Newsom, which premiered at the 2011 Sundance Film Festival.

After the film, the women of LoveSpring will offer their personal testimony and invite community discussion.  Come hear the voices of your colleagues, sisters, mothers, wives and fellow humans speak to this important issue.


About the film:
Like drawing back a curtain to let bright light stream in, Miss Representation (90 min; TV-14 DL) uncovers a glaring reality we live with every day but fail to see. Written and directed by Jennifer Siebel Newsom, the film exposes how mainstream media contribute to the under-representation of women in positions of power and influence in America. The film challenges the media's limited and often disparaging portrayals of women and girls, which make it difficult for women to achieve leadership positions and for the average woman to feel powerful herself.
In a society where media is the most persuasive force shaping cultural norms, the collective message that our young women and men overwhelmingly receive is that a woman's value and power lie in her youth, beauty, and sexuality, and not in her capacity as a leader. While women have made great strides in leadership over the past few decades, the United States is still 90th in the world for women in national legislatures, women hold only 3% of clout positions in mainstream media, and 65% of women and girls have disordered eating behaviors.
Stories from teenage girls and provocative interviews with politicians, journalists, entertainers, activists and academics, like Condoleezza Rice, Nancy Pelosi, Katie Couric, Rachel Maddow, Margaret Cho, Rosario Dawson and Gloria Steinem build momentum as Miss Representation accumulates startling facts and statistics that will leave the audience shaken and armed with a new perspective.
---
About LoveSpring
Christine McCaull and Taylor Milsal host LoveSpring SF, a community created to connect and bring more love alive in ourselves and in the world.  To put conscious effort into deeper human connections.  To Share wisdom. Learn skills. Shift Habits. Transcend Limits. Practice Appreciation. Celebrate Living. To love and be loved more.
Wednesday night meetings include vibrant, fresh vegetarian dinner, music, a brief talk on some aspect of love and awareness/ living better, discussion and reflection time. We know that something in each week, whether it's the people or the content, can be integrated into each of our daily lives.  Speakers, topics and musicians vary.
Dinner starting at 6:30 p.m.

FILM SCREENING starts promptly at 7:00 p.m.
Discussion 8:30 to 9:15.
Dinner and beverages are provided, if you want to bring other treats to share, please do so.
Come as you are.
Children with well-behaved parents are welcome.
Please invite like-minded friends.
Sign up for any Wednesday that works with your schedule.
More locations coming soon.
Drop ins welcome- pay at the door.
To see speakers and topics, please visit LoveSpring.org
When & Where

Taylor Milsal's Salon
2678 California Street
San Francisco, CA


Wednesday, January 25, 2012 from 6:30 PM to 9:30 PM (PST)
Add to my calendar
Organizer
Taylor Milsal and Christine McCaull
LoveSpringSF: Miss Representation