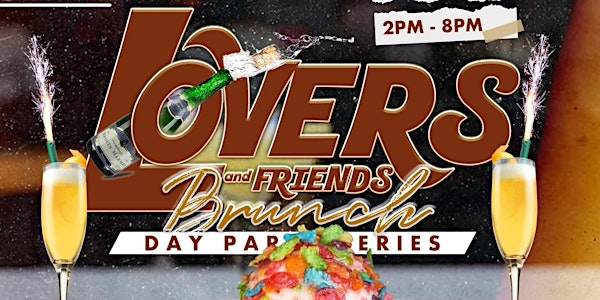 LOVERS & FRIENDS BRUNCH ( DAY PARTY SERIES)
SERVICING THE COMMUNITY WITH GOOD VIBES ONLY FOR PROFESSIONALS AND EVER LASTING MEMORIES!
Date and time
Sunday, May 28 · 2 - 8pm CDT
Location
2244 S.Michigan Ave 2244 South Michigan Avenue Chicago, IL 60616
About this event
COVID-19 RULES & REGULATIONS: IF YOU ARE FEELING SICK PLEASE DO NOT ATTEND EVENT TO PREVENT THE POSSIBLE SPREAD OF COVID-19. THE POSSIBLE SYMPTOMS ARE SORE THROAT, LOST OF SMELL AND TASTE, COUGHING, CHEST PAINS AND EXPERIENCING HARD TIME BREATHING!
COME CHILL ENT. PRESENTS: A LUXURY DAY PARTY EXPERIENCE
Location & Venue Description: BAR 22 Nice Upscale Venue ! In the south loop near downtown area located on 2244 S. Michigan. It is nice, comfortable and roomy with a great untouchable atmosphere surrounded with great music and people.
Time & Day: 2:00 PM-8:00 PM (Each & Every Sunday)
Cost: (THESE PRICES ARE DISCOUNTED, IT WILL BE MORE AT THE DOOR)
ALL YOU CAN EAT BRUNCH FROM 2:00PM-5:00PM ARRIVING ON TIME IS HIGHLY SUGGESTED FOR FIRST COME FIRST SERVE SEATING !
$55 BRUNCH AND DAY PARTY- FIRST COME FIRST SERVE SEATING INCLUDES: BOTTOMLESS MIMOSAS, ENTRY AND ALL YOU CAN EAT BRUNCH FROM MENU OPTIONS.
$35 BRUNCH AND DAY PARTY- FIRST COME FIRST SERVE SEATING INCLUDES ENTRY AND ALL YOU CAN EAT BRUNCH FROM MENU OPTIONS.
TO RESERVE BACK SECTION EMAIL US AT comchillent.events@gmail.com.
$20 GENERAL ADMISSION ENTRY ONLY.
$20 BOTTOMLESS MIMOSAS CAN BE PURCHASED AT VENUE AS WELL FROM 2-6:00PM.
Recommendations:
Must show up on time to check-in for your reserved seating. If you are late you do not receive extended time only time that is remaining.
THERE ARE NO REFUNDS IF YOU ARE MORE THAN 15 MINS LATE IN THE CASE THAT YOUR TABLE OR SEAT IS SOLD TO SOMEONE ON THE WAITING LIST!
YOU WILL NOT BE SEATED UNTIL EVERYONE IS THERE!
Targeted Audience: Mature Professionals
Dresscode: Dress To Impress (NO ACCEPTIONS) ! NO BASEBALL HATS FOR MALES OR FEMALES, NO HOODIES, NO ATHLETIC GEAR FOR MALES AND FEMALES, NO SLEEVELESS SHIRTS MALES, NO T-SHIRTS, NO PROVACTIVE OUTFITS. MUST DRESS ACCORDINGLY THERE ARE NO REFUNDS AND WE HAVE THE RIGHT TO REFUSE ENTRY!
By attending this brunch event, you expressly give permission to Bar 22 and its designees to take pictures of you in the course of the event, and you acknowledge and agree that Bar 22 and its affiliates, successors and assigns may freely use, reproduce, publicly display, and distribute such pictures of you for advertising, promotional, and other commercial purposes indefinitely and throughout the world, in all media including on television and on websites and social media.
Age: 21+ Must Have valid License and/ or State ID
FOR ANY QUESTIONS OR CONCERNS ON HOW TO BOOK A BIRTHDAY, BIRTHDAY PACKAGES, SECTION RESERVATIONS AND/OR BOTTLE PRICING DM US ON IG/TWITTER @come chill_ent AND/OR EMAIL US AT comechill.events@gmail.com.