About this Event
This is a motorcycle event for all riders in the motorcycle community. All bikes,all riders are welcome to attend, however due to parking limitations and ticket availability, parking will be available for motorcycles only...No Cars, No Cages.
Participants will enjoy BackBeat BBQ and a performance by Chevy Metal. Longtime attendees and participants Robby Krieger (The Doors) and Emilio Rivera (Mayans) will be present plus many more special guests. Refreshments will be provided by 805 Beer plus the All American, Gibson Guitar Company will also have a presence with a hands on activation.
The purchase of this ticket includes:
LR 33 collectible Pin ,LR 33 collectible Patch
BBQ Plate prepared by Backbeat BBQ
There will be water and soda available
805 Beer will be available for sale.
Event is rain or shine
For F.A.Q. please keep scrolling
Need a Bike for the event? Check out HARLEY-DAVIDSON® OF GLENDALE RENTAL Department. Book your Bike here:
https://www.glendaleharley.com/glendale-harley-davidson-rentals/
Ride Leaves from Harley-Davidson®of Glendale
Registration at 9:00 am
Kickstands up at 11:00 am
Gates open at Santa Clarita at 11:00 am
This year, one of the LoveRide® benefactors will be the SCV Education Foundation, which promotes innovation and excellence in education through community engagement and investment opportunities in our fifty-four public K-12 schools. Working together, our synergy exemplifies who the SCV Education Foundation is and what we are working towards: enriching the lives of every student in every public school in our community. Learn more : https://www.scveducationfoundation.org/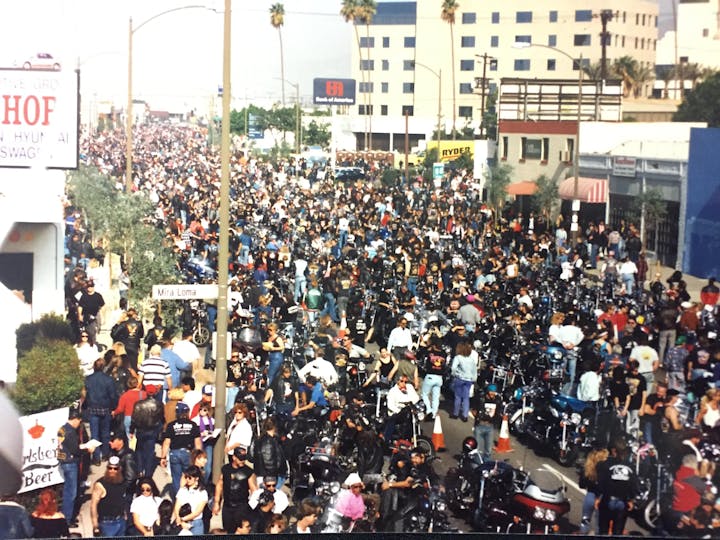 LoveRide® 33 FAQ
1. What types of payment do you accept?
Credit Cards will be accepted online
2. Can I buy tickets offline?
All Ticket sales are online
3. What fees and taxes will I be charged?
Fees are included in ticket price.
4. How will I get my tickets if I buy them online?
You will receive an email confirmation with printable or digital wallet tickets
5. Do you offer refunds?
Due to the charitable aspect of the event, no refunds will be offered.
6. What if the event is cancelled or postponed?
Event is rain or shine
7. What if my tickets are lost or stolen?
Tickets are non-transferable due to the Ride Waiver that must be agreed by each individual participating in the event
8. Can I show my tickets on my phone at the door or do I need to have the physical tickets with me?
Digital tickets are available as well as scannable QR codes
9. Can I put tickets on hold?
Due to the limited number of tickets, we cannot hold tickets, however, if the event sells out, you may sign-up on a waitlist
10. Do you offer military, senior citizen, or other discounts?
Due to the charitable aspect of the event, we will refrain from offering discounts or comps to any individuals
11. What does general admission mean?
No assigned seating for event
12. What should I do if I don't receive my tickets?
The most efficient way to get in contact with us is through email: info@loveride.org
13. What time do the doors open?
Registration starts at 9:00am at Glendale Harley. Gates open at Santa Clarita Harley at 11:00am
14. Where should I park and is parking free?
You will be guided at both locations for bike parking. This is a motorcycle event and we will not have the capacity to park cars. No Cages.
15. Do you have appropriate seating and parking for individuals with medical conditions?
Yes. We are compliant with City and State Handicap standards
16. What items am I not allowed to bring into the event (e.g., bags, coolers, video equipment, outside food and drink, etc.)?
Please refrain from bringing in any large bags,knives,guns, chainsetc. Security will be present with metal detectors for all participants safety
17. Are pets allowed?
Service animals will be allowed but please leave animals at home for this event.
18. Can I purchase tickets at the door/gate/entrance?
We currently do not have plans to sell tickets on the day of event, however, if this changes, we will announce it at a later time.
19. Is there an age limit or are there ID requirements to enter the event?
We would prefer 21 and up. We will be checking I.D.s for tickets and wristbands, so please bring your Driver's License
20. The name on the ticket doesn't match the attendee's name. Is that okay?
Each ticket must be independent and verifiable due to the Ride Waiver. If you do not agree to the Ride Waiver , you will not be able to purchase, or participate in the event.
21. Is there a way for me to get updates as the event gets closer as well as on the day of the event in case there are weather or traffic delays or other problems that could affect the event?
Yes. Follow us on instagram and Instagram: @loverideharley