Sales Have Ended
Ticket sales have ended
Plenty of $25 Tickets Are Available @ Kempenfest Gates 5pm
Sales Have Ended
Ticket sales have ended
Plenty of $25 Tickets Are Available @ Kempenfest Gates 5pm
KEMPENFEST - Giving Back To Barrie - 49 YEARS STRONG!
About this Event
OLG, Rock 95 & Impact Live proudly present multi-platinum international superstars LOVERBOY w/ special guests TEENAGE HEAD & local openers: Hunter, Carl Rundown Band, Bootlegged & Barstool Confession live on the RBC Main Stage @ Kempenfest 2019 Saturday August 3rd, Barrie's Waterfront - RAIN or SHINE - Children 12 & UNDER with an Adult are FREE!
Purchase Your TICKETS Early & $AVE:
GA Presale Tickets 01-500 > $9.95 (SOLD-OUT)
GA Early Bird Tickets 501-1000 > $14.95 (SOLD-OUT)
GA Advance Tickets 1001-2000 > $17.95 (SOLD-OUT)
BEST DEAL: GA 6-Pak > $16.95 (+ $ave On Fees)
GA Advance Tickets 2001-3000 > $18.95+HST
Admission @ Gates 5pm > $25 (Free 11am-5pm)
Visit KEMPENFEST.com for more info & full festival details!
JUST ADDED To KEMPENFEST 2019 Saturday August 3rd, Four Of Central Ontario's Best PARTY ROCK BANDS...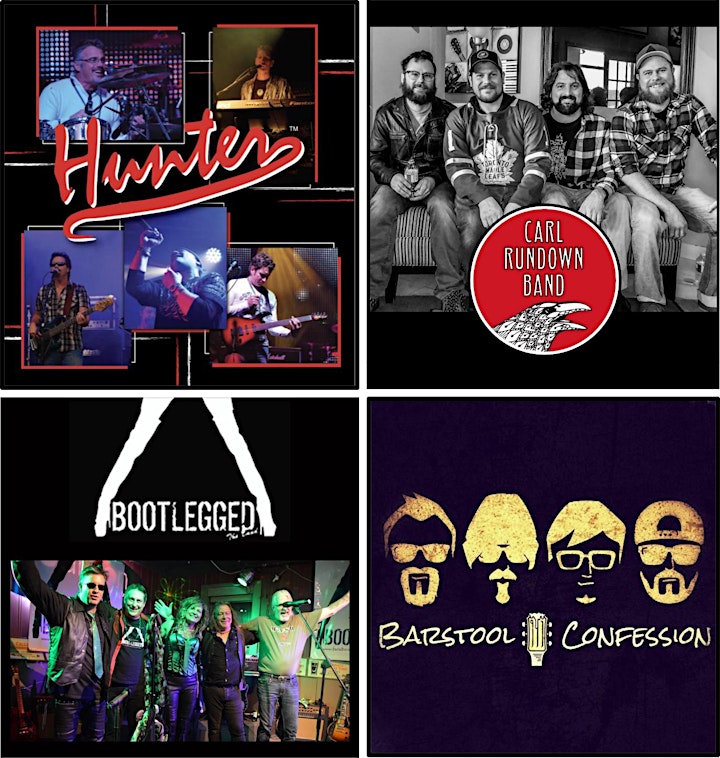 BARSTOOL CONFESSION (12 Noon-1:00pm): Four Canadian musicians who love to play live music, watch hockey & drink a few cold "boilermakers". We do great covers, but we like to put our own creative brand to each song - You will be sure to sing along! Our musical passion is influenced by bands including: The Hip, Kings of Leon, Neil Young, Collective Soul, Black Crowes & many other great bands!
BOOTLEGGED (1:30pm-2:30pm): An aggressive lead female singer with so much energy she keeps the room on fire, with her sexy vocal sidekick, two stellar players on guitar giving amazing shared leads, a top notch bassist who knows how to groove and a drummer that kicks it double time. A solid classic and modern rock band that keeps you on the dance floor, taking on songs many bands won't, including their own. A band that will captivate the crowd from beginning to end - Come See For Yourself!
CARL RUNDOWN BAND (3:00pm-4:00pm): Hailing from Innisfil, the Carl Rundown Band deliver a meaningful musical experience every time they have a chance to perform. Starting out in garages, basements and bonfires before moving to big stages, these gentlemen give it their all for any audience they are in front of. They each bring a genuine skill to creating every new song that they write. Releasing their third ep "Goin in without a Plan" in October 2018 these guys show no sign of slowing down.
HUNTER (4:30pm-5:45pm): A five-piece original indie band based in Barrie, ON. originating from some of the top Ontario cover bands prior to their 2001 debut. These guys have the experience & reputation for packing some of the best rooms around. From their "HUNTER- HERE & NOW" CD released in 2004, they have received national airplay in Canada, some U.S. & European stations. They have made their mark opening for some of Canada's best recording acts such as David Wilcox, Kim Mitchell, Brighton Rock, Honeymoon Suite, Stampeders & Dr. Hook. Along with their originals, they have most recently brought back some of their past influential cover songs into the mix making them a definite must see band for anyone wanting to party to the great classic & retro music of the past!
LOVERBOY Headlines KEMPENFEST 2019 (8:30pm -10pm)
CLICK HERE to visit the official event page on ImpactLive.ca to hear the ROCK 95 Radio Spot! KEMPENFEST 2019 Entertainment proudly provided by...

Performers
Date and Time
Location
Refund Policy