Society portrays a very narrow idea of what an ideal female body looks like. Women of Vienna would like to challenge that idea!
About this event
Society portrays a very narrow idea of what an ideal female body looks like. Women of Vienna is a big group of so many incredible women, coming from different cultures and backgrounds. We challenge the idea that a woman should look a certain way to be perceived as valuable. On the 30th of November, we will get together at the Social Work Hub to talk about ways how to LOVEeveryBODY.
What is the impact of social media on body positivity? What does body positivity even mean? Is it just about weight or is there more to it? In this one of a kind event filled with interesting presentations, panel discussions and interactive sessions, we find answers to questions like these.
PROGRAM
14:00 Doors open & Networking
14:30 - 14:40 Greetings and Opening Remarks
14:40 - 15:20 Body Positivity and Body Neutrality 101 - A Starter Kit for Smashing the Beauty - Industrial Complex (Keynote Speaker: Elisabeth Lechner)
15:30 - 16:30 Ugly without filters? The Influence of Social Media on Body Positivity (Panel Discussion - Moderator: Rita Isiba, Panelists: Emily McCormick, Lajali Zahra, Vanja Nagy, PhD., Karin Kapatais)
16:40 - 17:20 BREAK THE IMAGE: Conversations with Ourselves (Interactive Session - moderated by Melisza Neckel)
17:20 - 18:00 Strike a Confident Pose : Get Your pictures taken by Photographer Corinna Stabrawa + Networking
Thanks to our sponsors like Unilever Austria GmbH, Coca-Cola, VMWare and partnerships like the SocialWork Hub, you will leave this event with a filled goody bag and hopefully with Love for Every Body! (Detailed info about how to get to SocialWork Hub - please find at the end of this page, down below!)
The entire event is wheelchair accessible. Women of Vienna is a non-profit organization providing resources and a powerful network for women* living in Vienna. For this event we ask €5 euro donation to cover the costs of the expenses.
*This event will be held in English.
*We ask you to register to this event only if you identify as female. Thank you for your understanding! :-)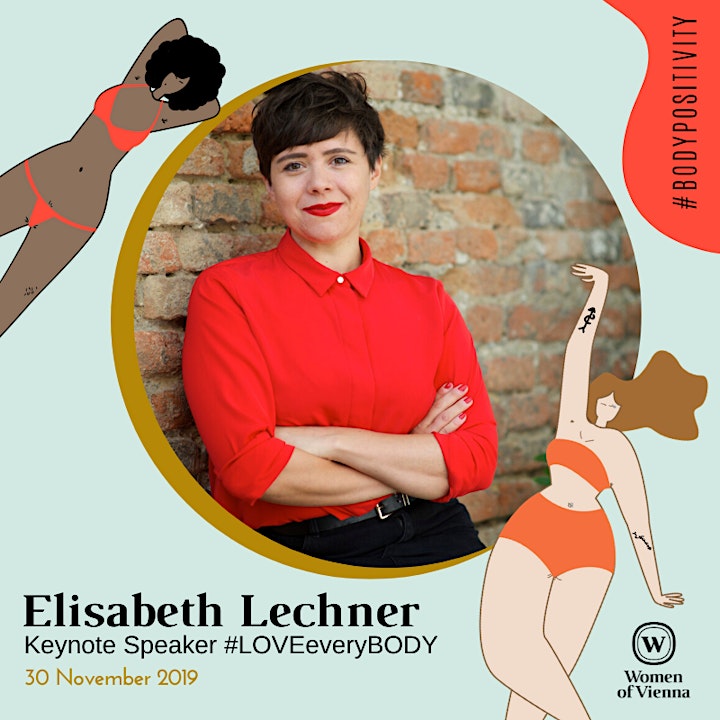 "As long a we live in a lookist society that unfairly judges people's - and especially women*s - abilities based on their appearance, we still need body positivity - a movement that radically redefines beauty and that advocates for everyone to feel good about themselves regardless of their gender, skin colour, hair structure, body type, level of ability or age."
Elisabeth Lechner is a speaker, moderator and Doctoral Fellow in Cultural Studies at the English and American Studies Department of the University of Vienna. She is currently wrapping up her PhD project "Beyond Disgust - The Popfeminist Politics of Body Positivity", in which she focuses on the renewed interest and popularity of 'disgusting' female bodies and, more specifically, the body positivity movement on social media. Her main research interests lie at the interface of popular culture and feminism, spanning across affect theory as well as media and body studies. Elisabeth holds MA degrees in Anglophone Literatures & Cultures and in Russian Studies and has experience in teaching and holding workshops both as a university lecturer as well a German as a Foreign Language trainer. also known as @femsista on Instagram, is working at the University of Vienna and will be giving the keynote speech, with the title "Body Positivity and Body Neutrality 101 – A Starter Kit for Smashing the Beauty-Industrial Complex".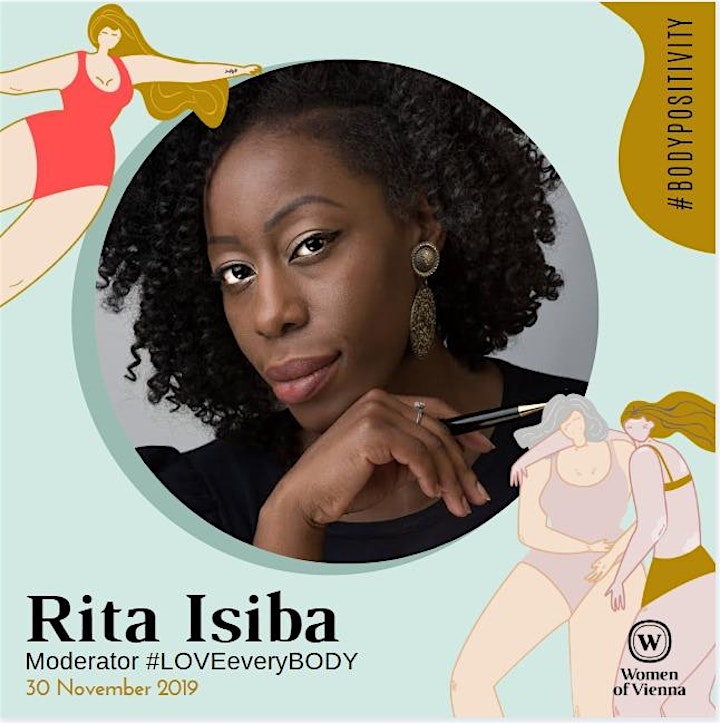 "Focus on what you were born to perform and not conforming to a trending beauty norm."
Rita Isiba is a Social Entrepreneur born in Vienna with Yoruba ancestry. She is an expert in intercultural stakeholder communication and engagement. Rita helps organisations prepare for the future of global work. She advocates social and cultural understanding to value our differences for peace and prosperity. Rita is committed to connecting people from all backgrounds with a sustainability compass and growth mindset. Talk to her about hip-hop, history, global trends, or how your brand makes a sustainable impact, and you'll immediately win her over. Rita will moderate our panel discussion, "Ugly without filters? The Influence of Social Media on Body Positivity".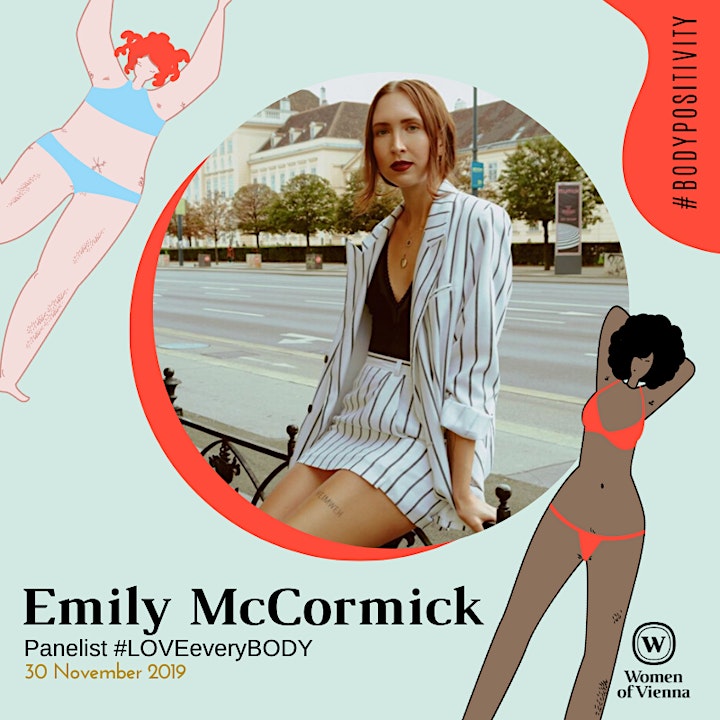 "I am not a target of discrimination because of my weight or appearance, I am seen as 'normal' by society and don't have to defend my body for taking up space."
Emily McCormick is a queer, white, cis woman from Canada living in Vienna. Emily has worked as an assistant, a fashion buyer, a clothing store manager, a server, a model and in various other pursuits. She stands for inclusive, intersectional feminism and believes that body positivity should not center voices like herself, but instead listen to those who are regularly unheard. Emily is committed to challenging fatphobia along with all other systematic oppressions in governments, institutions and day to day life. She enjoys very niche memes and baking on weekends. Emily will be a panelist on the panel discussion, "Ugly without filters? The Influence of Social Media on Body Positivity".
Follow Emily here: Instagram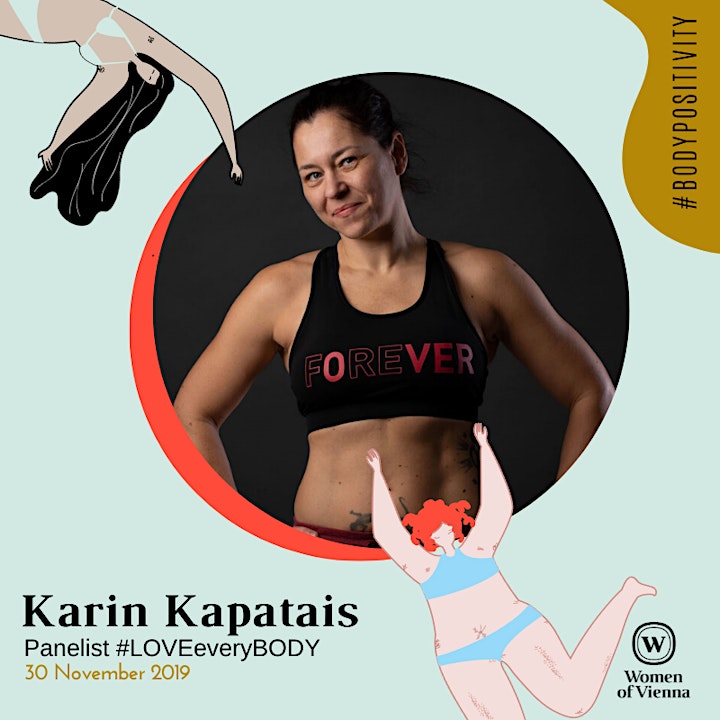 "Strong is the new skinny."
Karin Kapatais is a professional fitness and CrossFit Level 2 trainer, as well as a communications and marketing expert, with a deep passion for CrossFit, her husband and her 6 year old daughter. In the last years she has been working mainly with women and developed her own fitness programme for more fitness, strength and well-being. Her main focus: helping women to love and appreciate their own body the way it is: beautiful, strong, persevering and resistant. Karin will be a panelist on the panel discussion, "Ugly without filters? The Influence of Social Media on Body Positivity".
Follow Karin here: Project You I Facebook I Instagram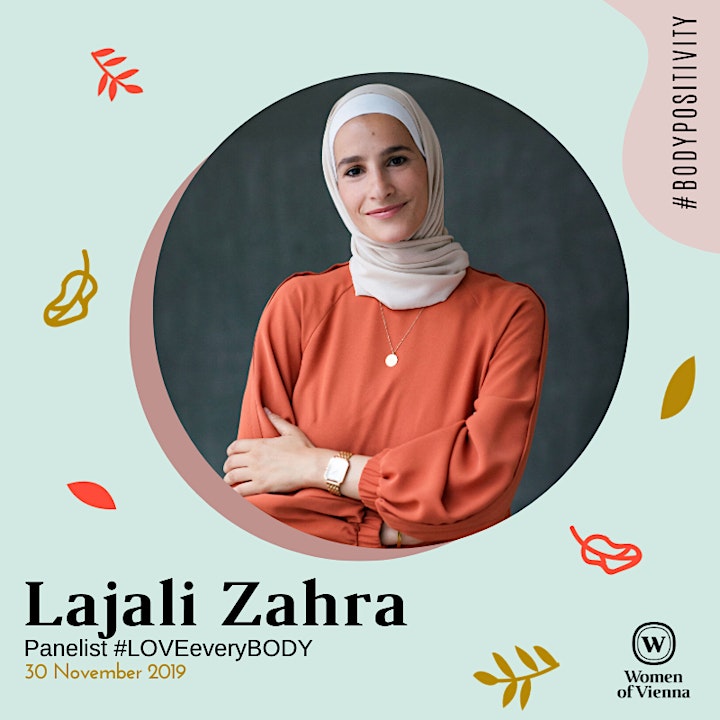 Lajali Abu Zahra is a Personal Stylist & Image Consultant. She believes in styling a vibrant life 'from the inside out' and connecting with women from all walks of life to help them feel good about themselves! She specializes in helping people to find the right Style for their body shape, lifestyle, and personality. In her workshops and talks on various aspects of Dressing Well her main focus is to empower women to Feel Well about themselves and their Style - again. Lajali will be a panelist on the panel discussion, "Ugly without filters? The Influence of Social Media on Body Positivity".
Follow Lajali here: Dress-Well I Instagram
"In the male-dominated, European academic setting, women's looks and behavior is being policed as much ever. By unapologetically normalizing our own unique styles, choice of motherhood, and interpretation of femininity, we begin to make a difference for the younger generation of scientist, and women in general."
Vanja Nagy, PhD. was born in Dubrovnik, Croatia. At the age of 10, she moved to United States, and spent the next formative years in both California as well as New York. She obtained the Bachelors of Science degree at State University of New York at Albany in 1998, and her PhD in Neurobiology at Icahn School of Medicine At Mount Sinai-New York City in 2006. She spent her postdoctoral training in the group of Josef Penninger, in Vienna, Austria, focusing on mouse models of neurological disorders. She established her own independent research group at the Ludwig Boltzmann Institute for Rare and Undiagnosed Diseases in Vienna, in 2016 to present day. Her research group currently focuses on the identification and characterization of rare neurodevelopmental disorders. She lives in Vienna with her husband, Bojan Zagrovic, and 2 children. Vanja will be a panelist on the panel discussion, "Ugly without filters? The Influence of Social Media on Body Positivity".
Fo Vanja here: Linkedin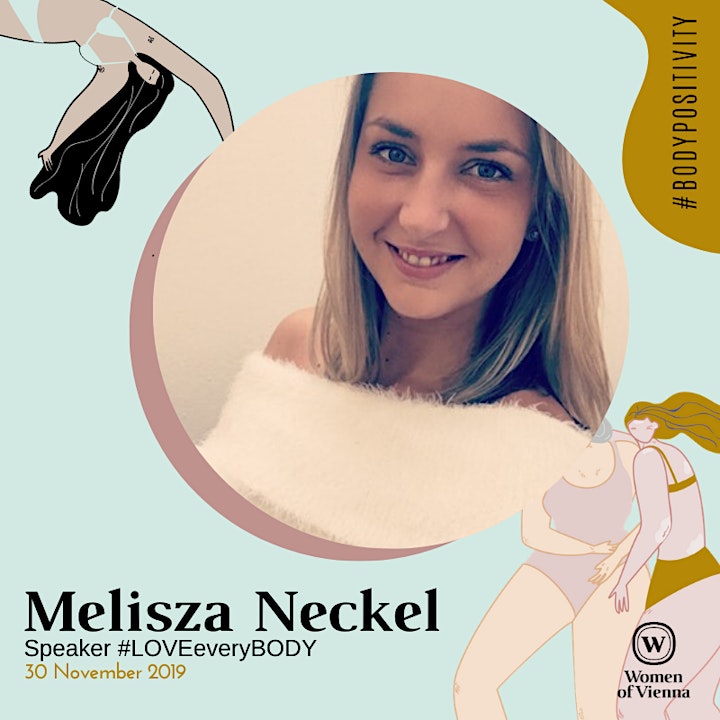 "Let's explore our unique inner dialogues with our bodies as to empower ourselves."
Melisza Neckel is working as a Systemic Family Psychotherapist under supervision at the Sigmund Freud International Clinic in Vienna. She was born and raised in Cape Town, South Africa, where she discovered her passion for community work. In collaboration with the South African Police Service, she worked for a non-profit organization as a Trauma Counsellor. Providing 24 - hour crisis intervention for victims of crime. Melisza completed her Bachelor in Psychology as well as her Honor in Psychology at the University of South Africa. She has also completed her Bachelor in Psychotherapy Science and is currently finishing her Master in Psychotherapy Science at Sigmund Freud University. As Melisza places a high priority on working in the community, she is currently working with organizations in Vienna such as Caritas and Ute Bock. Melisza will lead the interactive session, "BREAK THE IMAGE: Conversations with Ourselves".

Our awesome location for this event is The Socialwork Hub, Althanstraße 8, 1090 Wien. It's an amazing, huge co-working space near Franz-Josefs-Bahnhof, which used to be an old Bank Austria office space.
One important thing to note: The entrance is slightly difficult to find, because you need to take a magical Freight Elevator, of which the inside is colored with skyblue paint and white clouds - up to the 6th floor - and be surprised at the huge world that unfolds!
How to find the Magic Freight Elevator Entrance? Please see the short 30sec. video here!
Read more about The Socialwork Hub on their website here!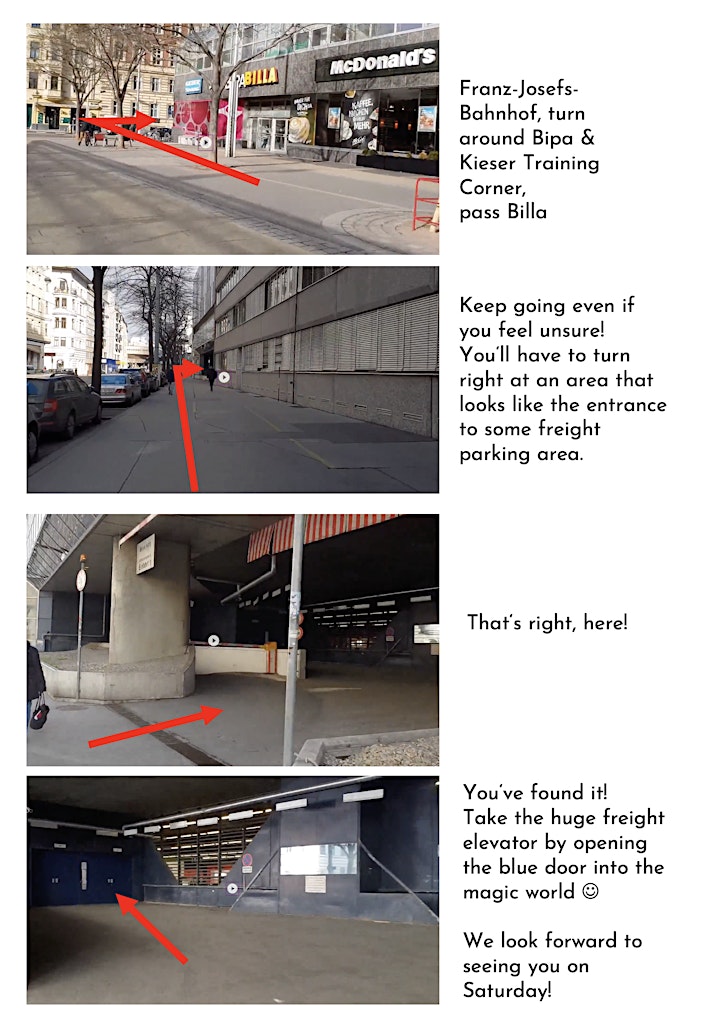 Organizer of LOVEeveryBODY - A Day of Body Positivity by Women of Vienna
Women of Vienna is a non-profit organization, which originally began as a Facebook group and grew to a community that provides resources and a network to more than 15,700 Austrian and international women* living in or near Vienna, Austria. Women of Vienna currently has 12 subgroups and hosts an average of 15 offline events per month on a wide range of topics, with the following mission:
Making Vienna Accessible
We believe that everyone should have an equal opportunity to access resources and understand their rights, no matter if they are new to Vienna or were born here. Our aim is to take the mystery out of living in Vienna by providing a space to find answers about all aspects of life in this beautiful city.
Bridging Communities
We believe that incredible things happen when people representing different backgrounds and lifestyles come together. Change happens at the intersection of difference and creativity. We aim to cultivate a space where communities can connect and collaborate.
Encouraging Woman* Led Change
We believe women must be active participants in the conversation surrounding womens rights and equality. We aim to act as a support system and create space for women to lead the way in making change.
Join our main Facebook group: https://www.facebook.com/groups/womenofvienna
Like our Facebook page: https://www.facebook.com/womenofvienna/
Follow us on Instagram: https://www.instagram.com/womenofvienna/
Sign up to our monthly newsletter, and learn more about WoV: https://www.womenofvienna.org/