Welcome Hananah Zaheer in discussing Lovebirds, her book of short stories, with guests Rosalia Scalia and Matthew Miller
About this event
Welcome Hananah Zaheer in discussing Lovebirds, her book of short stories, with guests Rosalia Scalia and Matthew Miller
This event will be held in-person at Lost City Books and is limited to 40 attendees. Masks will be required during the event.
Accessibility note: This event is held up two flights of stairs. Lost City Books does not have an elevator. This event will be simultaneously live streamed on our YouTube channel.
About Lovebirds:
A grieving mother clutching a dead bird, a jealous lover watching his house burn to the ground, a vision of God in a chicken coop. Through twelve short stories that span the private loneliness of Pakistani bedrooms to the banality of the modern American kitchen, Lovebirds shows love cracking and shattering and exploding. Capturing families on the precipice of unraveling as they reckon with the unspeakable realities of any given Wednesday, Hananah Zaheer surveys the complex fringes of desire, asking What are we willing to lose for one another? Let this book set you on fire. Then revisit and rebuild. It will feel good, like practice.
***
Hananah Zaheer is the author of Lovebirds (Bull City Press, 2021). Other work has appeared in places such as Kenyon Review, Best Small Fictions 2021, Agni, Virginia Quarterly, McSweeney's Internet Tendency, South West Review, Smokelong, among others. Her story "Fish Tank," at Alaska Quarterly Review, was a notable mention in Best American Short Stories of 2019. "In the Day of Old Things" won the 2018 Lawrence Foundation Literary Prize at Michigan Quarterly Review. She is the founder of Dubai Literary Salon, a prose-reading series, and a fiction editor at Los Angeles Review.
Matt W. Miller was born in Lowell, Massachusetts and is the author of the collections Tender the River (Texas Review Press), The Wounded for the Water (Salmon Poetry) , Club Icarus (University of North Texas Press ), winner of the 2012 Vassar Miller Poetry Prize and Cameo Diner (Loom Press). Miller has published poems and essays in Gulf Coast, Birmingham Poetry Review, Harvard Review, Narrative, Southwest Review, 32 Poems, Massachusetts Review, Adroit Journal, and Crazyhorse. He is the winner of Nimrod International's Pablo Neruda Prize, The Poetry by the Sea Conference's Sonnet Crown Contest, River Styx's Microfiction Prize, and Iron Horse Review's Trifecta Poetry Prize. A former Wallace Stegner Fellow in Poetry at Stanford University and a Walter E. Dakin Fellow in Poetry at the Sewanee Writers' Conference, he teaches English at Phillips Exeter Academy and lives with his family in coastal New Hampshire.
Rosalia Scalia is the author of the forthcoming story collection, Stumbling Toward Grace, (Unsolicited Press) publication date November 2021. Her fiction has appeared or is forthcoming in numerous literary magazines, including Amarillo Bay, Notre Dame Review, North Atlantic Review; Pebble Lake; Pennsylvania English; The Portland Review; Quercus Review; Smile, Hon, You're In Baltimore; South Asian Ensemble; Spout Magazine; Taproot; Oklahoma Review; Blue Lake Review; Willow Review; and many others, including publications in Canada and in India. Her story, "Henry's Fall," was a finalist in the Gival Press Short Story competition. The story in Taproot won first prize in its annual literary fiction competition for 2007, and "Uncharted Steps" merited a 2010 Individual Artist Grant from the Maryland State Art Council. "Sister Rafaele Heals the Sick," first published by Pebble Lake Review and nominated for a Pushcart Prize in 2005, appeared again in an anthology titled City Sages: Baltimore (CityLit Press, May 1, 2010), a collection of stories by 32 Baltimore writers, including Poe, Anne Tyler, and Alice McDermott, among others. Her story, "You'll Do Fine," was a recipient of the Willow Review Award for the Spring 2011 issue. An earlier version of the first chapter of her novel-in-progress, Delia's Concerto, was one of seven finalists in a competition held by the National League of American Pen Women and a later version was published as a short story titled,"Soul Music." She earned a master's in writing from Johns Hopkins University in 2003. She lives in Baltimore with her family.
Lovebirds will be available at Lost City Books!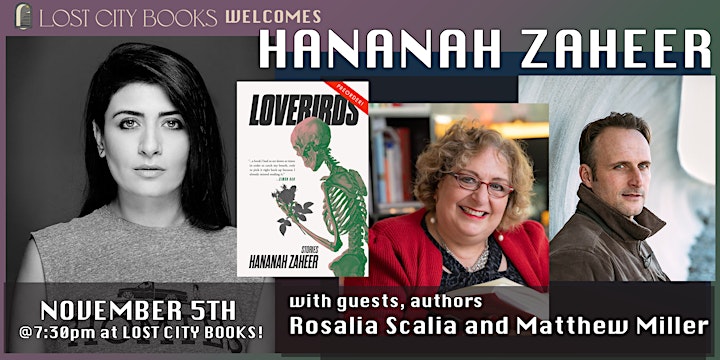 Organizer of Lovebirds by Hananah Zaheer with guests Rosalia Scalia and Matthew Miller