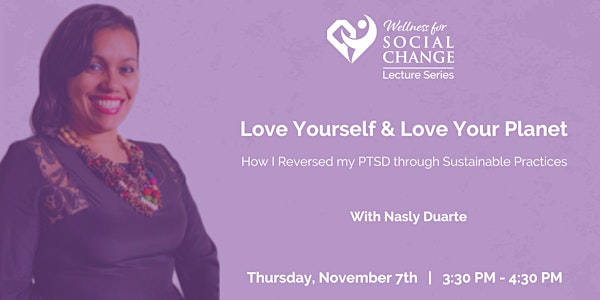 Love Yourself & Love Your Planet – How I Reversed my PTSD through Sustainable Practices
When and where
Location
Center for Social Change 2103 Coral Way 2nd Floor Conference Room Miami, FL 33145
Description
November Wellness Lecture Series:

Love Yourself & Love Your Planet – How I Reversed my PTSD through Sustainable Practices




Has your PTSD taken over your life? Do you want to gain more control over PTSD triggers?

There are lots of creative meaningful ways to find greater connection and improve our mental health say's Speaker Nasly Duarte.




Join us for an insightful discussion on how to dissect your own PTSD triggers and access your inner power, through sustainable practices that also benefit our planet! This will be an experiential workshop, giving you a foundation to grow in infinite ways and guide you to other possibilities for healing and self-reflection.

"The planet's energy has life-changing benefits. It's time for new examples of how to connect with the universe, heal, and create meaningful connections with other humans, which can be challenging when you suffer from any mental illness".




We also invite you to join the Bliss House Happy Hour and DIY Bazaar taking place right after the Wellness Lecture.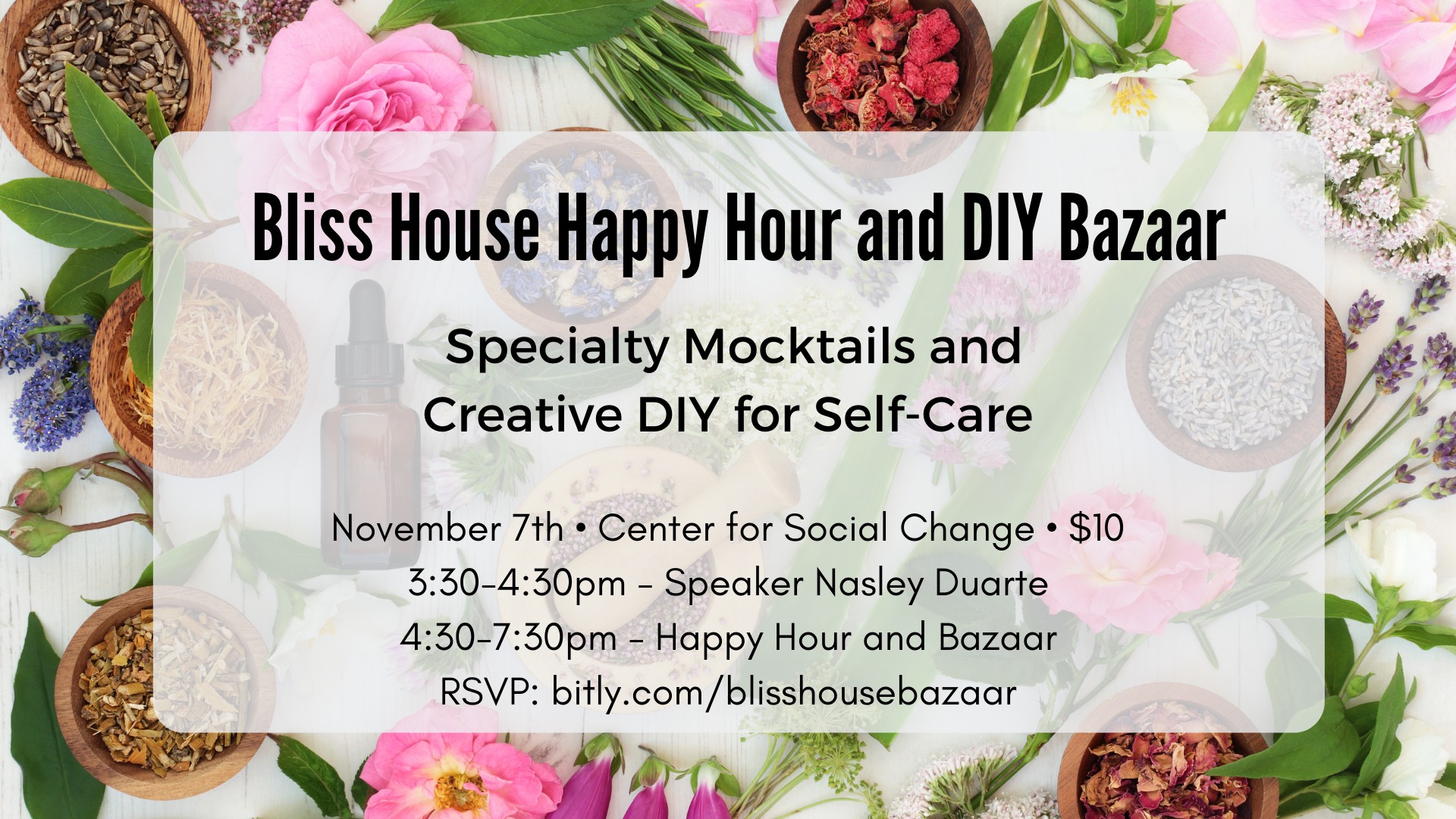 Presenter Nasly Duarte:
Nasly Duarte, an environmentalist & artist with a background in business, opened an organic jewelry business in 2008. After realizing fashion wasn't the only thing polluting the planet. She quickly put her efforts into opening meaningful Sustainable Businesses. By 2020, Nasly will open the first Sustainable Mobile Store selling Zero waste Household and Fashion item all made by local Enviropreneur.
The Center for Social Change is located on the corner of Coral Way and SW 21st Avenue in the offices above Xixon restaurant, on the second floor.
If you're traveling by car: There are metered spaces on Floor 2A of the parking garage attached to 2103 Coral Way. Floor 2A also has paid disabled permit parking and paid electric vehicle recharging stations. You can pay with the ParkJockey, or Pay-by-Phone app (code: 34031). There is also metered street parking adjacent to the building payable with Pay-by-Phone and there is some free street parking in the surrounding neighborhood, especially south of Coral Way. Be sure to observe "Residents Only" and "No Parking" areas.
If you're traveling via mass transit: Miami-Dade Bus #24 and the free City of Miami Coral Way Trolley both stop just around the corner from the building. Both bus lines connect to the Vizcaya Metrorail Station at Coral Way and SW 12th Ave.
If you're traveling by bike: Bicycle racks can be found along the sidewalk in front of the building and in the garage.
Image and Audio Consent and Release:
If you do not wish to be photographed or recorded, please inform Center staff upon arrival at the venue and we'll accommodate your request. The Center for Social Change will be taking digital photography and/or videography throughout the event. The photographs and/or video may be used across our platforms, including publications, websites, email newsletters, social media, presentations, media releases, and marketing materials. The Center for Social Change does not intend to use these photographs/videos in any manner other than for the purposes stated above. By registering for this event, you grant permission for the Center for Social Change to use your photograph/video in this manner.