Description
April 22nd, 1970, millions of people took to the streets to protest the negative impacts of 150 years of industrial development. Now, Earth Day is the largest civic-focused day of action in the world, with more than 1 billion people in 192 countries taking part.
Pitch-in and pick up with your fellow babes this Earth Day!
We're celebrating mama Earth, beautifying our hood, and showing our support for a global effort to End Plastic Pollution. Join the squad for this morning of activism, help give our neighborhood a little extra TLC (think litter pickup and graffiti removal), and get schooled on how we can Reduce, Refuse, Reuse, Recycle and Remove plastic everyday! Yas queen!
The schedule:
9a - 9:15a Check-in
9:15a - 10:30a Warehouse District Community Clean-up
10:30a - 11a Refreshments, knowledge, and we'll hear from this dope babe:
Leslie Pico, Secretary of the State candidate
Here's the deal, plastic pollution not only impacts our waters and marine life, but also the food chain and our overall health. Currently about 300 million tons of plastic are produced each year to make bags, bottles, packages, and other commodities for people all over the world. Unfortunately, only about 10% of this plastic is properly recycled and reused. The rest ends up as waste in landfills or as litter, where it leaches dangerous chemicals into the soil and water, endangering babes and wildlife alike. Learn more and make a pledge to reduce your use of plastic and join the campaign to End Plastic Pollution this Earth Day!
*Your dues for this event include: Babe Council Merit Button, education materials, and bottled water
*Garbage Goddess Kit includes: Pink cotton gloves & litter picker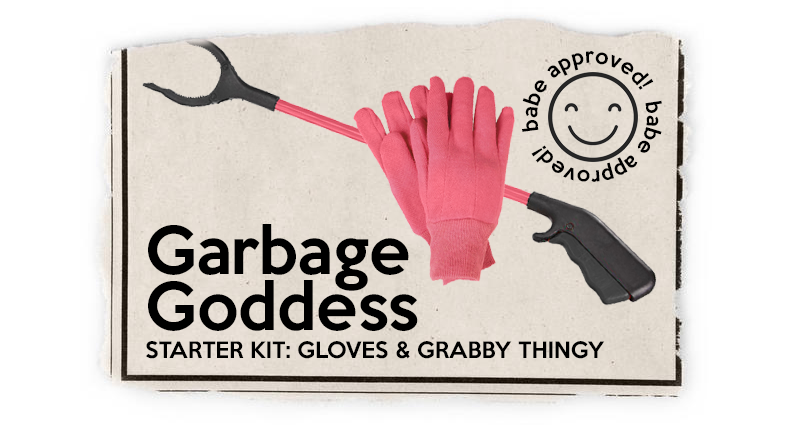 _________________________________________________________________
FAQ
Is there a minimum age requirement to participate in this meeting?
Yes, because we may encounter some sharp and/or questionable litter during our clean-up, this BC meeting is for babes 10+ older
Where can I park? Is it safe to leave my car?
We will meet and leave vehicles at Galvanize (aka Babe HQ). The lot is gated and requires keyed entry, we will be there to give you access until 9:15a.
Who is Babe Council for?
Babe Council is for any woman who wants to join a sick girl gang, do good stuff for others, become more civically engaged, learn more about the causes and issues in their community, or is just into rose-hues and the occasional cocktail. Yas!
What can I bring into the event?
Trash bags and gloves will be provided; please wear sturdy, water-resistant shoes and clothing appropriate for hot, icky conditions. A hat and your Babe Council apron wouldn't be a bad idea either!
Can I come alone? Is that weird?
Shy? Awkward? Introvert? Don't be scared, everyone will love you! We are committed to making sure that every babe has a seat at the table.
Where the F do I park?
Parking instructions will be updated when the location is announced.
How can I contact the organizer with any questions?
We'd love to hear from you, babe! Shoot us an email at: heybabe@babecouncil.com