Description
Featured Presenters & Performers:
Seane Corn - Coral Brown -
Girish -
East Forest -
Todd Norian -
Amy Leydon -
Lauren Toolin -
Sami Lea Konczewski
Presenters:
Sara Divello, Jaqui Bonwell, Jenny Ravikumar, Heidi Sormaz, Jennifer Yarro, Mike Massey, Jill Abraham, Rich Ray, Brittany Burgess, Kate O'Donnell, Leigh & Ashley, Diane Kovanda, Tara Murphy, Sup Yo Beach Yoga, Acro Pete, Ingrid & George, Molly Rose, Kristen O'toole, Michelle Itzkowitz, Sound Healing, Ayanna Parrent, Kate Nicholson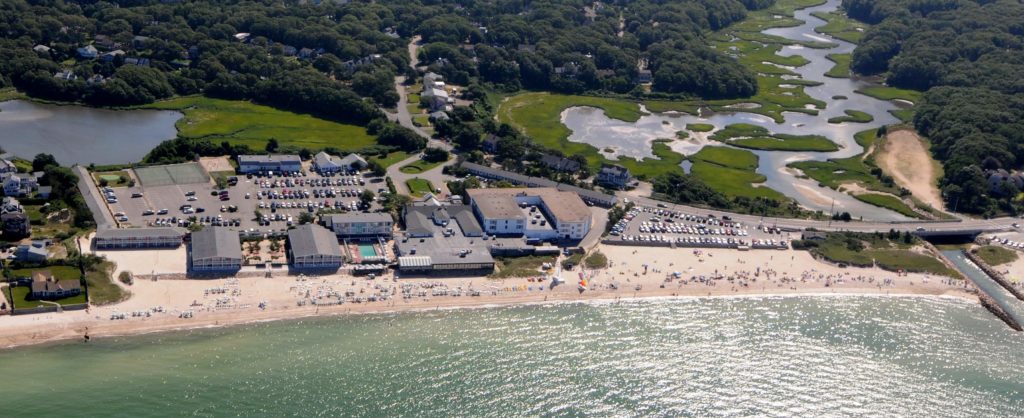 About Love Yoga Fest:
For the past 5 years, Love Yoga Fest Cape Cod, has brought together yoga and wellness-minded individuals for a weekend celebration in one of the most beautiful places in the world!
Come practice yoga and take various other types of wellness classes, surrounded by the energy drawn in from the ocean. Love Yoga Fest takes place in Cape Cod, MA; a hook shaped peninsula surrounded by the Atlantic Ocean.
You will be practicing yoga and learning about various health & wellness topics, in a fun and safe environment full of support from fellow attendees, presenters, and organizers.
The Festival features a select group of vendors, musical performers and presenters from around the country. You will be able to build your weekend depending on your own needs and the experience that YOU want to create. The schedule will include educational lectures on various topics having to do with health & wellness, as well as classes geared toward creating a positive shift in your body and ultimately your life.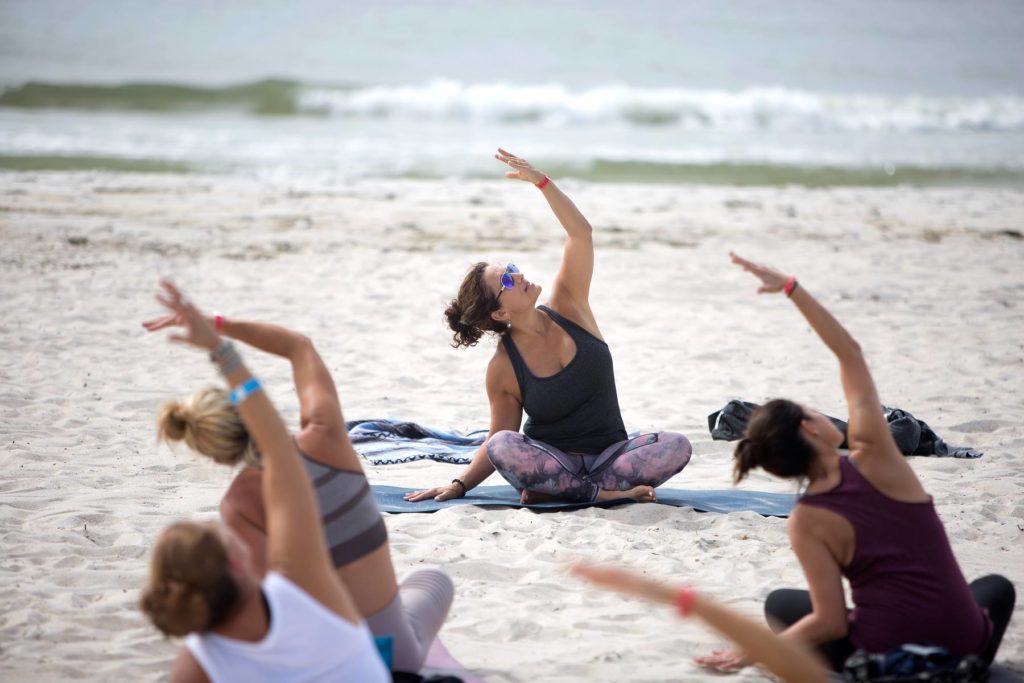 Warrior Pass:
Enjoy the convenience of booking your lodging and your pass all at once. Also get free merch and additional perks!
Pricing Increase Schedule (3-Day Pass):
July 1st - August 2nd - $299

August 2nd - September 1st - $400

September 2nd - September 20th - $420
Each 2 or more pass is always $65 off the 3-day pass price.
Each 4 or more is always $85 off the 3-day pass price.
Each Warrior Pass is always $600 added to the 3-day pass price.
Dates and amounts subject to change.
All Sales Are Final. No Refunds.


Schedule: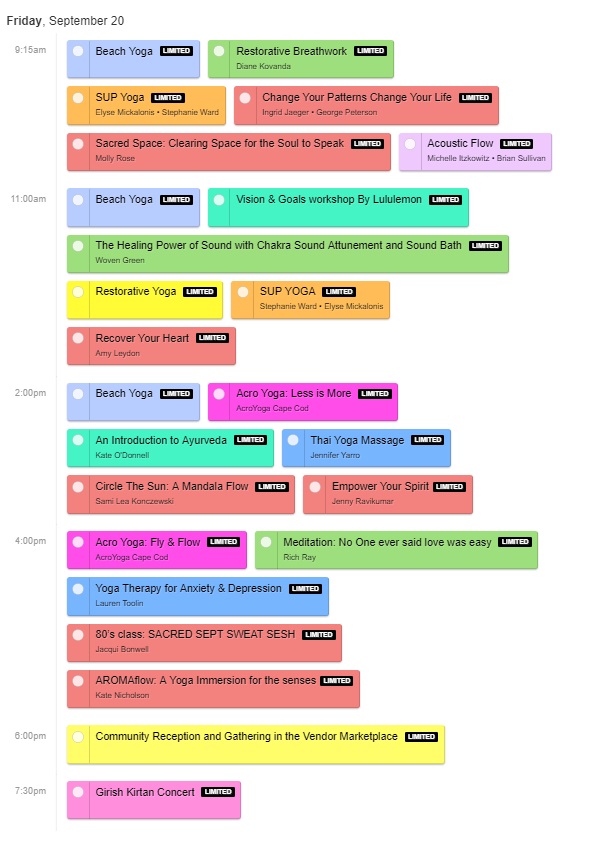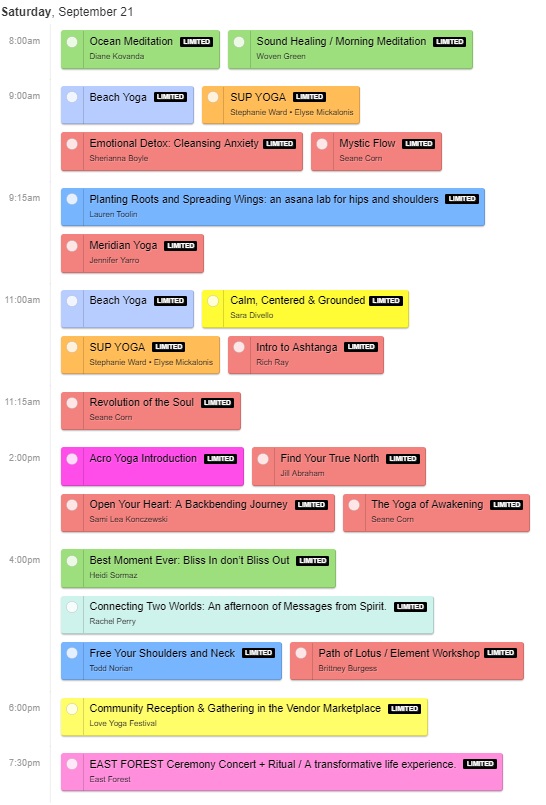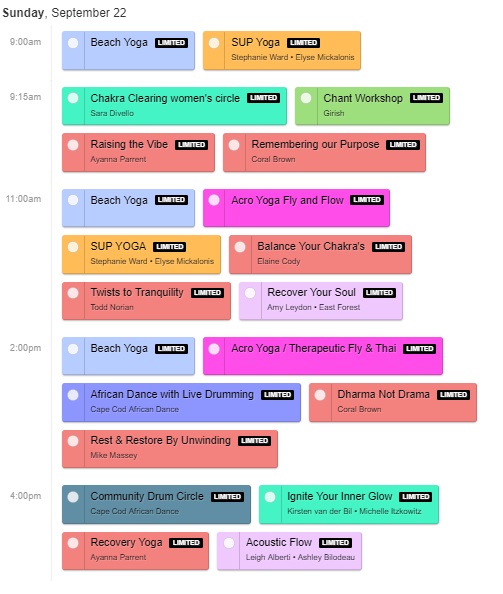 Sponsors:
Lululemon
Second Wind Health
Innerglow Yoga
Centerville Yoga
Down Under School of Yoga
Thearpeutic Bodywork
Protein Power Ball
Organic Market
Pedro Blanco
Wellbeloved Wellness Lifestyle Studio
Rachel Perry Psychic Medium & Spritual Healer
Cape Cod Yoga School