Love Wins Remote 5K

Saturday, October 18, 2014 from 7:00 AM to 7:00 PM (CDT)
Event Details
Love Wins Remote 5K
My name is B.J. and I'm a professor of physical therapy at Wichita State University, passionate about bringing restoration to the planet and the people dancing on top of it. Over $5,500 was donated during last year's Love Wins 5K to give clean, safe drinking water to those without it! We've made it an annual tradition to keep the generosity flowing!
What in the world is a remote 5K?
The beauty of a remote 5K is you can run the race WHEREVER you are! You can run (or walk or dance) the 3.1 miles around your neighborhood or WHEREVER you want, with whomever you want, anytime during race day.
How does it work?
It's simple. The cost of registration is YOUR CHOICE and includes the "Love Wins" race shirt! Please consider donating at least $7 for the shirt and shipping costs, then just give what you can!
100% of the proceeds go to Charity:Water to help give clean, safe water to the 800 million people on the planet without it.
And this year, an anonymous giver will DOUBLE the proceeds up to $5000! So every dollar you give for clean water will be turned into two!
On race day, unbridle your creativity and take pictures in your shirt and/or of your run. Feel free to post them directly to the Love Wins 5K Facebook page or email them (lovewins5k@gmail.com) to be included in the Love Wins 5K photo album!
What about the "Love Wins" shirts?!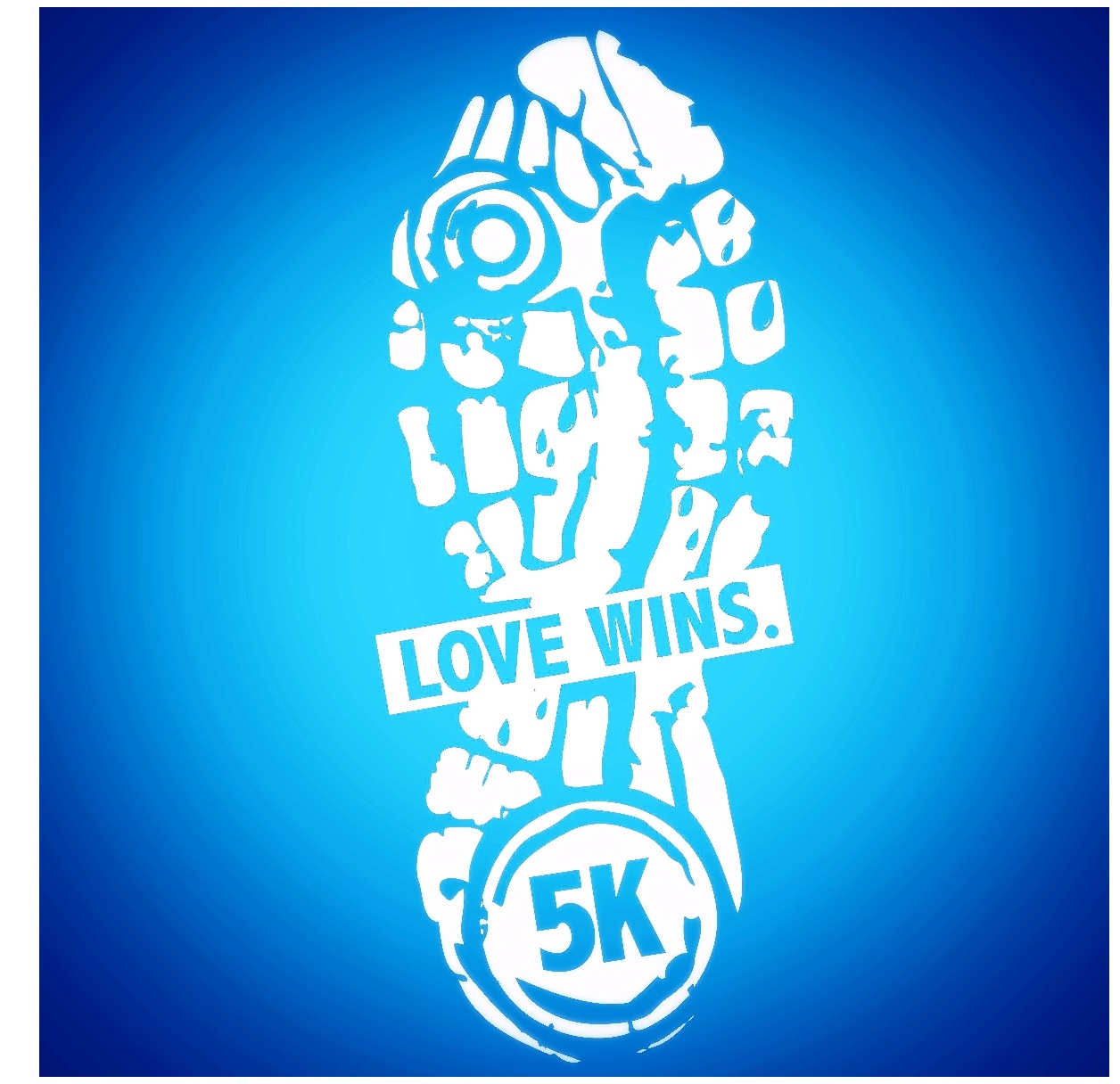 The "Love Wins" shirt is another way we can run together while apart on race day. There are over 50 color options for your "Love Wins" shirt! Over 50! Check out the colors HERE and remember your choice during registration. The design will be printed in white on your favorite color.
If you register before September 22nd, your shirt should arrive before the big day, October 18th. You will still receive your shirt if you register on or after September 22th, but it will be sent soon after the run.
(If you are viewing this site on a mobile device, switch to full site mode to view the shirt design by Alecia Smith.)
What is Charity:Water?
Charity:Water (charitywater.org) is a non-profit organization set out to make clean water a reality for some of the most vulnerable people on the planet. They are doing revolutionary work with brilliant, sustainable solutions.
800 million of the world's poorest people don't have access to clean water. Dirty water kills more people than all forms of violence including war, and every 20 seconds a child dies from a water-related disease.
You can learn about the beauty of Charity:Water's non-profit model by watching this video. 100% of donations directly fund clean water projects.
What else?
That's it! Register now and tell your friends! See you October 18th!
When & Where
Anywhere on Earth (or above it)



Saturday, October 18, 2014 from 7:00 AM to 7:00 PM (CDT)
Add to my calendar