| | |
| --- | --- |
| Love & War Dance Production | |
Event Details
Inspiring a courageous and loving community,

abunDANCE

uses dance, poetry, facilitation, and other art forms to remind us of our value, beauty and worth. Through vulnerability, connection and personal empowerment,

abunDANCE

provides the community with in depth access to their abundance and a safe space to be unapologetic, enough and loved just as they are. 
Experimenting with the connection between artists and art forms, Keomi uses dance, music and poetry to welcome the vulnerability love and war brings to the surface. Showing how opposing extremes can occupy the same space, finding the grace we need to choose love even in the mist of the war.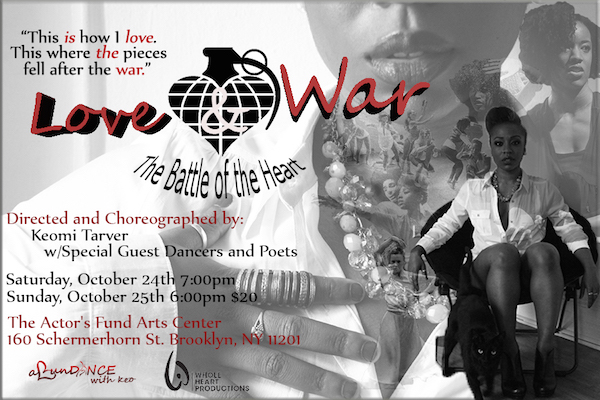 Love & War will be asking all the hard questions we keep tucked away due to fear, leaving us exposed and eventually free. Keomi's talented and brilliant special guest dancers and poets use their magic to bring Keomi's vision to life. Featuring: Keomi Tarver, Autumn Oftedal, Sharifa Linton, Candace Tabbs, Christina James, Gabriella Bruno, Jeanann Verlee, Ant Black, True Rodriguez and Jeanann Verlee.
When & Where

The Actor's Fund Arts Center
160 Schermerhorn Street
Brooklyn, NY 11201


Organizer
Whole Heart Productions designs and produces entertainment spectaculars that embody stories through dance production and arts management. Based out of Brooklyn, NY, but also operating in Atlanta and New Orleans, Whole Heart Productions is the embodiment of years of discipline, training, and experience combined with the dream of helping artists to succeed.