Love Tour Stop: Love Jawns with Philadelphia Contemporary & Yolanda Wisher
Sales Have Ended
Registrations are closed
Sales have ended! Please email gm@beardedladiescabaret.com with any questions or concerns or to inquire about the waitlist. This is a limited capacity event due to Covid protocols.
Sales Have Ended
Registrations are closed
Sales have ended! Please email gm@beardedladiescabaret.com with any questions or concerns or to inquire about the waitlist. This is a limited capacity event due to Covid protocols.
This evening of Love Jawns - a project from Yolanda Wisher and Philadelphia Contemporary that fuses poetry and music performances.
About this event
Featuring: Anthony Martinez-Briggs, Jordan McCree, Ursula Rucker
DJ Junior, Films by Wren Rene
Location: Vernon Park, in front of the Black Writers Museum
Parking: Street Parking Available
Doors: 7:30
Start of show: 8:00pm
Bring your own chair/blanket!
Rain Date: 5/20, 8pm
This is a free event but donations are welcome on Venmo @beardedladiescabaret or, for tax-deductible donations, through our Paypal : paypal.me/BeardedLadiesCabaret. Donations will support future free performances on the Beardmobile, land acknowledgement reparations, and the work of our community partners.
Please note: A photographer or videographer will be present to document each Beardmobile experience.
What is the Beardmobile Love Tour?
The Beardmobile is a big, gay mobile performance unit, glitterfully outfitted for socially-distanced performances and political actions. With neon LED lighting, high-powered speakers, a 6-foot retractable stage, and room for a three-piece band, the 15-foot box truck is not only stunning, but versatile. The Beardmobile Love Tour is a series of pop-up performances produced by The Bearded Ladies Cabaret and presented in partnership with a host of incredible local partners. The series runs from May 1-30, with a second series coming in the Fall.
How many people can I bring to a Beardmobile show? How much do they cost?
All Beardmobile shows are free or pay-what-you-can. Pay-what-you-can shows are meant to raise funds for local orgs who do important work in Philadelphia, and have been selected by our partner organizations.
You can reserve seating for most Beardmobile events by party or "pod," as we're calling it. A pod can have up to six people in it, and will receive its own designated space at the performance location, six feet away from other pods.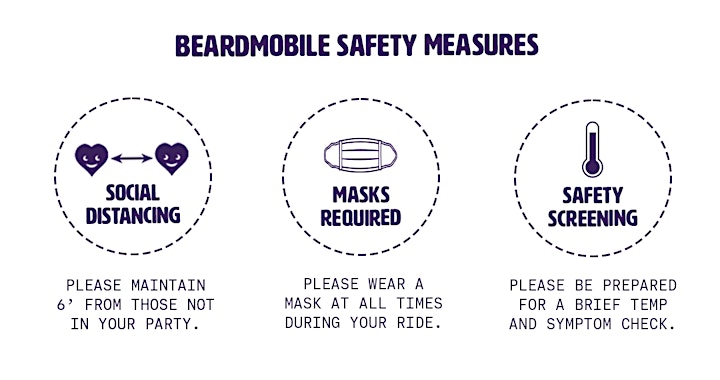 COVID Protocols:
Our team of Covid Accountability Partners has engaged in comprehensive training and will do everything we can to ensure a safe engagement for Beardmobile audiences. We are monitoring the ever-shifting data around the Covid case numbers and would not move forward if there was unmanageable risk.
All performances will take place outdoors, with mask mandates, socially distanced audience spacing , temp and symptom checks before entering the space, as well as a team onsite managing implementation.
Our performers and production crew have all been vaccinated and/or have received a negative covid test before the engagement.
We will be managing capacity in accordance with outdoor performance guidelines from the City of Philadelphia.
We have consulted event guidelines from CDC, WHO, and City of Philadelphia and feel confident in the Beardmobile tour 's safety for our team and our guests.
FUNDING
The Beardmobile and Love Tour is supported by a grant from The Barra Foundation. The Beardmobile of The Bearded Ladies Cabaret is also sponsored project of Painted Bride Art Center, Inc. made possible by a grant from Wyncote Foundation. Additional support provided by Barbara Teichert and The Velocity Fund administered by Temple Contemporary at Tyler School of Art and Architecture, Temple University with generous funding from The Andy Warhol Foundation for the Visual Arts. Additional support also provided by Beardviewers like you.
Organizer of Love Tour Stop: Love Jawns with Philadelphia Contemporary & Yolanda Wisher
The Bearded Ladies Cabaret Company
We are an interdisciplinary troupe of artists working to reinvigorate and redefine the form of cabaret in the 21st century by fusing it with theater, opera, and dance. We play with nostalgia and humor to question the embedded social messages in popular culture and tackle the politics of gender, identity, and artistic invention with sparkle and wit.
Follow us on Instagram @beardedladiescabaret