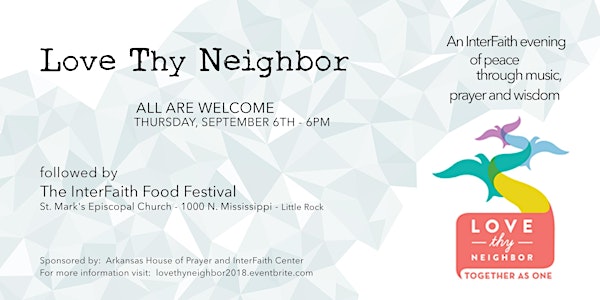 Love Thy Neighbor 2018: Together As One
When and where
Location
St. Mark's Episcopal Church 1000 North Mississippi Street Little Rock, AR 72207
Description
"Love Thy Neighbor: Together As One," featuring musical performances, speakers from several of the world's religions, and an Interfaith Food Festival will be held Thursday, September 6 at St. Mark's Episcopal Church, 1000 N. Mississippi in Little Rock, beginning at 6 p.m.
The event is free and open to the public.
The intergenerational service will last about an hour, including speakers, time for prayer and silence, musical performances from local artists, a presentation by the Multifaith Youth Group, and an interfaith chorus. The fifth annual Interfaith Food Festival will follow the service, with vegetarian dishes prepared by members of the interfaith community.
While no childcare will be provided, children are welcome at this event.
Arkansas House of Prayer and its sister organization, The Interfaith Center, both based in Little Rock, are honored to hold this gathering, now in its seventh year.
Love Thy Neighbor began as a peace-oriented service on the grounds of the House of Prayer, marking the 10th anniversary of September 11, 2001 as an opportunity to draw people together who are dedicated to peace in our community and the world.
FOR MORE INFORMATION or to get involved, email us at theinterfaithcenter@gmail.com or leave us a voicemail for a call back at (501) 821-7773.