Love Thy Beer returns. Celebrate Maryland beer in Silver Spring with your favorite local brewers!
About this event
About Love Thy Beer
The Brewers Association of Maryland will return to the Silver Spring Civic Building for the 2022 Love Thy Beer tasting event on April 8, 2022. Join more than two-dozen local breweries for this fantastic annual event.
This year's celebration of Love Thy Beer will now highlight a collection of beers intended to complement early spring. Attendees should expect a variety of ales, lagers, and seasonal stouts.
All attendees of Love Thy Beer are invited to sample from dozens of Maryland-made beers, enjoy lite fare from our friends at McGinty's Public House, dance to live music from the Noah Pierre Band, and celebrate local craft beer!
Cupid's Curse Pass holders gain early entry (6:00 pm) to this year's event and are invited to enjoy a welcome beer, presented by Homaide Brewing Co. – winners of the 2020 Cupid's Curse trophy!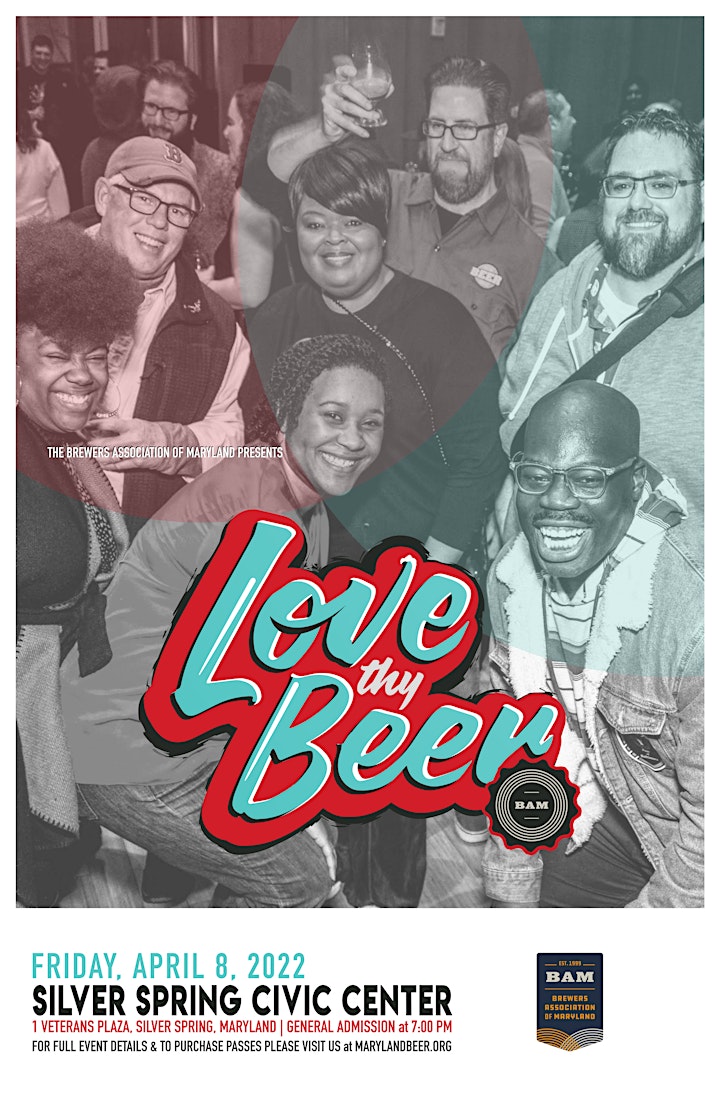 Participating Breweries
Plan out your tastings from this growing list of participating breweries!
• 7 Locks Brewing Company • Astro Lab Brewing • Black Flag Brewing Co. • Brewer's Alley • Brewery Fire • Brookeville Beer Farm • Charm City Meadworks • Crooked Crab Brewing • Denizens Brewing Co. • Flying Dog Brewery • Forward Brewing • Full Tilt Brewing Co. • Gypsy Brewing Company • Homaide Brewing Co. • Idiom Brewing Co. • Lone Oak Farm Brewing Co. • Manor Hill Brewing • Monocacy Brewing Co. • Olde Mother Brewing Company • Oliver Brewing Co. •  Pooles Island Brewing & Distilling Company • Saints Row Brewing • Sapwood Cellars • Smoketown Brewing • Steinhardt Brewing • Streetcar 82 Brewing Co. • True Respite Brewing Company • Waredaca Brewing Co. •
More About Love Thy Beer
In the true spirit of our craft, attendees get a unique opportunity to chat with the experts behind Maryland beer in an intimate setting – all while sampling incredible seasonal ales and lagers and meeting some of our industry's greatest influencers.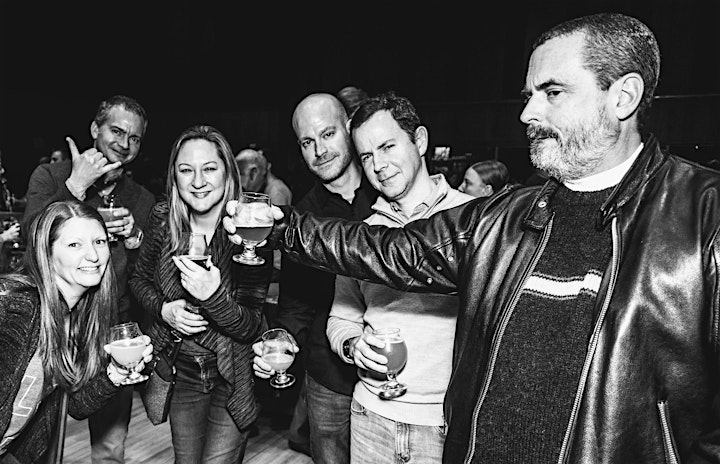 Brewers Association of Maryland Disclosure and Waiver
The Brewers Association of Maryland invites you to experience Maryland beer responsibly. To ensure the safety and enjoyment of our attendees, we reserve the right to refuse service of alcohol or excuse attendees from our events, at any time. 
COVID- 19 Policy
All event attendees and vendors must have a valid proof of COVID-19 vaccine or negative test result within 48 hours of entry. All mask policies required by the Montgomery County government, the Silver Spring government, or our venue will be mandated at Love Thy Beer.
By attending the Love Thy Beer and/or purchasing tasting passes, you are agreeing to the Brewers Association of Maryland's COVID-19 Safety Acknowledgment.
Photography & Videography Implied Release
The Brewers Association of Maryland (BAM) documents each of its events with digital photography, still photography, audio, and video for promotional and archival use. 
By entering this Brewers Association of Maryland event, you consent to interview(s), photography, audio recording, video recording and its/their release, publication, exhibition, or reproduction to be used for news, webcasts, promotions, telecasts, advertising, inclusion on websites, social media, or any other purpose by BAM. The Brewers Association of Maryland, its officers, employees, and each and all persons involved are released from any liability connected with the taking, recording, digitizing, or publication and use of interviews, photographs, computer images, video and/or sound recordings.
By entering this Brewers Association of Maryland event, you waive all rights you may have to any claims for payment or royalties in connection with any use, exhibition, streaming, webcasting, televising, or other publication of these materials, regardless of the purpose or sponsoring of such use, exhibiting, broadcasting, webcasting, or other publication irrespective of whether a fee for admission or sponsorship is charged. You also waive any right to inspect or approve any photo, video, or audio recording taken by BAM or the person or entity designated to do so by BAM.
Brewers Association of Maryland Event Code of Conduct
All event participants are expected to conduct themselves with integrity, courtesy and respect for others. This applies to all attendees, sponsors, vendors, volunteers and staff. Participants violating these rules will be asked to leave at the sole discretion of Grow & Fortify or our event partners.
Organizer of Love Thy Beer
The Maryland brewing industry dates back to colonial times and today, is one of the fastest growing segments of the craft beverage economy.  The Brewers Association of Maryland, founded in 1996 is a non-profit, member based, trade association representing more than 70 breweries across the state.  The mission of BAM is to grow, promote and protect the Maryland craft beer industry through marketing, advocacy & education. BAM is represented by the management group, Grow & Fortify.