About this Event
Love the City is an annual gathering of the Downtown Windsor Community Collaborative, our friends, our neighbours, and organizations we partner with! We will come together for two days of experts and storytellers who live out the love of Jesus in the neighbourhood's they inhabit. We'll have plenty of interaction and collaboration through workshops led by practitioners.
Love the City is proudly sponsored by Vision Ministries Canada. And we are delighted to partner with Parish Collective Canada, New Leaf, and University Community Church in creating space for this critical conversation in the Canadian landscape.
Love the City will be hosted at University Community Church (2320 Wyandotte St. West, Windsor, ON N9B 1K4). We hope to see you there.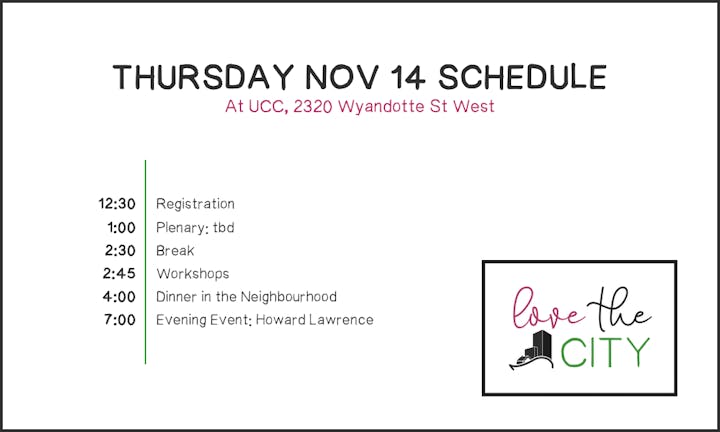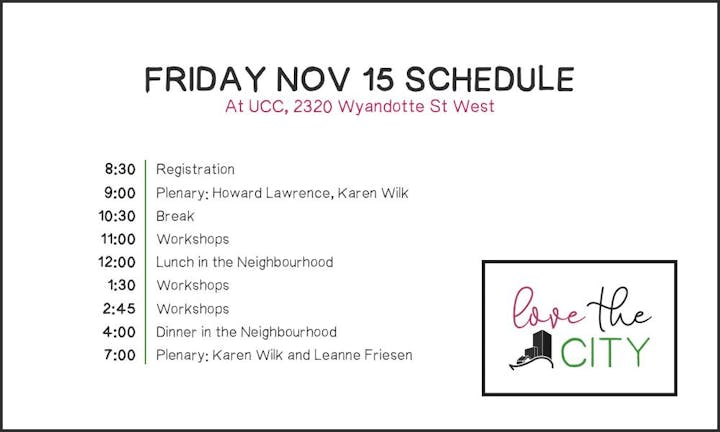 Love the City is intentionally multi-voiced, featuring a myriad of local voices, practitioners from Ontario, and experts from Western Canada and Portland, Oregon. From the plenary gatherings to the workshops, you will have the opportunity to listen to and engage with some great thinkers and neighbourhood practitioners.
Our Windsor voices include Bob Cameron, Sarah Cipkar, Nelly Latchman, and Rielly McLaren. Both Bob and Sarah work for the Downtown Windsor Community Collaborative (DWCC), the host organization of Love the City. The DWCC is a parish-driven organization that has been rooted in downtown Windsor for nine years, experimenting with how the church embodies the love of God in the neighbourhood. Nelly has been in Windsor for two years in campus ministry out of the University of Windsor. Finally, Rielly is a local pastor and a chaplain at St. Leonard's House in Windsor.
From Ontario we have Dave Harder, Steve MacDouell, Elle Pyke, and Joshua Walters. Dave leads Parish Collective Canada and is someone who loves his Ottawa neighbourhood "the Glebe". Steve is a professor at Fanshawe College in London as well as a contributor to many publications on placemaking. Elle is with New Leaf, a collaborative network working to help the Canadian Church discover new potential. Finally, Joshua is a pastor, neighbour, and clothing designer in Sarnia.
From Portland, we have Sunia Gibbs. Sunia is involved with Parish Collective and has been instrumental in helping Parish Collective Canada get established and grow. She is a gifted musician, artist, and pastor.
From Western Canada, we have Howard Lawrence and Karen Wilk. These two thinkers are respected throughout Canada and abroad. They love their neighbourhoods. They love the church. And they are inspirational as they weave the two together.