Description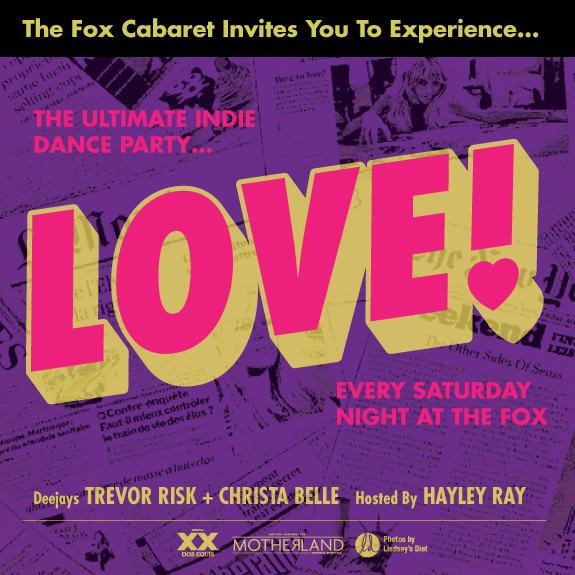 The Fox Cabaret to experience LOVE: A weekly Saturday dance party where we get down to the greatest indie, pop, alternative and dance music of all time.

Dance all night to bands like…The Cure, Phoenix, The Flirts, Iggy Pop, Siouxsie, Bryan Ferry, DFA 1979, The Ramones, the B-52s, XTC, The Raincoats, The White Stripes, Santigold, Camera Obscura, Grimes, the Go-Go's, Robyn, The Clash, the Jesus and Mary Chain, Gang of Four, the Strokes, Joy Division, Devo, Tones On Tail, The Knife, TV On the Radio, Daft Punk, Diamond Rings, General Public, Class Actress, T.Rex, David Bowie, Gorillaz, Holy Ghost!, James Brown, M83, St. Vincent, The Pointer Sisters, Laura Branigan, Miami Horror, Prince, Bow Wow Wow, Kate Bush, Cut Copy, Solange, Air, Fleetwood Mac, Rolling Stones, Blondie, ELO, Human League, HAIM, Todd Terje, ESG, Shamir, Thundercat, LCD Soundsystem, Pixies, Roxy Music, Boney M, and more!

☆ WITH RESIDENT DJS ☆

• CHRISTA BELLE
• TREVOR RISK

PLUS ROTATING PARTIES EACH WEEK in THE PROJECTION ROOM.