Description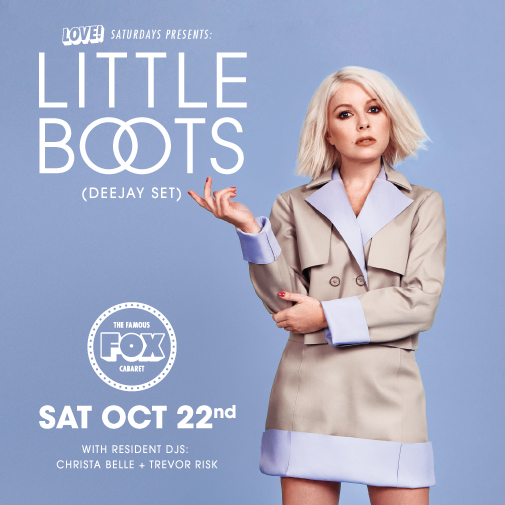 Love: Saturdays presents UK pop/electronic artist Little Boots (DJ set) with residents Trevor Risk + Christa Belle.
---
The Fox Cabaret
2321 Main Street
10:30pm — 2am
19+ | General Admission
Tickets $12 Advance/$15 Door
---
About Little Boots
Making headlines and chart topping hits since she first emerged in 2008, and winning the respected BBC Sound Of poll just a year later, Little Boots' ties with DJ culture are deep and long-running. From her first legendary white label release 'Stuck On Repeat', produced by Joe Goddard, to gracing Mixmag's cover, it's hard to think of another popstar to have garnered anywhere near as much credibility from the dance world's inner-circle.
From collaborating with dance royalty Maya Jane Coles, Hercules and Love Affair, Simian Mobile Disco and Com Truise, to her own decorated DJ career, highlights including curating one of Space's closing We Love party in Ibiza, hosting her own Bugged Out night, and spinning everywhere from Glastonbury to Mixmag's Lab.
Her mixes for the likes of Thump and Hunger are known to swing from classic disco to the latest house beats, always keeping a sense of party fun and featuring ultra rare edits and bootlegs.
Little Boots online
Website: http://www.littlebootsmusic.co.uk/
Facebook: https://www.facebook.com/littleboots
Twitter: https://twitter.com/littleboots
Instagram https://www.instagram.com/littlebootsphotos/
---
About the Fox Cabaret
Since its renovation in 2013, the notorious Fox Cinema has become Mt Pleasant's premier destination for non-stop entertainment and good times on Main Street. A hotbed for independent culture, live music, DJs, dance parties, comedy shows and more.…No matter when you visit, it's always fun at The Fox!
www.foxcabaret.com
www.facebook.com/foxcabaret
www.twitter.com/foxcabaret
www.instagram.com/foxcabaret