Description
Saturday, May 25, 2019 @3pm
Love Rears Its Ugly Head is NOT some boring, "Male bashing- you're cheating on me stage play overshadowed by over-the-top acting and a predictable plot. LRIUH is real situations, emotions and dialogue that actually happens behind closed doors in relationships.
Post Show Q&A with Cast & Playwright immediately following the Show.
---
SYNOPSIS: Best friends, Tyre, Tony and Greg thought love would be easier once they made it into their thirties. But with each passing year they learn that it takes more than just love, chemistry, having history together, or even remaining faithful in their relationship to keep it alive and strong. This stage play follows three men and their individual relationships-- and gives women a look at the breaking point and emotional silence men go through when "Love Rears Its Ugly Head".
Starring: R&B Recording Artist, TONY TERRY (as Tony Adams), Jasmine Franklin, Joe Brown, Rochelle Bailey Vaughan, Starr Yancey Brown, Obum Ezekwem, Damion Brown, Queenie Anderson, Shawnna Brown and Shae Price. Hosted by, Def Comedy Jam Comedian, Kevin Anthony.
MILITARY discount automatically-applied in honor of Memorial Day.
LOOK FOR DISCOUNT CODE: LRIUH
---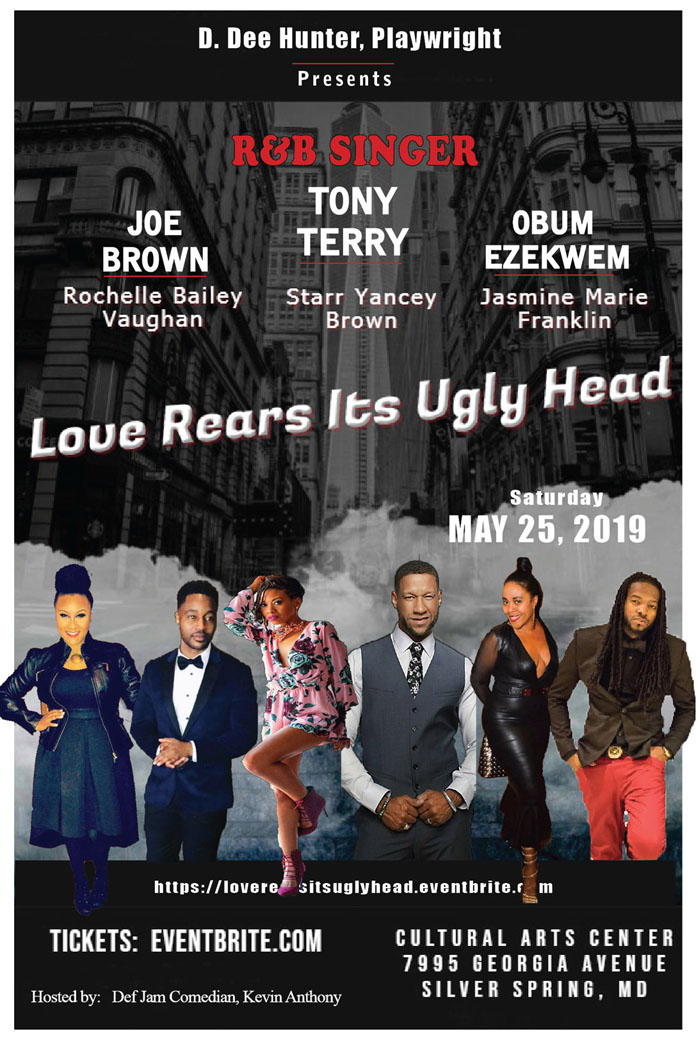 To See the Promo Video, Click Here: https://youtu.be/DsM9923jFYM
---
FAQs
How may seats does the Cultural Arts Center seat? The Theatre seats 500 people
Do I have to bring my printed ticket to the event? Yes, it is advised that you please bring your ticket with you.
Discount Tickets. Military discount purchasers will be required to show Military ID at the door, prior to entry. Only 1 discount per military discount.
Are the seats assigned seating or first come first serve? Seats are general admission.
What are my driving/ parking options to the event? There is a parking lot behind the building. During any "Event Parking Is FREE". Spaces are normally "permit only" but during performance time you may park in any open student space. Spaces marked as RESERVED are not available without proper permits.
There is also several parking garages near the Theatre. The West Parking Garage or Lot W-1 (is located directly behind the Theatre). ENTER into the Public Parking Entrance (not faculty staff entrance). After parking, take the King Street elevator at the North end, and it's a very short walk to the Cultural Arts Center up King Street. There is also ample metered street parking (reasonably rated).
What are my public transportation options to the event? The theater is a 14-minute walk from Silver Spring Metro on the Red Line. It's also convenient by the 70 or 79 bus along Georgia Avenue.
---
THE SHOW WILL START ON TIME. PLEASE PLAN ACCORDINGLY.
This production contains profanity.
Run Time: 1:20 (NO Intermission)