Love + Propaganda Saturdays feat. DJ Excel | Get on the Free Guest List
Sales Have Ended
Registrations are closed
There will be tickets available for purchase at the door.
Sales Have Ended
Registrations are closed
There will be tickets available for purchase at the door.
Description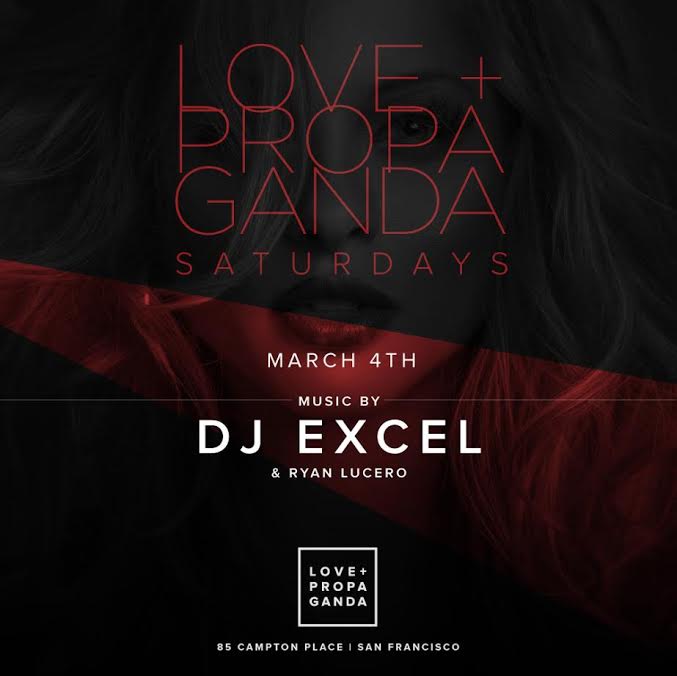 LOVE + PROPAGANDA is a social club that brings together art, fashion, Music, and culture at night in San Francisco.
Welcome to the brand new, LOVE + PROPAGANDA located at 85 Campton, in the heart of San Francisco's, Union Square. LOVE + PROPAGANDA is fully equipped with one-of-a-kind visual stimulation and a state of the art FUNKTION ONE sound system.
Saturday, March 04
L+P Saturdays w/ DJ Excel & Ryan Lucero

If the current explosion of nightlife has revealed anything, it's that some DJs move tickets and other DJs move bodies, and it is frequently the latter who is called upon in the most crucial of situations. Excel has proven himself time and time again in said capacity, drawing upon the rich musical heritage of his Philadelphia upbringing and a cultivated influence from the numerous DJ pioneers that Philly birthed into the culture. Now based out of Los Angeles' fast-paced expanse, Excel's rich stock has kept him in high demand amongst tastemakers and corporate clients like Nike and HBO and Playboy, in addition to regular appearances spanning every nightlife market between the coasts, including residencies in Las Vegas, Chicago, and Atlantic City. Inapnye his downtime, he produces house music with Baltimore's DJ Impulse under the moniker ALFA PAARE, and the duo has performed in Japan and Europe. Currently represented by the Rich Group, arguably the most curated roster of DJs in the market, Excel is a veteran of Open Format programming, able to read a crowd and act accordingly by knowing what to play and when, whether it be the hottest anthem in the hood or the latest hit on Beatport or even the rarest break in the milkcrate.
RSVP for Free Guest list before 11pm
For table reservations call 415.205.5045 or email reservations@loveandpropagnda.com
For more hot upcoming Special Events go to www.SurrealSF.com
21+ | Love + Propaganda | 85 Campton Place San Francisco Union Square