About this Event
The 1st Annual Love Our Lagoon Bowl-A-Thon is a collaborative effort of title sponsor Wave Crest Realty, Shore Lanes Palm Bay, City Limits Restaurant, individuals, schools, non-profits, local businesses, congregations, youth groups, and sports teams, uniting to help collect donations for the Marine Resources Council's movement to save our Indian River Lagoon. This event is a chance to have fun with your friends and family while supporting vital work to help protect and improve the water quality of our IRL estuary of national significance.
Please click the green "Tickets" button above to view all the ticket & sponsorship options.
Event Features
3 hours of bowling for $25 per attendee (includes shoe rental).
Silent auction, games, prize giveaways every 15 minutes, and contests for bowlers including: random score prizes, first Turkey: 3 strikes in a row, highest individual overall score, and more.
Opportunity for participants to solicit pledges from friends, family, and co-workers to help raise funds to save our lagoon. (Pledge resource packets are available to download below and will be emailed to registrants.) Bowlers are encouraged to reach out to friends and family to help raise money for the cause. Donations can be accepted as one-time gifts or people can pledge an amount based on how well you bowl. For example, if someone pledges $0.25 per pin and you bowl a score of 100, the donor would contribute $25 after the event. (Pledge Prizes Available for: individual bowler that raises the most money, and bowling team that raises the most money).
Food Package
*The only food available during the event is through the food package: choice of baked ziti, meatballs, chicken tenders, deli spirals, garlic bread, & house salad. *Please pre-order through the registration process, so we can prevent over spending and waist. Package includes 2 drinks (choice of water, soda, juice, domestic beer, house wine, & well drinks only. All other drinks are available a la carte).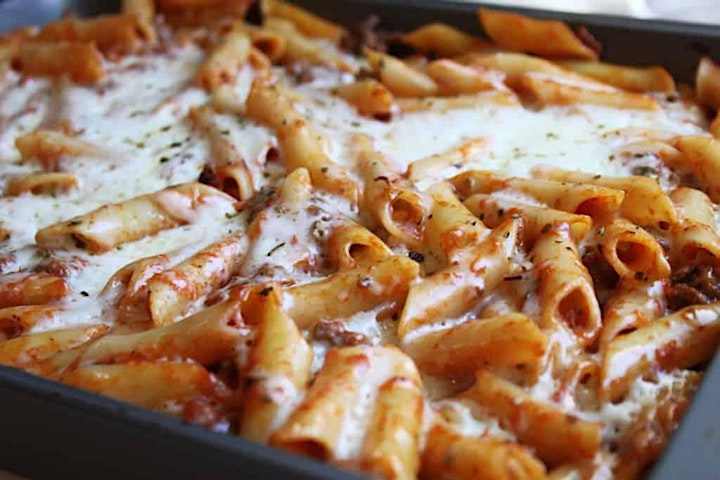 Event T-Shirt
One way you can help raise funds for the cause is to purchase a limited edition event t-shirt. Shirts will be available by pre-order only and will be distributed on the day of the Bowl-A-Thon. We encourage attendees to show their support by wearing the shirts during the festivities, it makes for good photos to.
Support & Sponsorship
This event offers unique in-person experiences and actionable insights led by leading lagoon scientists, educators, and advocates offering high-impact sponsorship opportunities. To secure your sponsorship, vendor space, or donate to the auction effort at this great event, please contact Steve at SharkeyMRC@gmail.com. ($150, $250, $500, & $1,000 sponsorship's are now available. Please view the event ticket options for sponsorship details.)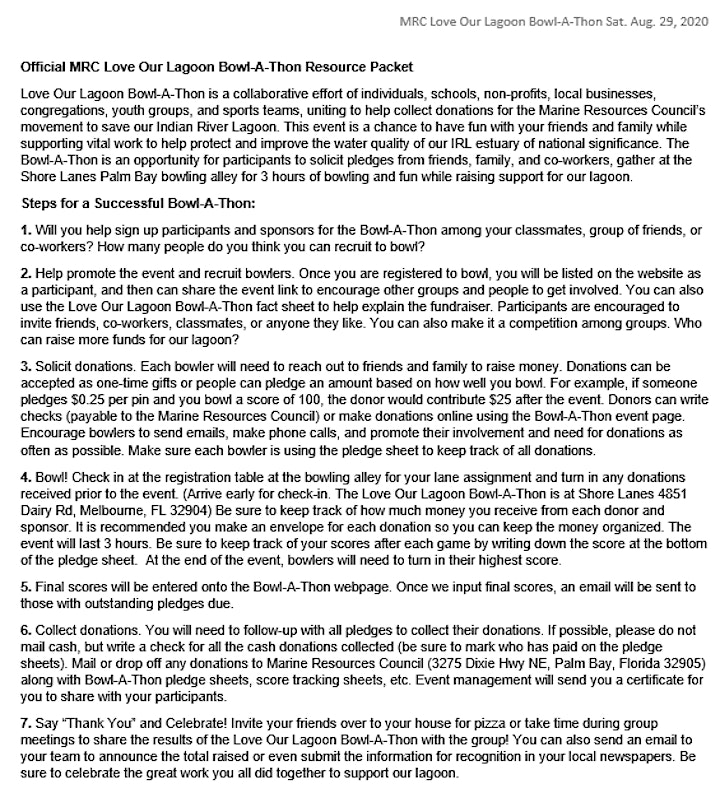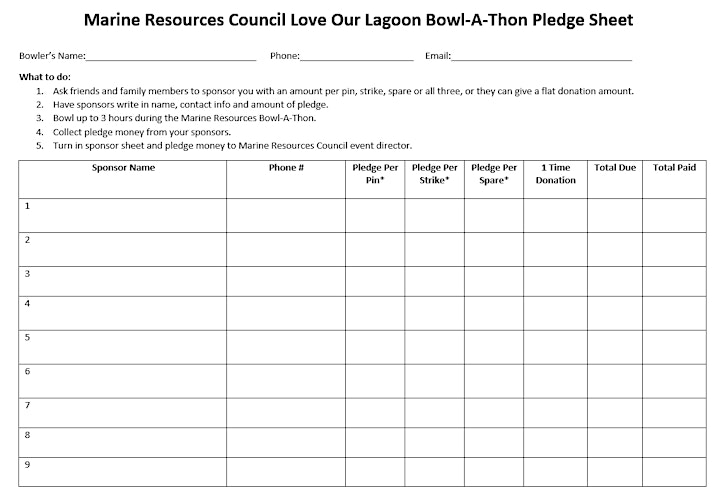 Thank You Sponsors!