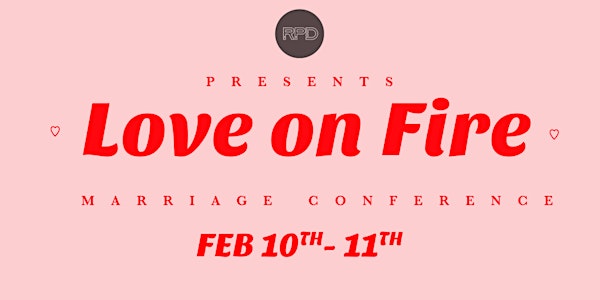 Love on Fire
Encienda el amor de su matrimonio a otra dimensión. $199 por pareja Ignite the fire in your marrage to another dimension. $199 per Couple
When and where
Location
Crystal Ballroom 1012 SR 436 Altamonte Springs, FL 32714
About this event
Será una conferencia que encenderá el amor de tu matrimonio a otra dimensión.
El viernes estará con nosotros los Obispos Duane and Deborah Swilley quienes estarán impartiendo la primera sesión mientras disfrutamos de una cena de gala en el Crystal Ballroom on the Lake.
El sábado continuaremos con dos sesiones adicionales en las facilidades de RPD Orlando.
¡Espacios limitados!
¡Los esperamos!
Apostles Jhoan And Ahjaizza Zambrano
FEB 10 ROMANTIC GALA DINNER
Lugar: CRYSTAL BALL ROOM 1012 SR 436, ALTAMONTE SPRINGS, FL 32714
Hora: 7:00PM - 10:00PM
 * KIDZONE no estara disponible esta noche*
FEB 11 - WORSHOPS
Lugar: RPD CHURCH
Hora: 9:00AM -3:30PM
 * KIDZONE estara disponible por un costo de $10/niño*
Invitado Especial: Apostle Duane And Deborah Swilley
$199 por Pareja
_________________________________________________________________________________________________
It will be a conference that will ignite the love in your marriage to another dimension.
Friday, Bishops Swilley will be imparting the first session while we enjoy a gala dinner in the Crystal Ballroom on the Lake.
Saturday we will continue with two additional sessions in the facilities of RPD ORLANDO.
Spaces are limited! We will see you there!
Apostles Jhoan And Ahjaizza Zambrano
FEB 10 ROMANTIC GALA DINNER
Address: CRYSTAL BALL ROOM 1012 SR 436, ALTAMONTE SPRINGS, FL 32714
Time: 7:00PM - 10:00PM
 * KIDZONE will not be available this night*
FEB 11 - WORKSHOP
Address: RPD CHURCH
Time: 9:00AM -3:30PM
 * KIDZONE available for $10/child*
Special Guest: Apostle Duane And Deborah Swilley
$199 per couple