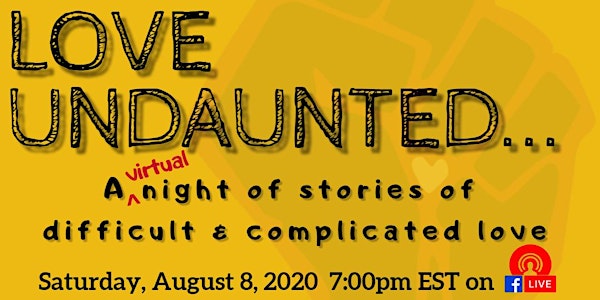 Love Night 2020 Love Undaunted: Stories of Difficult & Complicated Love
Have you ever had complicated love? Enjoy a night of stories and poetry of love that goes beyond understanding and against all obstacles!
About this event
Keeping a 28 year tradition, KOTC returns with Love Night 2020. This year's theme: "LOVE UNDAUNTED: Stories of Difficult & Complicated Love", celebrates the love that endures hardships, heartbreak, disappointment, and a love that lasts even though it make not make sense to most. Hear from our tellers stories about love that centers around all types of situations and circumstances. Our lineup of tellers includes:
Paul D. Best as "Our Sun Paul"
Jawara Bishop
Charlotte Blake Alston
Bunjo Butler
Nzinga The Poet
Shani Carrington
Bernadette "Birdy" Rogers
Adara Dismuke
Irma Gardner Hammond as "Storytelling Irma"
Wanda Gigetts
Oni Lasana
Anthony Ngo
Carla Wiley
This storytelling concert will be broadcast on YouTube Live. Click the link below to tune it!
LOVE NIGHT 2020 Live Stream Link
Grab your lover, make dinner, pour a bottle, and join us!
This production is intended for adults only.