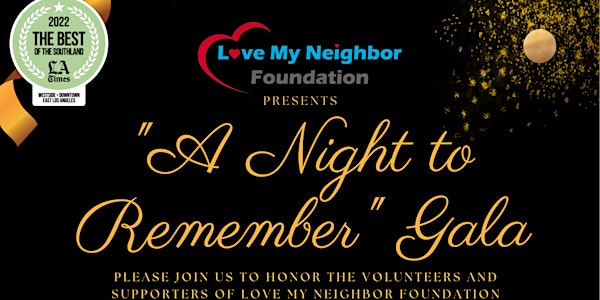 Love My Neighbor Foundation Gala
A red carpet, formal dinner event honoring Trinidad Jame$ and volunteers, sponsors, and supporters. 21 and over event.
When and where
Location
Blush Banquet Hall 10519 Victory Boulevard Los Angeles, CA 91606
About this event
An end of the year celebration to recognize some of our amazing volunteers, sponsors, and supporters. This year we will be recognizing Trinidad Jame$ along with some other amazing people. Guests will be immersed in an elegant experience, entertainment, and a nice dinner along with the award ceremony. Come out and show off your favorite formal wear and socialize with some other amazing people like yourself at this black-tie and red carpet event.
The Love My Neighbor Foundation is a 501(c)(3) non-profit organization that has been serving the homeless community and supporting the underserved residents of Los Angeles for over seven years. Our founder, Hayley, could not be more dedicated or more of an advocate for helping those in need, and it is truly her mission to help as many people as she can. We are driven to empower through various avenues and projects motivated by helping others, and doing what we can to alleviate the struggles of our neighbors. There are so many people in need within our local communities and around the world, the Love My Neighbor Foundation works ardently to make a difference and be the change. Since 2014, Hayley has dedicated much of her time, collecting & distributing food, clothing, shoes, & toiletries to countless homeless men, women, and children in Los Angeles and other major cities, such as, Houston, Las Vegas, Harlem, Oakland, San Diego, Atlanta, and Miami. From being homeless, to a recognized hero, and now being voted the best charity in the East, West, and Downtown Los Angeles, in 2022 according to LA Times, our founder Hayley is finding ways to grow and expand to help our Neighbors.
Trinidad Jame$ is a Trinidadian-American rapper, born in Port of Spain, Trinidad and Tobago. In addition to his music career with Billboard charting singles, Trinidad also hosts YouTube talk show Full Size Run and recently had a cameo performance in the Safdie Brothers' acclaimed film Uncut Gems. When Trinidad is visiting the Los Angeles area, he joins in serving the homeless communities of Skid Row alongside the Love My Neighbor Foundation. In his spare time, he is dedicated to helping those in need and supporting people who have limited resources. Trinidad and his charity, Dad's Quality Meals, DQM, partnered with Love My Neighbor Foundation in 2021 to travel to major cities, such as Los Angeles, Atlanta, Harlem, Houston, Oakland, and Miami to provide the neighbors with quality meals.
We are currently looking for sponsors and entertainers who are interesting in participating in our event. If you or anyone you know are interested in sponsoring this event, please email us at gala@lovemyneighborfoundation.com.
6-7p Red Carpet
7p-8p Entertainment
8p-9p Dinner
9p-10p Music
21 and over event. This is a black tie event, so dress to impress. No jeans, t-shirt, or tennis shoes, mandatory. Gifts bags for the first 100 people that arrives.