Description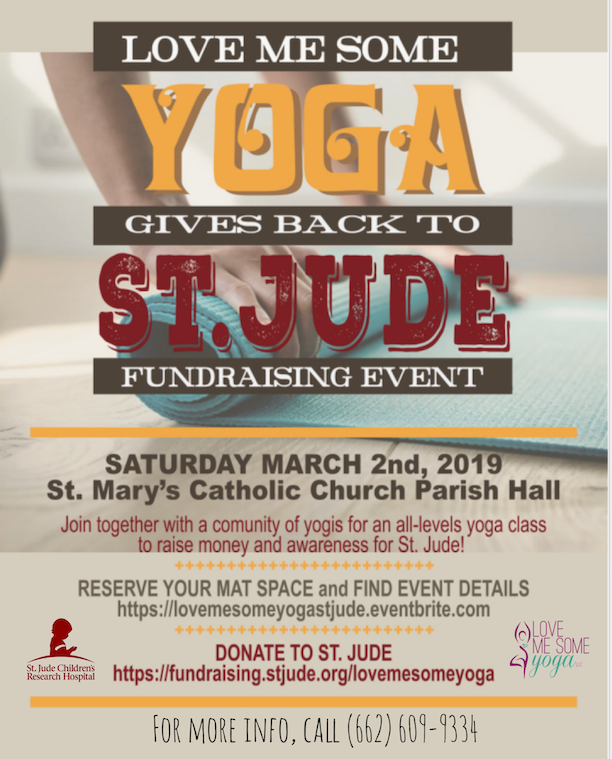 LOVE ME SOME YOGA is GIVING BACK to ST JUDE CHILDRENS RESEARCH HOSPITAL with a special "all-level" yoga event at St Mary's Catholic Church!

Whether you are a beginner or a seasoned yogi, we invite you to join us on the mat to celebrate and to unite for the cause of St Jude!!


PLEASE REGISTER on EventBrite TO PARTICIPATE AT THE EVENT:
Please register here in EventBrite to reserve your mat space as we unite together in a practice for the AWARENESS of childhood cancer, and the UNITY IN HOPE and SUPPORT that we have as ST JUDE continues to SEARCH FOR A CURE.
HOW TO DONATE TO ST JUDE FOR THIS EVENT:
The event reservation for your yoga space is FREE. A donation to ST JUDE can be made at the event, or simply CLICK HERE to make your donation directly to St Jude Children's Research Hospital on the event page.


DETAILS FOR DAY OF EVENT:

Please arrive by or before 8:45am to check in and find your space.

YOGA SESSION will begin promptly at 9 AM and go until approx 10:15/10:30am.

There will be fellowship to follow with light snacks and lots of smiles.

Remember to bring your yoga mat, bottle of water, and a blanket if needed.
What shall I bring into the event?
A yoga or exercise mat is recommended.
A bottle of water is recommended.
A blanket is optional. Blankets may be used for comfort in seated postures as well as cushion for knees/hands.

A limited supply of blocks will be available.

*Note that chairs will be available for use if needed if floor sitting is uncomfortable, or for support for balance. If you need, please make your request upon arrival.
How can I contact the organizer with any questions?
Katie Azar
Owner/Instructor, Love Me Some Yoga
662.609.9334
katie@lovemesomeyoga.com