Love & Lust HALLOWEEN COSTUME BALL + Blacklight Dance Party

Friday, October 27, 2017 at 10:00 PM (PDT)
Event Details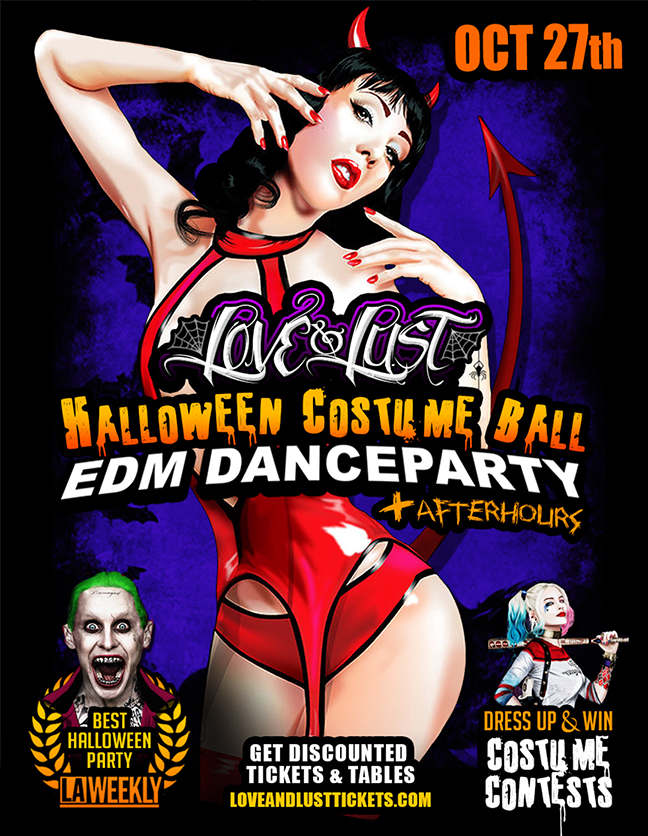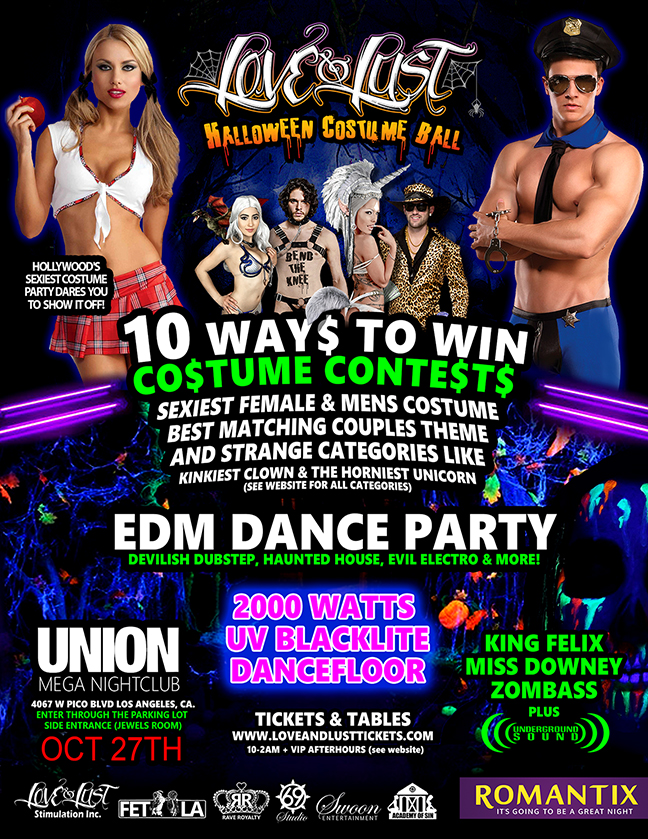 LA's KINKIEST EDM DANCEPARTY KNOWS HOW TO MAKE YOUR HALLOWEEN EPIC!
Love & Lust HALLOWEEN COSTUME BALL + DANCE PARTY
Friday Oct 27th.
UNION NIGHTCLUB
 21+
10PM - 2AM.
MORE INFO ON FACEBOOK.
https://www.facebook.com/events/138742243406315/

2 AREAS
▀▀▀▀▀▀
★ COME TO DANCE!
★ COME TO GET KINKY!
PLUS
★ PHOTOBOOTH (shoot your costumes)
★ VIP AREA / BOTTLES - GROUPS/BDAYS GO HUGE!

10 WAY$ TO WIN CO$TUME CONTE$T$
▀▀▀▀▀▀▀▀▀▀▀▀▀▀▀▀▀▀▀▀▀▀▀▀▀▀

BEST COUPLES COSTUME

SEXY FEMALE & MALE COSTUME

BEST UV-GLOW COSTUME
Strange other categories like...

The Horniest Unicorn &

The Kinkiest Klown ...



VAMPIRES, WITCHES TO NAUGHTY DEVILS,
THE HOTTEST UNIFORMS ALL ONSTAGE!

★ BUY A BOTTLE AND HAVE YOUR PARTY DRESS UP IN A MATCHING THEME AND COMPETE TO WIN A SECOND BOTTLE!

& if we see something wild we may just reward you also!

PLUS ★ LA COMICON's
KINKY COSPLAY AFTERPARTY.
▀▀▀▀▀▀▀▀▀▀▀▀▀▀▀▀▀▀▀▀▀▀
COSPLAYERS STAY IN COSTUME
& Head over after the Convention!!!
Bring your pass for discount.

★ FEATURING ★
▀▀▀▀▀▀▀▀▀▀▀▀▀▀▀▀▀▀▀▀
Hosted by the Notorious PERISH

★ 2000 watts of GLOOMY BLACKLITES ADDED TO THE DANCE FLOOR to glow your costumes.

✪ MULTIPLE CATEGORY COSTUME CONTEST
✪ FULLY STOCKED BARS
✪ VIP KINKZONE WITH BOTTLE SERVICE
✪ SMOKING PATIO
✪ COSTUME PHOTO BOOTH
✪ ROAMING PHOTOGRAPHERS
✪ SEXY COSTUME GOGOS
✪ LOTS & FREE STREET PARKING
✪ GRINDER SPARK GIRLS
✪ HALLOWEEN THEMED REMIXES

HAUNTED HOUSE, DEVILISH DUBSTEP & EVIL ELECTRO & MORE.
▀▀▀▀▀▀▀▀▀▀▀▀▀▀▀▀▀▀▀▀▀▀▀▀
☻UNDERGROUND SOUND & Friends
☻KING FELIX & Friends
☻MISS DOWNEY
☻ZOMBASS
☻SURPRISE GUESTS !!!

★ PLUS LIVE PERFORMANCES BY ★
▀▀▀▀▀▀▀▀▀▀▀▀▀▀▀▀▀▀▀▀▀▀
★ GRINDKORE
★ ACADEMY OF KINK
★ PORCELAIN MIDNIGHT
★ ELITA REIGN
★ SHANNON CHROME GIRL
★ KITTY RODRIGUEZ
★GIRLS OF SWOON ENT.

★ THEME PHOTOBOOTH ★
▀▀▀▀▀▀▀▀▀▀▀▀▀▀▀▀▀▀
★ TIM RICH

... DETAILS...
█████████
(RSVP on this page!!!)
✪ LOCATION
UNION NIGHTCLUB
4067 W PICO BLVD
LOS ANGELES, CA.
"Enter through alley - JEWELS ROOM"
10pm - 2am
21+


LOVE & LUST MAKES HALLOWEEN EASY!
DONT WANT TO WEAR A COSTUME WE GOT YOU COVERED

JUST ADD SOME WHITES OR UV PAINT AND WE'LL ADD THE BLACKLIGHTS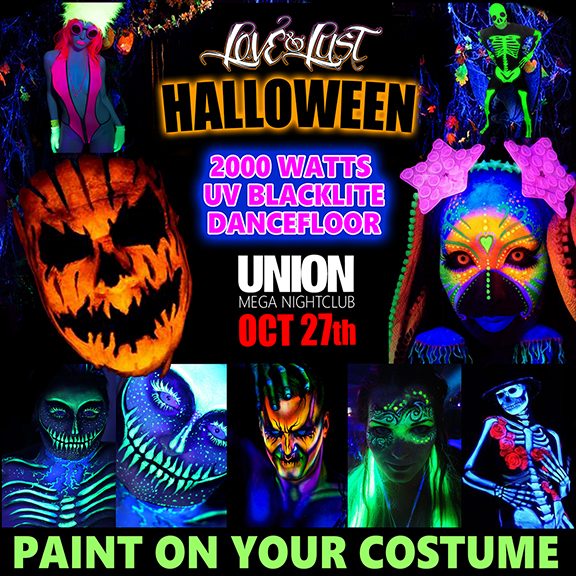 Love & Lust owns your Holiday Adventures!

#1 Valentines Ball Dance Party = goo.gl/qCws6s
#1 Easter Ball "WONDERLUST" = goo.gl/32TZtA
#1 Halloween Ball Dance Party ...EXPERIENCE IT OCT 27TH!


#KINKRAVE
#PERISH
#PERISHPARTY
#RAVEHARD
#DUBAUCHERY
#CHURCHSUNDAYS
#VSOCIETY
#DEBAUCHERY
#RAVE
#PLUR
#FETISH
#KINK
#COSPLAY
#STUDIO69
#PERISHSTUDIO69
#VSOCIETY
#KANDI
#AMANDADARLING
#BLACKBURNER
#DJSLUTZ
#BARSINISTER
#CALIRAVES
#EDM
#EDMBABES
#GIRLSOFEDM
#LOVEANDLUST
#UNDERGROUND
#SWOON
#SWOONENTERTAINMENT
#FRAMED
#HALLOWEEN
#VSOCIETY
#DARKCARNIVAL
#HALLOWEEN2016
Save This Event
When & Where

UNION NIGHTCLUB (Enter Through Alley / Jewels Room))
4067 W Pico Blvd,
Los Angeles, CA 90019


Friday, October 27, 2017 at 10:00 PM (PDT)
Add to my calendar
Love & Lust HALLOWEEN COSTUME BALL + Blacklight Dance Party