About this Event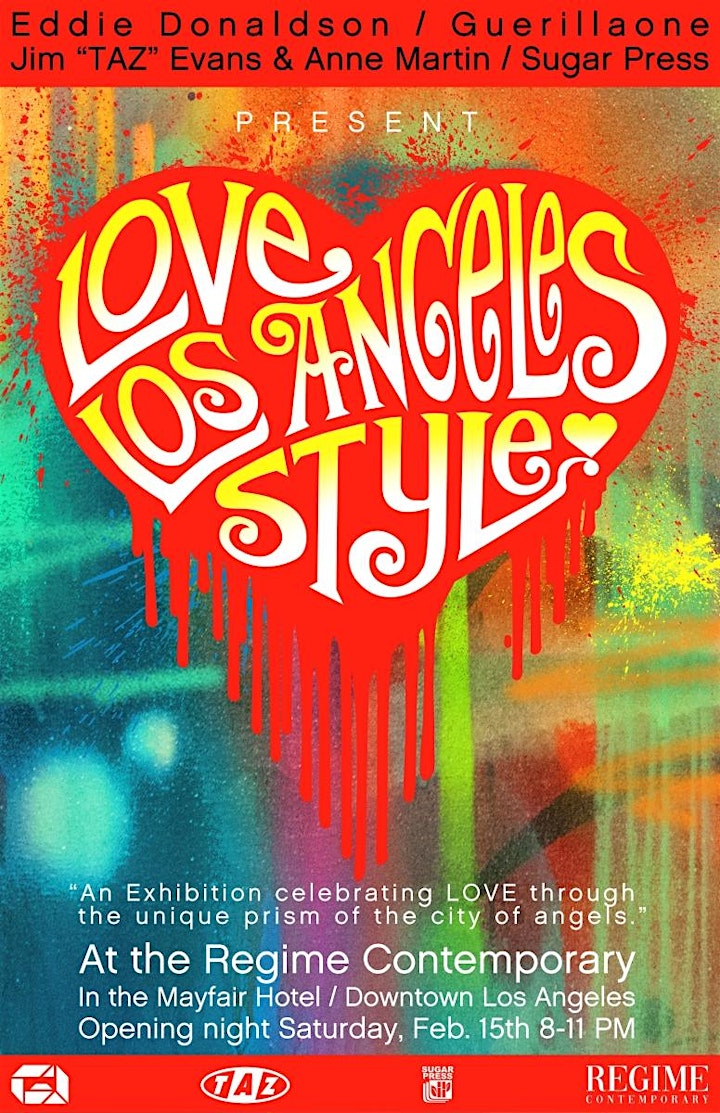 Opening reception in the Regime Contemporary Gallery (2nd floor of The Mayfair Hotel)
Saturday, February 15th from 8 PM - 11 PM
FREE with Eventbrite RSVP
Brought to you by Eddie Donaldson, a.k.a. GuerillaOne, Jim "TAZ" Evans, and Anne Martin of Sugar Press Art/Regime Contemporary. As curators they are proud to announce the Love Los Angeles Style art exhibition opening on February 15th from 8 pm to 11 pm and running through March 14th, 2020. The exhibit will feature an all-star list of artists showcasing their work across a variety of mediums and genres that best describe their own interpretation of LOVE LA STYLE and their vision of LOVE in the city of Los Angeles. The exhibition will be located inside the Regime Contemporary Gallery located inside the Mayfair Hotel (1256 W 7th St) in Los Angeles, CA. The exhibition is to celebrate February as the month of Love and coincides directly with the excitement of Art Month here in Los Angeles.
Confirmed artists set to showcase work at LOVE LOS ANGELES STYLE Exhibit include:
Jim "TAZ" Evans, Risk, CES, Colette Miller, Estevan Oriol, Mear One
Amandalynn, Andrea LaHue, Antonio Pelayo, Brandon Boyd, Brothers Marshall, Dale Mathis, David Arquette, Dirt Cobain, DJ Neff from Can Love, Elsa Jon Vidal, Father Damon, Francesca Quintano, Guerin Swing, Haydee Escobar, Isaac Pelayo, JD Shultz, John Q, Jules Muck, Katrien Van Der Schueren, Life After Death, Luke Wessman, Menso, Patrick Hoelck, Sean Kush, Sebastien Walker, Skinhead Rob Aston, Stephanie Wolf-Hicks, Teachr, Torquato & Yanoe.
*With a performance of Womb Works by Brandy Michele Adams & a very special collaborative print release by TAZ & Risk.
Please join us after the show in the Library bar for Love Frequency with DJs Rashida, Valida, Syrehn + Ainjoy.
Regime Contemporary features a balanced blend of fine art and photography. Dedicated to exhibitions that challenge conventional modes of art production and presentation, the gallery is committed to contemporary art through a distinguished exhibition program of Los Angeles based and international graffiti artists. In addition to the physical space in Downtown Los Angeles, Regime Contemporary (regimecontemporary.com) is an online destination for original art and limited edition prints.
ABOUT THE MAYFAIR HOTEL:
The Mayfair Hotel officially re-launched in late 2018 after a multi-million-dollar renovation with all-new world-class accommodations that have been carefully paired with a handpicked collection of art, music, and entertainment. The Mayfair Hotel was artistically curated by Kelly "RISK" Graval along with Kevin Zinger, Ivory Daniel of Regime 72 and Brian Greif of 2:32 AM Projects who hand-picked all the artists to design the artwork that is showcased on each of the hotel floors. Regime 72 also helped put together the hotel's creative programming, which recalls the glamorous heydays of the 1920s, while also offering visitors an intimate view into the DNA of the city of Los Angeles. All the activations simultaneously highlight the history of The Mayfair and its newly minted social venues, including the M Bar, Library Bar, the Garden Gallery, and the Ballroom.
Regime Contemporary features a balanced blend of fine art and photography. Dedicated to exhibitions that challenge conventional modes of art production and presentation, the gallery is committed to contemporary art through a distinguished
Performers
Date and Time
Location