If LOVE is the Treasure, LAUGHTER is the Key. Enjoy 70 minutes of laughter with our guest host, Stand-Up Comedian & Emcee, Mr Sam See!
About this event
In the festive month of December, take a break from the dreads of Covid and the madness of the modern dating world with our comedic spin on the classic television show "The Dating Game"!
Lovingly organised by True Love Compass (UEN: 53432879B) and our guest host, stand-up comedian & emcee, Mr Sam See!
Come and watch, laugh your guts out, or be a contestant at our festive game show!
How it Works: The event is a virtual comedic game show. During the show, a bachelorette will be selected to ask three anonymous bachelors contestants a series of surprising, juicy questions! These contestants will answer those questions and audience will assist in choosing the winner with the best response.
What else are in stored:
You will hear about dating related trials and tribulations of your host, Sam See. After hearing him, you probably won't feel so bad about your own dating journey!
There will be ample opportunities for our audience to mingle in mini-games and win e-vouchers. It is after all the month of giving and we can't wait to bring you more joy and laughter!
Get into the festive mood by dressing up in your favorite Santa or Elf outfits and share joyous moments with us.
Want to up the ante on the fun factor? Register early and opt in to be our appointed bachelorette or three anonymous bachelor contestants!
Warning: Please be advised that language used on the show can range from funny, witty, blunt innuendos to NSFW (not safe for work).
With Sam See as your game show host, we guarantee that you will experience ton of fun and laughter - see the raves and reviews about Sam below!
"★★★★ There's real steel in his comedic bones" - BROADWAY BABY, UK
"Within seconds, he has the audience laughing, clapping and clinging onto his every word" - RICE MEDIA, SINGAPORE
Are you curious if this might be 'the one'? Then follow your heart and sign up NOW!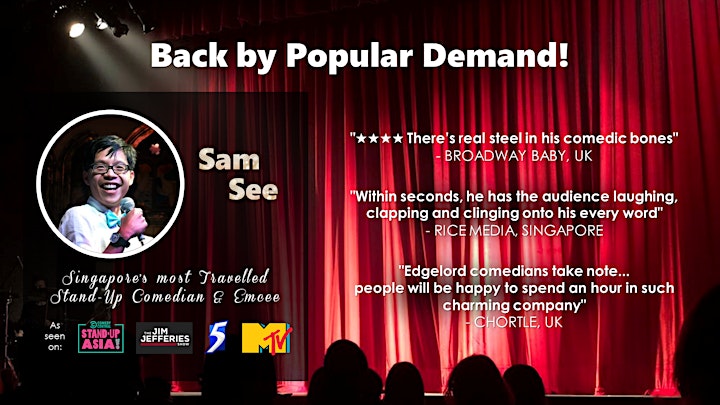 Organizer of Love LIVE with Sam See | A Comedy Dating Game Show
Speed Dating Specialists | Meetup Organisers | Dating Company in Singapore | Social Platform Developer
True Love Compass was incorporated in Singapore in 2020. UEN: 53432879B
As Meetup organisers with 15,000+ members in our community, we are committed to bringing together more singles in Singapore via events hosted by True Love Compass, in collaboration with our expert Image, Branding, Relationship, and Personal Development partners. First time joining our events? Check out our Event FAQs here: http://tlc-dating.com/?page_id=473