Description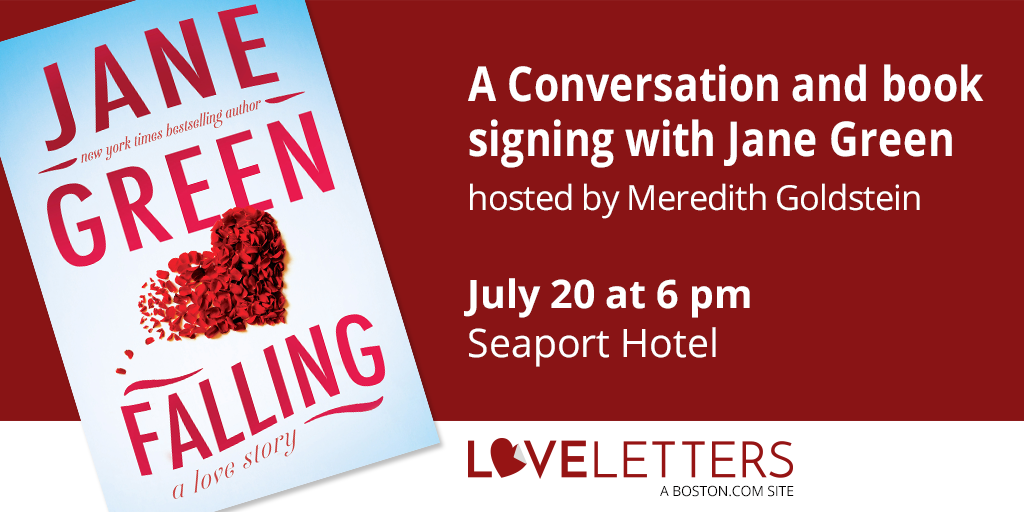 Join Love Letters columnist Meredith Goldstein for a conversation with New York Times best-selling author Jane Green at the Seaport Hotel in Boston. Jane will be discussing her newest love story, Falling, which will be released on July 19th. Falling is the story of Emma Montaque, a young professional who relocates to Manhatthan from England in hopes of findingfind happiness. She discovers that living in the city isn't the life she wanted, so she settles into the beautiful Westport, Conneticuit where she seems to find her home - filled with friends, a passion for rewarding work in interior design, and a pleasure in life that she never had in New York or England. As a love interest sparks unexpectedly, Emma is faced with a decision: fight for what she loves, or risk losing it all.
Registration will open at 5:30pm, with doors opening at 6:00pm. Light appetizers and desserts will be served, along with a cash bar for guests to enjoy. Guests can talk with Jane and Meredith before the interview begins at 6:30pm. Jane will be signing copies of Falling at the end of the event. There will be copies of the novel available onsite for purchase.
About Jane Green
Jane Green is a former journalist in the U.K. and a graduate of the International Culinary Center in New York. She has written seventeen novels (most recently Summer Secrets, Saving Grace, Tempting Fate, and Family Pictures), sixteen of them New York Times bestsellers. Her novels are published in more than twenty-five languages, and she has more than ten million books in print worldwide. Visit her online at janegreen.com.
About Meredith Goldstein
Meredith Goldstein is a columnist for The Boston Globe. Her column, Love Letters, appears on Boston.com five days a week and in the print edition of the paper on Tuesday, Friday, and Saturday. Her first novel, The Singles, was released in 2012. A book based on her Love Letters column will be released by Grand Central Publishing in 2018. Follow Meredith's blog at loveletters.boston.com.
FAQs
What is the best form of public transportation to the event?
The closest stop to the hotel is off of the Silver Line at World Trade Center Station. The MBTA Silver Line Waterfront (SL1) provides service to the WTC Station every 10 minutes during the week. The Silver Line station is located adjacent to the hotel.
Is there parking at the event?
Seaport Boston has its own underground garage with easy access off of Seaport Blvd across the street from the entrance of the World Trade Center. Parking will be discounted and can be paid by cash or card at the kiosks or gate exit.
What is the attire of the event?
There is no specific attire for the event. Feel free to dress casual.
Do I need to print my ticket?
No, our staff will have your name onsite at registration.
Where can I contact the organizer with any questions?
If you have any questions, please email alexa.simmons@globe.com.
*By registering you will be automatically subscribed to Boston.com/Boston Globe relevant e-newsletters. You may unsubscribe at any time.