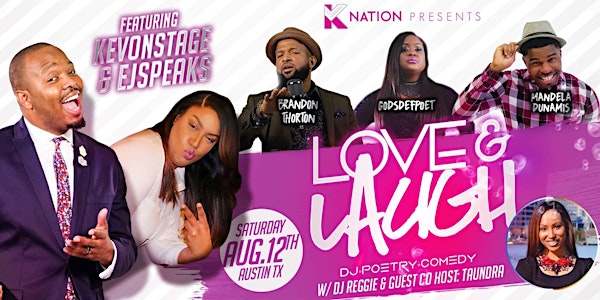 Love & Laugh (Kev on Stage & EJ Speaks)
When and where
Location
GMZ 4301 Tannehill Lane Austin, TX 78721
Description
Tickets will be available at the door
General Seating 30
Couples 50
It's finally here, a premier comedy and poetry event that will help to set the tone of your month. This month we will have internet sensations Kevonstage and EJ speaks as our feature comedians.
Kevonstage is known for his viral comedy, Kevin Fredricks is no stranger to gut busting comedy. With 700,000 followers on facebook and seen on ALL def digital, NBC, and several other news outlets, he is certifiably funny. Be sure to bring your best friend along to crack up beside.
EJ speaks is also killing the comedy scene with her funny videos that are very relatable, which make them more hilarious EJ has 300,000 plus online followers and her videos hit the millions every time released. With head nods from Rickey Smiley himself, you don't want to miss her PRETTY Funny stand up routine.

Our Poets

Brandon Thornton -Brandon Thornton is a spoken word artist and promoter that travels across the United States, and abroad with his phenomenal poetry. Most recently noted for his successful event Prototype and Encore, Brandon knows how to get the crowd moving and grooving with his word play.

Mandela Dunamis-This poet is a social media genius with inspirational poetry streaming on different platforms across the board. Mandela lyrics are infectious and inviting, he probes the listener to dig a little deeper and prepare for a lyrical journey of love and life.

Alexis Maston (Godsdefpoet) is the host, creator and promoter of K-Nation Group, but she is also a creative poet. Mostly known for her poetic ballads of love, loss and overcoming, Alexis has the ability and rhyme flow to connect with any one.

Taundra-is our guest co-host for this installment of Love & Laugh. Known for her infectious personality and multi abilities to sing, dance and rap Taundra is no stranger to the industry. She coaches industry talent daily, and is known for her fresh perspective and flava.

DJ Reggie- Will be on the 1s and 2s with soulful classics and current bangers. Be prepared to get your laugh on, your love on and your dance on.

More artist will be added to this line up, so stay tuned.
Free giveaways will be happening so you don't want to be late. Only 200 seats available.