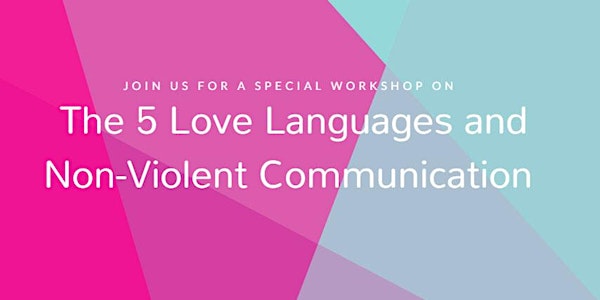 Love Languages and Nonviolent Communication Workshop
When and where
Location
1118 Post Ave Seattle, WA 98101
Refund Policy
Contact the organizer to request a refund.
Description
Relationships are a part of our everyday lives.
Whether it's with family, friends, coworkers, or lovers, relationships can be both confusing and stressful at times.
When it comes to relationships, it's important to ask yourself:
Are you aware of how you give and show love?

Do consider yourself an effective communicator?
Come explore the above questions with Inna Mitev and Lauren Hruska in an experiential workshop on the powerful teachings of the five love languages and the art of nonviolent communication.
Join us in learning tools that will improve and enhance the quality of your relationships and also foster a more meaningful connection with all.
NOTE: Couples are highly encouraged to come. (Hint: This would be a great Valentine's Day gift.)
****************************************************************
Workshop Flow:
1:30pm - 2:00pm: Arrival window. Half an hour arrival window for socializing and connection.

2:00pm: Workshop begins.
*****PLEASE NOTE: If you arrive after 2:00pm, you cannot attend the workshop.*****
Why?
It is extremely important that once the workshop begins we do not break the concentration, focus and presence of the group.
2:00pm - 4:30pm: The workshop. There will be equal parts presenting and individual sharing and group discussion. You will also leave with hand outs from each topic discussed.

4:30pm - 5:30pm: Refreshments/Connection Session. Wind down from the workshop with some refreshments and relax with your new friends.
What To Bring/Wear:
Please dress comfortably. Wear something you feel cozy and can move around in. Feel free to bring a journal if you'd like to take notes.
Parking:
Lyft or Uber is encouraged as parking can be a little tricky. There is paid street parking near the venue as well as paid garages.
About the Facilitators:
Inna Mitev is a health and wellness coach, clutter clearing consultant and law of attraction expert.
Lauren Hruska is a millennial whisperer, transformational life coach and human connection expert.
Note From Inna & Lauren:
"We are absolutely thrilled to be hosting a workshop on the five love languages and nonviolent communication. Learning these theories has had a profound impact on our lives and we are very excited to share them. See you there!"
Love and light,
Inna & Lauren <3