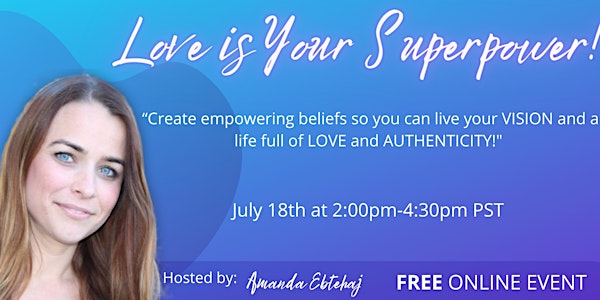 Love is Your Superpower!
Create empowering beliefs so you can live your VISION and a life full of LOVE and AUTHENTICITY!
About this event
You know that little voice inside your head, the nagging one, the one telling you that you can't do it, that you arent good enough, that you dont deserve it?
We all have limiting beliefs that hold us back from creating the VISION we want for our life, from creating the dream job or relationship that we have always wanted.
Critical self-talk and limiting beliefs are controling our belief system and stopping us from creating the life we have always envisioned!
Join me in this FREE 2.5 hour INTERACTIVE workshop, where we are going to :
Challenge you to break through your fears and limitations in order to create a life full of LOVE!
Learn how shift your limiting beliefs into empowering beliefs so you can create the COURAGE to CREATE your VISION!
Explore crital self-talk so you can quickly shift your mindeset to be confident to take risks!
Learn how to powerfully declare your vision and enroll others into it!
In this workshop, you will actively learn how to identify which limiting beliefs are holding you back from living out your VISION, where your limiting beliefs stem from, how to reshape and redesign your beliefs to take action on your VISION, and how to take massive action to create a life full of love and authenticity!
See you there!