Description
---
Welcome to the LOVE IS THE MESSAGE House Music Conference Eventbrite page!
LOVE IS THE MESSAGE House Music conference aims to teach the legacy of house music and preserve this genre of Black musical genius through the transference cultural information to the next generation.
Day 1 FRIDAY, SEPTEMBER 21, 2018 [9:00pm-2:00am]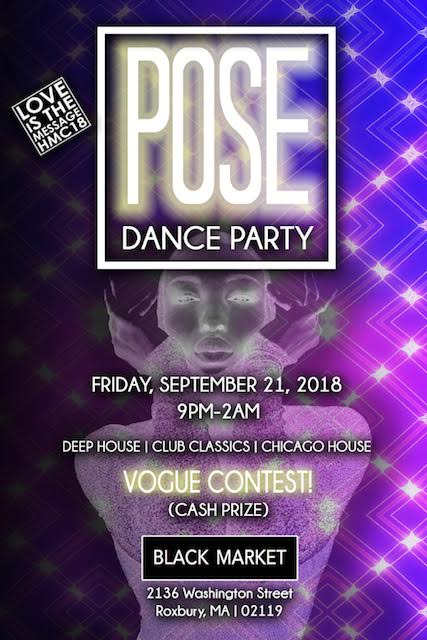 FIRST EVENT: We are excited to annouce the POSE Party + Vogue contest! POSE the first of 4 major events taking place between Friday, September 21, 2018 through Sunday, September 23, 2018. This event is an opportunity for our conference participants to REIGNITE THE DANCE aspect of House Music and leave it on the floor!
DJ Mojavi and DJ Troy Anthony will be throwing down Deep House, Club Classics and Chicago House music ALL NIGHT LONG! Cash Prize for the best Voguer in the House!

COST EVENTBRITE: $15 (plus fees) or AT THE DOOR: $20 (plus fees)
---
Day 2 (DAYTIME) SATURDAY, SEPTEMBER 22, 2018 [10:00am-5:00pm]


10:00-10:30am Registration
10:30am- 12:00 noon Movie
12:00 noon LUNCH + TALK
12:30pm-1:30pm (Movie talk)
MAESTRO Movie Screening: a showing of the legendary House Music Documentary chronicling Pioneer Dance Music DJ's and Producers followed by The Genesis of House Music + Culture Pre-1986" a talk led by House Music Authority Arnette Burdette
1:35pm-2:55pm GUEST PANEL: "The History of the House Music Scene in Boston 1986 to the Present" + "The Future of House Music in Boston: The next generation"
2:55pm-3:15pm BREAK
3:15pm-4:15pm EXPERT TALK: From Disco to the Club Scene: The Fashion + Art Scene in House Music Culture
4:20pm-5:00 House your Body Dance workshop: Explore the fluid movements of House Music with Award winning House Music Dancer Sammy Sueksagan
COST: $45 (plus fees)
---
Day 2 (NIGHTTIME) SATURDAY, SEPTEMBER 22, 2018 [9:00pm-2:00am]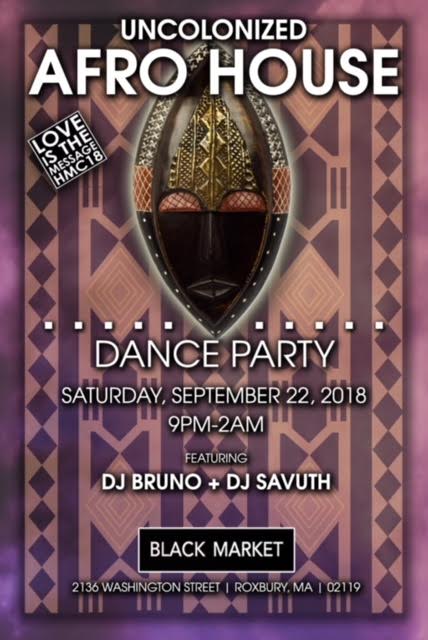 You don't want to miss the LOVE IS THE MESSAGE House Music Conference Saturday Night Dance Party entitled: UNCOLOLONIZED Afro House Dance Party. We see this as a perfect opportunity to make a bold statement and take back what is being appropriated- preserving + protecting the ancestral lineage of this sacred genre of Black music.
DJ Bruno and DJ Savuth will be spinning the hottest, most African AF Afro House Music there is on the Planet! Conference participants will enjoy the indigenous sounds, spun by Afro-Rooted DJ's in a Safe Space owned and operated by Africans of the Diaspora.
COST EVENTBRITE: $15 (plus fees) or AT THE DOOR: $20 (plus fees)
---
Day 3 SUNDAY, SEPTEMBER 23, 2018 [11:00AM-12:30PM BRUNCH] + [1:00PM-5:00PM GOSPEL HOUSE DAY PARTY]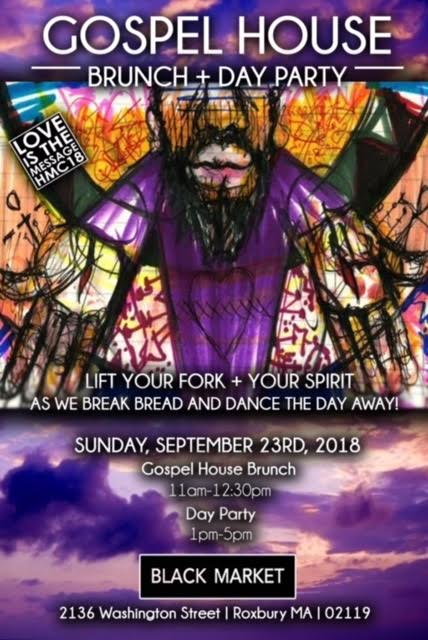 The 3rd and final day of the LOVE IS THE MESSAGE House Music conference brings us to a fabulous finale of events: The Gospel House Brunch + Day Party! (Participants can attend the Brunch or the Day Party or BOTH- your choice!)
After an incredible weekend of dancing, learning, voguing, watchings, listening, contributing and digestings, conference participants can enjoy a time of chill and fellowship with each other over a delicious Brunch from 11:00am-12:30pm! Vegan Options provided by Vegan Oasis.
Menu will include Fort Hill Jerk Chicken, Waffles, Assorted Berries, Vegan Mac n Cheese, Homefries, Kale Salad, and more!
Or choose to sleep in and join us soley for the Day party only from 1:00pm-5:00pm!
Conclude this monumental conference with Grateful Thanksgiving by joining us for a Soulful Sunday where DJ Chris MOTH Grant will be spinning the best in Gospel House Music uplifting our Spirts all afternoon long!
COST:
Brunch Only: $35 (plus fees)
Day Party Only: $15 (plus fees) AT THE DOOR: $20 (plus fees)
[Both Brunch and the day party $50.00]
---